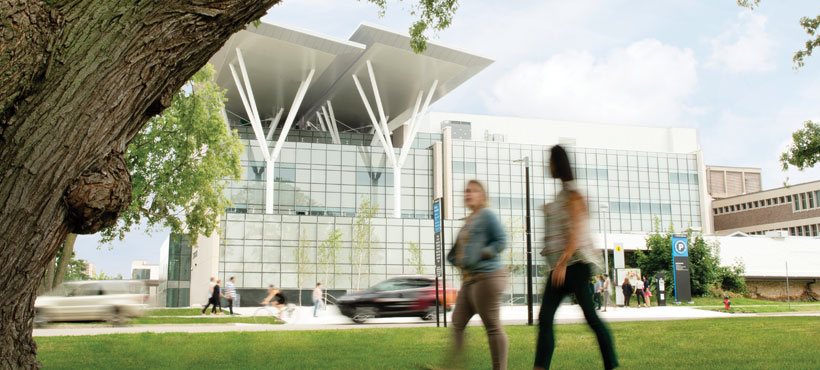 Mohawk College has been recognized as one of Hamilton-Niagara's Top Employers and one of Canada's Greenest Employers. The Joyce Centre for Partnership & Innovation is Canada's largest institutional net zero building and Hamilton's first. Mohawk would not have been able to accomplish these achievements without the efforts of all of our dedicated employees. Here are some of the opportunities that Mohawk College employees enjoy.
Join Us!
Across Hamilton, Mohawk College educates and serves more than 31,700 full-time, part-time, apprentice, and international students at our three thriving campuses, City School learning hubs and Aviation Facility at Hamilton International Airport.
As educators, we demonstrate leadership by incorporating the principles of equity, diversity and inclusion in our offerings and our environment. We achieve this by emphasizing the well-being of our employees through better work-life integration. For example, Mohawk College offers competitive compensation and excellent pension and health benefits. We also provide our employees with numerous opportunities to grow their careers and expand their skills to remain engaged and motivated. These opportunities include access to a tuition reimbursement program, continuing education certificates and on going learning and development opportunities.
Mohawk College supports our employees' well-being by providing and promoting healthy work environments. For example, Mohawk is well known as one of Canada's Greenest employers. The Joyce Centre for Partnerships and Innovation is also Canada's largest institutional net zero building and the first in Ontario.
Though there are many reasons why Mohawk College is recognized as one of Hamilton-Niagara's Top Employers, the most significant is due to the efforts and achievements of our talented employees!
Here are lists of additional opportunities available to our employees.
Let's learn and grow personally and professionally!
Mohawk College's learning and development opportunities include:
Tuition Assistance and reimbursement for Employees
Up to one year paid Professional Development Leave of Absence
Mohawk College Continuing Education offered for $20 per course
A Mentoring program which supports and facilitates the professional growth and personal development of our diverse employees through reciprocal and inclusive learning partnerships
Access to over 14,000 online self-paced learning modules
Personal and Professional development programs, courses and webinars announced weekly
Frequent workshops on mental health and wellness offer employees opportunities to get more support, motivation, and knowledge to becoming their best selves
Enjoy our Amenities!
Mohawk College is situated on the traditional territory of the Haudenosaunee and Anishinaabe nations, within the lands protected by the Dish with One Spoon Wampum Agreement. This land is currently home to many Indigenous peoples from across Turtle Island.
Our facilities include:
The HOOP Dance Gathering Place in the college's main courtyard. It was designed with a holistic consideration to landscape, architecture, and the wider context within the college and the city. The Hoop Dance Gathering Space celebrates First Nations, Métis, and Inuit culture within the everyday experience of the college campus and honors 15,000 years of Indigenous history on this territory
An on-site Health Centre with a multi-disciplinary team offering medical, therapeutic, dental, and other wellness services
Full-service athletic facility with state-of-the-art equipment and instructor-led classes offered at a discounted rate
A dedicated Pollinator-friendly Rooftop Garden that contains a variety of plants that attract bees, butterflies and other pollinators native to Ontario. The Pollinator Garden supports local food production, and a diverse healthy plant population. It also creates teaching and learning opportunities that engage our students and community members
On-campus community garden where individuals, college departments and student groups are provided garden space to grow fruits and vegetables for personal consumption. A portion of the produce from the community garden is also donated to local food banks and other non-profit partners
The newly renovated McIntyre Performing Arts Centre is a prime space for professional and amateur performing artists
Mohawk's Stoney Creek Campus for Skilled Trades features top technology and professional facilities, including the Sustainable Research Centre which supports real-world training on living labs
Longstanding Mohawk-McMaster partnership at Mohawk's Institute for Applied Health Sciences (IAHS) Campus which feature modern, hi-tech laboratories
Beautiful walking paths, and seating areas throughout campuses
A bicycle loan program
Designated parking for electric vehicles and carpool for a discounted rate
As of January 1, 2019, all Mohawk Campuses are smoke-free
Reap the Benefits!
Some of our benefits are:
All employees are entitled to join the CAAT Benefit Pension Plan at any point during their employment
All employees enjoy additional time off during the winter holidays
Employees can receive up to 6 weeks of paid vacation
As full-time employees, we have access to a generous Employee and Family Assistance Program (EFAP)
Mohawk offers 93% top up of maternity and parental leave pay to full-time employees
Tuition Assistance for dependents of Full-Time Employees, refunding all but $50 of tuition fees
Health care benefits packages which include dental, eye care, prescription drugs, medical travel insurance, chiropractor, naturopathy, acupuncture, social workers, psychologists and much more services
Have a Voice!
Employees have many opportunities to express their concerns and participate. For instance:
Our Equity, Diversity and Inclusion Action Plan is the result of a year-long process of research, consultation and collaboration between departments and individuals at all levels of the organization. All employees are encouraged to actively participate in the plan. This builds on our successes to date and contains specific actions leading to outcomes that can be measured and verified over time.
The College identifies and effectively responds to the concerns raised by all our employees through periodic employee engagement, demographic, and pulse surveys.
Mohawk employees frequently recognize their colleagues by sending monthly Mohawk Everyday Hero Award nominations and other efforts to instill all employees' sense of belonging and value.