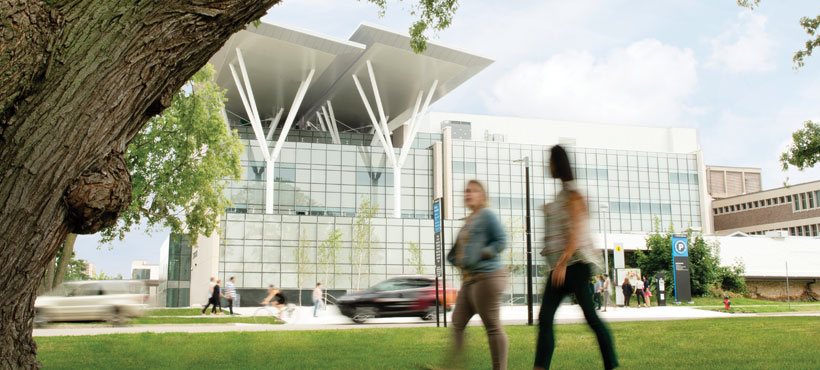 Mohawk College has been recognized as one of Hamilton-Niagara's Top Employers and one of Canada's Greenest Employers. The Joyce Centre for Partnership & Innovation is Canada's largest institutional net zero building and Hamilton's first. Mohawk would not have been able to accomplish these achievements without the efforts of all of our dedicated employees. Here are some of the opportunities that Mohawk College employees enjoy.
Learn & Grow Professionally!
Mohawk Mentoring Program and Social Learning Networking Group brings together employees looking to develop and share their skills and knowledge

Customized team training sessions designed to support high-performance

Access to LinkedIn Learning, which provides over 9,000 self-paced video tutorials for free

Professional Development Leaves provide employees the opportunity to develop their professional skills

Mohawk College Continuing Education courses offered for $20 per course

Tuition Assistance for Employees provides up to $10,500 in financial assistance for each post-secondary diploma, undergraduate degree, graduate (Masters or Doctoral) degree, and Professional or Trade Association courses taken outside Mohawk College

Leadership programs designed specifically to nurture future ready leaders

Weekly Professional Development announcements for in-class sessions

All employees can view monthly Professional Development opportunities on our learning calendar

Mental Health and Wellness workshops provided to help employees enhance their skills and knowledge of maintaining a healthy lifestyle
Enjoy the Onsite Amenities!
On-site Health Centre boasts a multi-disciplinary team offering medical, therapeutic, dental, and wellness services

Full-service athletic facility with state-of-the-art equipment and instructor-led classes offered at a discounted rate

Beautiful outdoor spaces, including the Hoop Dance Gathering Space, walking paths, rooftop pollinator garden, and seating areas

On-Campus Community Gardens provide employees space to grow their own fruits and vegetables

Preferred parking lots, reduced rates for electric vehicles and carpoolers, as well as a bicycle loan program

The Joyce Centre for Partnership & Innovation, one of the largest institutional net zero carbon buildings in Canada and the first of its kind in Ontario

Employees enjoy a wide variety of dining options around campus, as well as a local food farm stand
The newly-renovated McIntyre Performing Arts Centre is a prime artistic space for professional and amateur performing arts
Mohawk's Stoney Creek Campus for Skilled Trades features top technology and professional facilities, including the Sustainable Research Centre which supports real-world training on living labs
Garner the benefit of our Mohawk-McMaster partnership at Mohawk's Institute for Applied Health Sciences (IAHS) Campus which hosts modern, state-of-the-art laboratories
As of January 1, 2019, all Mohawk Campuses will become smoke-free to provide a healthy and safe learning and working environment
Reap the Benefits!
All employees are entitled to join the CAAT Benefit Pension Plan at any point during their employment

All employees enjoy additional time off during the winter holidays

Tuition Assistance for dependents of Full-Time Employees, refunding all but $50 of tuition fees

Employees can receive up to 6 weeks of vacation

Employees benefit from access to Employee and Family Assistance Program (EFAP)

Mohawk offers 93% top up of maternity and parental leave pay to full-time employees

Health care benefits package that includes dental, eye care, prescription drugs, medical travel insurance, as well as chiropractor, naturopathy, acupuncture, and many more
Have a Voice!
Ask the President encourages employees to submit anonymous questions or comments

Breakfast with the President is a monthly gathering with employees that supports dialogue across the college

Employee engagement surveys, action plans, and pulse surveys are some of the ways Mohawk values employee feedback

Mohawk employees recognize their colleagues by sending a Thank You card or nominating them for an Award of Excellence, or Mohawk Everyday Hero Award