Watch: Mohawk's Commitments to Equity and Social Inclusion
Introduction
Strengthening Mohawk's leadership in social inclusion is a key priority in our College's strategic plan. We believe in providing everyone who learns and works at Mohawk with an inclusive, welcoming and supportive environment. Moreover, the rich diversity among our students and the communities we serve should be reflected within our workforce.
Mohawk is making progress on many fronts. In the spring of 2016, we launched an initiative to make our Mohawk and community even more welcoming to international students and newcomers. Our senior leadership team is required to complete an intercultural assessment while diversity and inclusion workshops have been offered to all employees.
We are now adopting five equity and social inclusion commitments to accelerate our progress and make Mohawk a leader among Ontario colleges and regional employers. The following commitments were developed after reviewing best practices and consulting internally:
Attract and retain talent reflective of community. Mohawk will put processes and systems in place that remove barriers in all Human Resources policies and practices to ensure that Mohawk employees are representative of the diversity within the Hamilton community.
Create an inclusive workplace. Mohawk will create an inclusive campus to ensure an open, accessible, equitable and safe environment for everyone.
Strengthen inclusive competencies. Mohawk will provide professional development opportunities for employees to build their intercultural competencies that will advance individual and collective growth in cultural fluency.
Develop and implement equity and inclusion framework. Mohawk will ensure that policies are reviewed and updated to identify and remove systemic barriers to participation and advancement of underrepresented groups utilizing an equity and inclusion lens.
Expand use of universal design for learning and use of accessibility tools. Mohawk will enhance learning experiences through the adoption and use of Universal Design (UDL) for Learning principles and techniques. We will advance employees' knowledge of creating accessible spaces and documents.
Each of our five equity and social inclusion commitments will have specific and measurable goals. Through the fall and winter terms, we will be compiling data on the diversity of our current workforce and reviewing Mohawk's hiring and professional development policies, practices and procedures relative to these five commitments. This assessment will then inform plans to be implemented beginning next summer, with opportunities for everyone to get involved.
Mohawk's equity and social inclusion commitments build on all that we have done to date in making our College an inclusive, welcoming and supportive environment for students, colleagues and visitors to campus. If you have any questions about Mohawk's equity and social inclusion commitments, please contact Maxine Carter, Director and Special Advisor, Equity and Social Inclusion.
Regards,
Ron McKerlie
---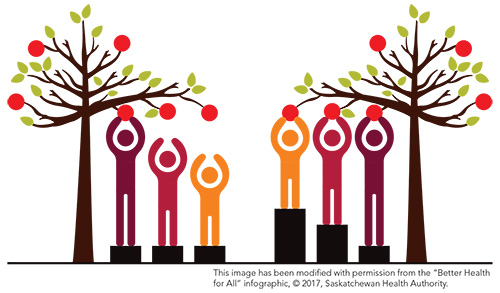 Our Equity and Social Inclusion Commitments
Ensuring an inclusive, welcoming and supportive environment for all.
View an accessible version of Our Equity and Social Inclusion Commitments (PDF)
---
FAQs
Why is Mohawk adopting five equity and social inclusion commitments?
Social inclusion is a strategic priority for Mohawk. It's important that the rich diversity among our students and within the communities we serve is reflected in the diversity of people who work at our college. According to the 2016 census, there are 100,005 people who identify as racialized persons in Hamilton. The number of racialized persons has more than doubled over the past 20 years to one in five Hamiltonians.
What do we mean by diversity, equity and social inclusion?
Diversity at Mohawk encompasses race, ethnicity, gender, sexual orientation, socio-economic status, age, physical or mental abilities, religious and spiritual beliefs.
Equity is about equality of outcomes. It is about providing everyone with what they need to achieve the same outcomes.
Inclusion is about recognizing, welcoming and making space for everyone on our campuses. As an inclusive college, Mohawk will benefit from the diversity of thought, experiences, skills and talents of all our employees.
How were the five commitments developed?
Mohawk's equity and social inclusion commitments build on the work we have already been doing in key areas including our access strategy in priority neighbourhoods, Indigenous education and services and our internationalization strategy.
The five commitments are also modelled after best practices at other employers who are seen as leaders in this area. Mohawk reviewed the work that's been done by the Ontario Public Service, George Brown and Centennial Colleges, the University of Toronto and the University of Victoria.
We also reviewed the YWCA EXCLerator Study (Women and Diversity in Executive and Community Leadership) and the Hamilton Community Foundation's 2018 Vital Signs Report developed in partnership with The Hamilton Spectator.
What are our next steps?
We will spend the fall and winter semesters measuring Mohawk against Stats Canada data and other reliable community data. This will identify gaps and barriers and then implement action plans with measurable goals and objectives beginning next summer.
What can we do to support the five commitments?
You can support the commitments in two ways. The first is to complete the upcoming employee engagement survey. This year's survey includes demographic information that will help assess the current diversity within our workforce. The demographic information, like the answers to the engagement survey, will be completely anonymous.
For your own professional and personal development, you can attend diversity and social inclusion workshops, training and online courses that will be offered during the fall and winter semesters.
Who do we contact if we have questions, suggestions or comments?
Please connect with Maxine Carter, Mohawk's Director and Special Advisor for Equity and Social Inclusion at maxine.carter2 [at] mohawkcollege.ca or ext. 2255.