IDEAWORKS Catalyst Fund (ICF)
Formerly known as the ARIE fund, the IDEAWORKS Catalyst Fund (ICF) supports Mohawk staff and faculty in starting up Applied Research and Scholarship of Teaching and Learning Projects. The ICF is now open for applications!
Review and complete the ICF application form
ICF Information sessions:
Please plan to attend one of the information sessions listed below:
| Location | Date | Time |
| --- | --- | --- |
| Stoney Creek - room A103 | March 1, 2018 | 12:00-1:00pm |
| Fennell  - room A219 | March 7, 2018 | 12:00-1:00pm |
| IAHS - room 202 | March 14, 2018 | 12:00-1:00pm |
Questions? Contact us at ideaworks [at] mohawkcollege.ca
---
Mohawk faculty, staff and students collaborate with industry partners to complete real-world projects, which are often funded by provincial and federal agencies. These projects aim to address specific industry needs and to provide small businesses and other organizations with access to the resources they require to become more productive, innovative and competitive.
Students are recognized for their contributions with the Applied Research Award of Excellence. 
Learn more about how you can participate:
Students
IDEAWORKS connects you directly with industry so you can gain valuable real world skills and work experience.
At IDEAWORKS, Mohawk students play an important role in driving innovation and discovery. Our goal is to help you apply what you learn in the classroom and make an impact in your field.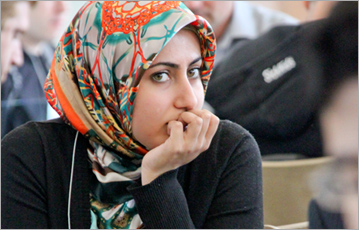 With IDEAWORKS, you'll be able to:
Participate in experiential learning opportunities
Work with industry leaders on real projects
Utilize emerging technology
Gain new knowledge and skills
Prepare to launch your own product as an entrepreneur
Interested? Here's how you can be part of research and innovation at Mohawk:
Co-op placement: You can be paid to work on applied research and innovation projects during a four-month co-op term. IDEAWORKS co-op opportunities are posted on the CareerReady portal, which is now accessible through MyMohawk. For these placements, you may work in a lab on-campus or you may be required to work off-site.
Course release: Mohawk makes it possible for students in their senior semesters to select one or two optional courses in their academic workload from which they are released. You are then enrolled in a project-based Applied Research Course (one for each course from which you are released) and can work under the supervision of a faculty and staff member on current IDEAWORKS projects. ideaworks [at] mohawkcollege.ca (Contact IDEAWORKS) directly to get connected with a researcher.
In-class projects: Currently enrolled Mohawk students can participate in applied research and innovation projects if the professor decides to incorporate them into the course curriculum. Students in senior semesters can also participate in applied research through capstone projects. You can learn more about your options by speaking with your professors about what projects may be available.
Support for entrepreneurs: Are you interested in starting or growing your own business? SURGE, Mohawk's Entrepreneurship connection, in collaboration with iDeaWORKS, provides mentorship, pitch competitions and workshops for young entrepreneurs looking to explore new ideas. SURGE schedules events throughout the academic year.
Attend events: IDEAWORKS keeps a calendar of events related to technology, innovation and entrepreneurship.
Applied Research Award of Excellence
Students involved with iDeaWORKS are eligible for nomination for the Applied Research Award of Excellence and will be recognized at Mohawk College's annual Celebration of Learning event.
Award Criteria: 
This award is open to any student who is completing a credential at Mohawk College and who works with iDeaWORKS as a co-op student, volunteer or as part of their capstone course. To qualify for the Applied Research Award of excellence, the nominee must have achieved a minimum of a 75% grade point average.  They must have made a significant contribution to the success of an applied research project and, during their time working with iDeaWORKS, demonstrated each of Mohawk College's Institutional Learning Outcomes (communicator, collaborator, critical thinker, lifelong learner and responsible citizen).
Faculty
Mohawk faculty play an important role in applied research and innovation projects. Often drawing on years of industry experience, faculty contribute the expertise required to guide research and to find solutions for industry challenges. Faculty also supervise and mentor students to ensure each project provides a valuable learning opportunity.
IDEAWORKS projects provide faculty with excellent professional development opportunities. Working with IDEAWORKS offers you an opportunity to strengthen industry partnerships, network with other academic institutions, access support for attending workshops and conferences and keep current with emerging industry trends and technologies.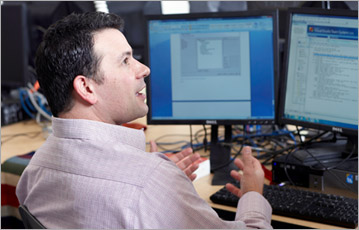 Get Involved
Please email us at ideaworks [at] mohawkcollege.ca to find out more about:
Current and upcoming projects and/or funding opportunities for research and innovation.
Ways to incorporate applied research and innovation projects into the classroom (activities, labs, capstone projects, etc.).
How to initiate a project based on your own idea and/or the idea of an industry partner.
Mohawk College Research Ethics Board (MCREB)
For faculty initiating research projects involving human subjects, please submit an application to the MCREB for review. The MCREB ensures that all research conducted at Mohawk by faculty, students, staff and affiliated research communities at meets the research ethical principles of respect for human dignity, respect for persons, and concern for welfare and justice. Access the policy, forms, and FAQs at the MCREB website.
Applied Research and Innovation in Education Fund
The Applied Research and Innovation in Education Fund (ARIE) provides resources to encourage faculty and staff at Mohawk College to engage in innovative activities that benefit the College, faculty and staff, students, and/or external partners.
Information about applying to the ARIE Fund is available on eLearn.
Sign into eLearn to register in the Applied Research and Innovation in Education course, accessible through Open Offerings. In eLearn, you can access the application form and budget template, listen to an ARIE info session and access resources such as step-by-step tutorials, stories about past ARIE projects, and information about research ethics and grant opportunities.
Industry
IDEAWORKS works with you to help support your growth and innovation. We are a regional centre for industry commercialization, entrepreneurial collaboration and creativity.
At Mohawk College, our focus is on applied research: the immediate and practical application of theory. We use the theoretical knowledge discovered and refined by our faculty, staff and students and apply it directly to support the success of your project.
Working withIDEAWORKS will allow you to have access to our research expertise, help you learn about and profit from new technologies and provide you with access to state-of-the art technology, labs and facilities.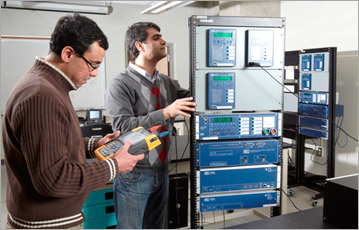 How we work together
Working with IDEAWORKSand one of our three research centres gives you access to the resources you need to become more productive and competitive in today's economy. We offer the following services:
Research, design, develop, prototype, test new products, processes and technologies
Access to funding for research and development activities
Software development, optimization, and integration
Access to technology, facilities, faculty expertise and student talent
Access to funding sources
Training and consulting services
Events and networking opportunities
Our reach and expertise is global and we frequently partner with both Canadian and international organizations.
Intellectual property
At Mohawk College, we have a comprehensive policy in place to project your IP. Our Intellectual Property Policy (opens PDF, 121kb) is available online and will also be reviewed with you during initial discussions. Non disclosure agreements are also available.
Project staffing
Working with IDEAWORKS means that you get direct access to subject matter experts- our experienced faculty and staff. Our students also play an important role of the success of your project. IDEAWORKSstudents are closely mentored and supervised by our faculty and staff.
Getting started
We initiate projects on an on-going basis, so don't hesitate to contact us to find out more about potential opportunities. Contact IDEAWORKS's Industry Liaison Officer, at ideaworks [at] mohawkcollege.ca to to discuss potential projects and partnership opportunities.
We work with:
SMEs
Start-ups
Larger Corporations
Healthcare Organizations
Non-Profits
Government Agencies
Our contributions to industry have included:
eHealth and mHealth

EHRS Reference Implementation
EHRS Visualizer
Everest Framework

Additive Manufacturing

Prototyping in plastic and metal
3D printing using ABS, polyamide & polystyrene or metals

Energy

Wind farm integration research
Power load integration research
Power quality research