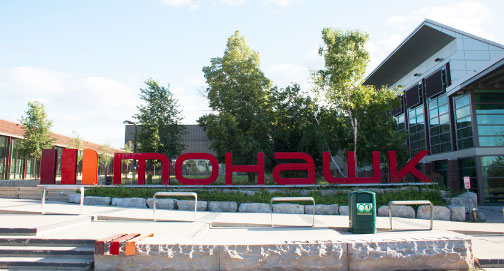 Facility Services oversees the maintenance and improvement of all College facilities to enhance the learning environment and protects the College's physical facilities assets.
Report a Maintenance or Housekeeping Issue
If you experience any of the following problems:
Classroom temperature extremes
Air quality issues, e.g. airflow, stuffiness, or smell
Plumbing or electrical problems
Water leaking from roof or A/C units
Housekeeping concerns,  e.g. room cleanliness or absence of chalk
Please submit a repair and/or maintenance requests using any of the methods below:
by email:

maintenance

[at]

mohawkcollege.ca

by phone: 905-575-1212, ext. 2336
Hours of Operation: 8:30am - 4:30pm
After hours: Contact the Boiler Room at 905-575-1212 ext. 2213 or Contact Mohawk Security at 905-575-1212 ext. 2003
When submitting your request, please provide a room number, date, time, and specific nature of the complaint.
---
Issues at the Institute of Applied Health Science (IAHS) Campus
Please submit all IAHS Campus maintenance requests to iahsbuildingservices [at] mohawkcollege.ca
---
Property Services
Property Services provides the set-up for convocations, exams, office moves and relocation of programs through the Property Services Department.
If you have a request for Property Services, please submit them by email: propertyservices [at] mohawkcollege.ca (subject: Property%20Services%20Request)