Sustainable Landscape Plan
The Sustainable Landscape Plan guides transformational sustainable practices that enhance and develop Mohawk College's outdoor spaces. 
This plan has been developed to guide improvements to outdoor spaces in a manner that demonstrates Mohawk's leadership in creating an environmentally sustainable setting for learning, research and community service.  Key projects will facilitate on-site food production, sustainable agriculture, stormwater harvesting, and a variety of collaborative and educational programs that augment the Campus Renewal Plans, as well as the College's Strategic and Academic Plans. 
New and enhanced open spaces will provide students, staff and faculty with unprecedented access to social, learning, and collaborative outdoor spaces, while strengthening the College's connection to the surrounding community.
Click here to read the Sustainable Landscape Plan (opens PDF, 22.8mb).
---
Energy Conservation & Demand Management Plan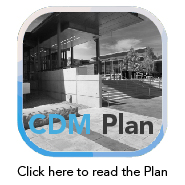 Mohawk College is committed to conducting business in ways which positively impact people, the environment and the economy. Mohawk's Energy Conservation and Demand Management Plan is in accordance with the Ministry of Energy's, O.Reg. 397/11, under the Green Energy Act, 2009 (opens new window).
This plan was created in an effort to help reduce the College's demand for energy, and is aligned with the recently approved Mohawk College Environmental Management Plan 2.0 (EMP 2.0).
Click here to view Mohawk's Broader Public Sector Energy Reporting summary for the 2016 calendar year (opens PDF, 27.83kb). 
---
Mohawk Is Building Green!
Mohawk is committed to walking the talk when it comes to sustainability. Since the launch of the Environmental Management Plan, the College has constructed two LEED® Gold buildings as part of the Fennell Renewal Project. The David Braley Athletic and Recreation Centre (R-Wing) and MSA Plaza opened in fall 2013, and the Learning Exchange and Cummings Library (H-Wing) opened in winter 2011.
Leadership in Energy and Environmental Design (LEED®) is the global standard for green buildings in over 132 countries. Buildings are responsible for 35% of greenhouse gases, 35% of landfilled waste comes from constructing and demolishing them, and 80% of water is consumed in or around them, making the need to construct facilities that minimize their environmental impact all the more important. For more information, visit the Canadian Green Building Council website (opens new window).
---
What is the LEED® Tour?
The Mohawk College Sustainability Office created the LEED® Tours to introduce students and visitors to the many design components within both facilities and to highlight the LEED® Gold certification awarded to the buildings. The tours are an opportunity to explore and interact with the features of this space. Mounted plaques contain information about the design features in each facility, as well as a set of Quick Reference tabs so you can see at a glance how the they contribute to the LEED® score.
There are three ways to take the tour:
Stop by H-Wing (entrance facing Fennell Ave) or the David Braley Centre for Athletics and Recreation (main-floor under the bridge) to take the self-guided tour and experience the features in-person;
Click on the links below to visit a digital version of the tour;
Request a guided tour from the Sustainability Office at

sustainability

[at]

mohawkcollege.ca

. Please note that we are unable to provide access to non-public areas.
The following quick reference tabs indicate how each design feature discussed in the LEED® tour align with different sustainability indicators.

Innovation
An innovative design and/or educational component of the building that enhances performance and/or the occupants' ability to interface with the building

Social
Enhances the human experience within the building, either through technical advances tied to education or the overall building experience

Energy
Contributes to a reduction in the buildings energy consumption
 

Air
Contributes to the indoor air quality within the building
 

Financial
Contributes to a reduction in operating costs, and construction cost savings
 

Waste
Contributes to operation and construction waste reductions
 

Water
Contributes to operational savings and water preservation
 
---
David Braley Athletic and Recreation Centre

David Braley Athletic and Recreation Centre (DBARC) at Mohawk College offers 64,000 square feet of state-of-the-art fitness amenities for students, staff, faculty and the community, and event space for college and community events. The facility opened in Fall 2013 and features a number of innovative environmental features to help reduce its environmental impact and reflect Mohawk's commitment to environmental sustainability. Mohawk's David Braley Athletic and Recreation Centre (DBARC) has received LEED Gold certification from the Canadian Green Building Council (opens new window) – meeting the global standard for green buildings in more than 132 countries.
Take the DBARC LEED® Tour (opens PDF, 4.6mb) to learn about the sustainable features in the facility. Features include:
Rooftop solar panels which help to heat the water used in the facility. The rooftop is also "solar ready" allowing for the solar facility to be expanded to accommodate additional panels;
An energy management system which results in the building being 34% more efficient than conventional ones. This prevents the release of 249 tonnes of CO2 per year;
Convenient access to cycling, transit, walking, carpooling and car sharing infrastructure and services to encourage facility users to leave their car at home or ride in with a friend
---
Mohawk Student Association (MSA) Plaza

Adjacent to DBARC is the Mohawk Student Association Plaza, a pedestrian only-square constructed on a reclaimed parking lot. The MSA Plaza is the largest outdoor project of the Fennell Renewal Project. Design features include:
Walking paths and pedestrian-only areas;
Permeable concrete and paving stones – materials that are more sustainable than traditional paving;
Variety of new trees and plant species, complimenting an already vibrant campus landscape;
Health and wellness supported by outdoor recreational programming, and active, social space for students, staff and faculty.
---
Learning Exchange and Cummings Library

Contemporary architecture meets smart classrooms with the latest technologies, minimal finishes and industry-leading energy upgrades. The H-Wing is a 40,000 square foot space with sustainability at the core of its design and day-to-day operation.
The H-Wing was constructed to LEED® Gold standards, where materials used and systems implemented are helping to reduce the building's environmental impact. The building lives as a living lab for Engineering Technology students, with nearly 75% of the space is usable for academic programs. This compares to the industry average of between 40-50%. Features of this building include:
Clean energy features, including exterior lights powered by wind and solar, in-floor heating, and interior lights equipped with automatic sensors
A green roof and living wall made up of over 2,000 plants
Designed to accommodate grey water in the future
---
Fennell Campus Wind Project
The Fennell Campus Wind Project is one example of how Mohawk integrates applied sustainability into the curriculum. Two wind turbines located along Fennell Avenue generate power for educational purposes. While most wind turbines are a feed-in-tariff project that offset energy consumption, these turbines are connected to software applications and databases that allow students to monitor their performance and compare data against ambient weather conditions. This provides students with valuable experiential learning opportunities. In the case that Mohawk College pursues a larger renewable energy project in the future, the turbines installed for the Wind Project could be added to a broader network.
Click here to view the Renewable Energy Approval from the Ministry of Environment (opens PDF, 2.5mb).