New Waste Bin Signage
In partnership with the Sustainability Initiatives Fund, we've brought a fresh new look to waste bins across Fennell Campus. The updated signage includes information about recyclable and non-recyclable items to help you put your waste in its place.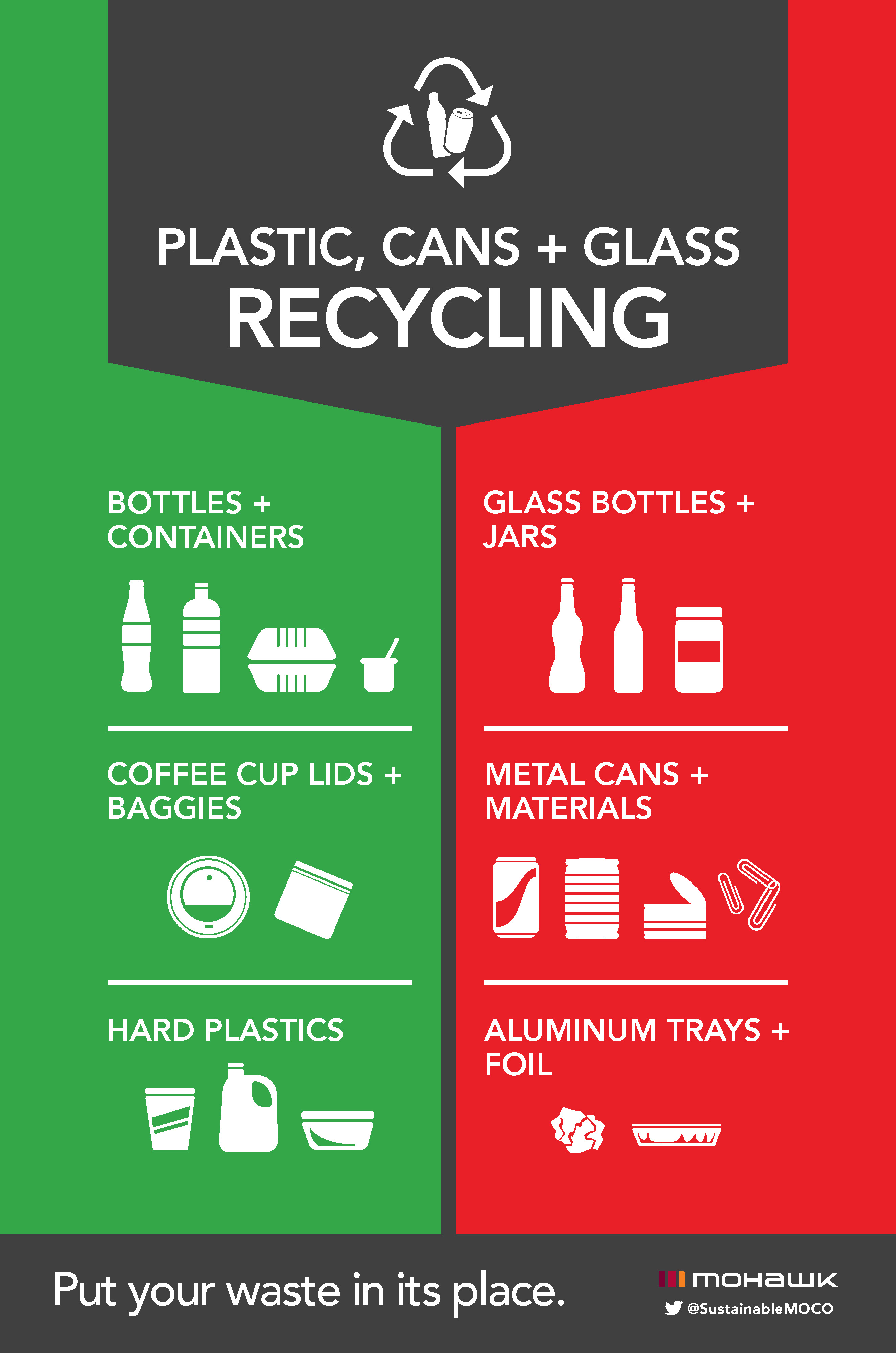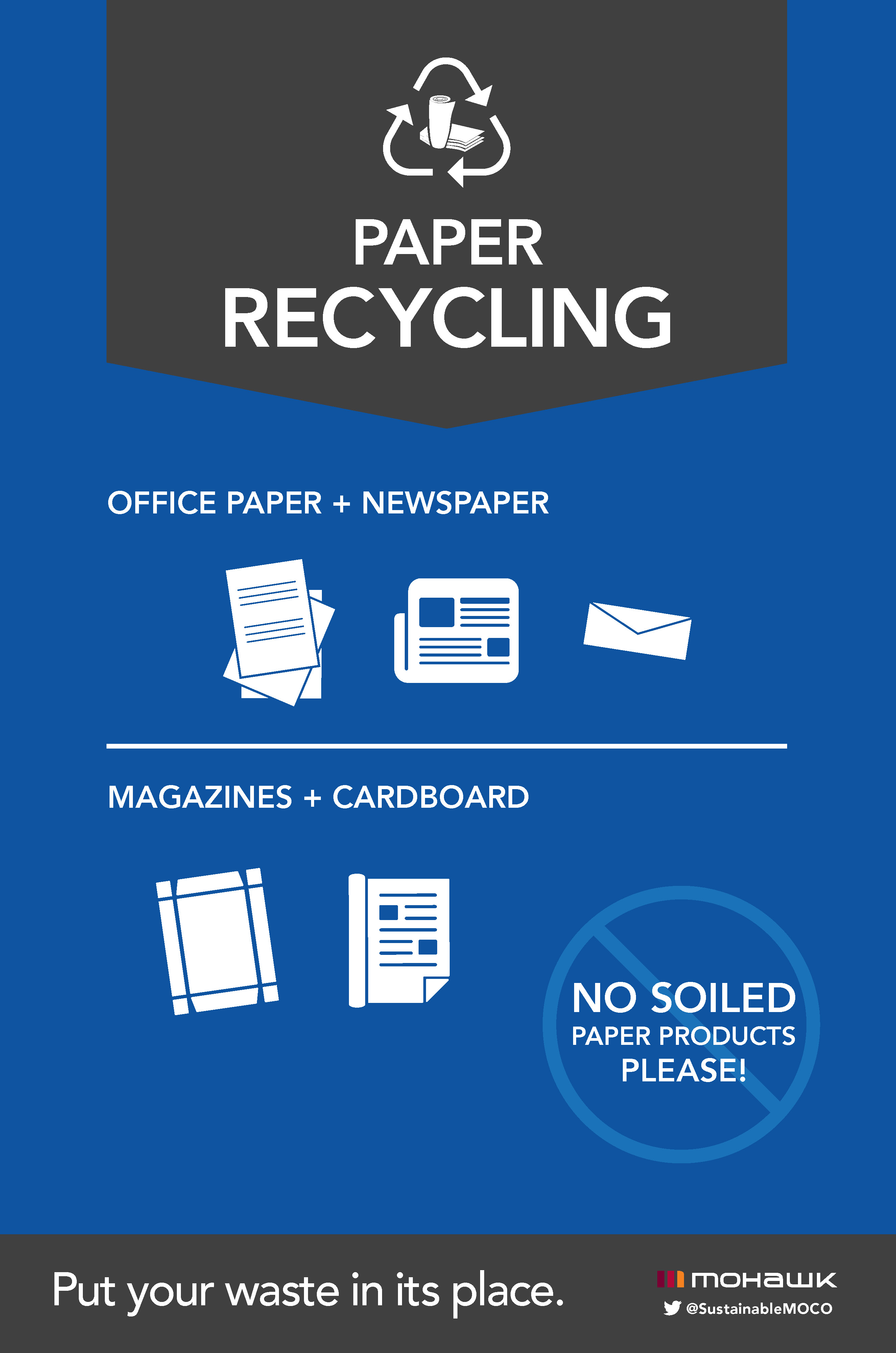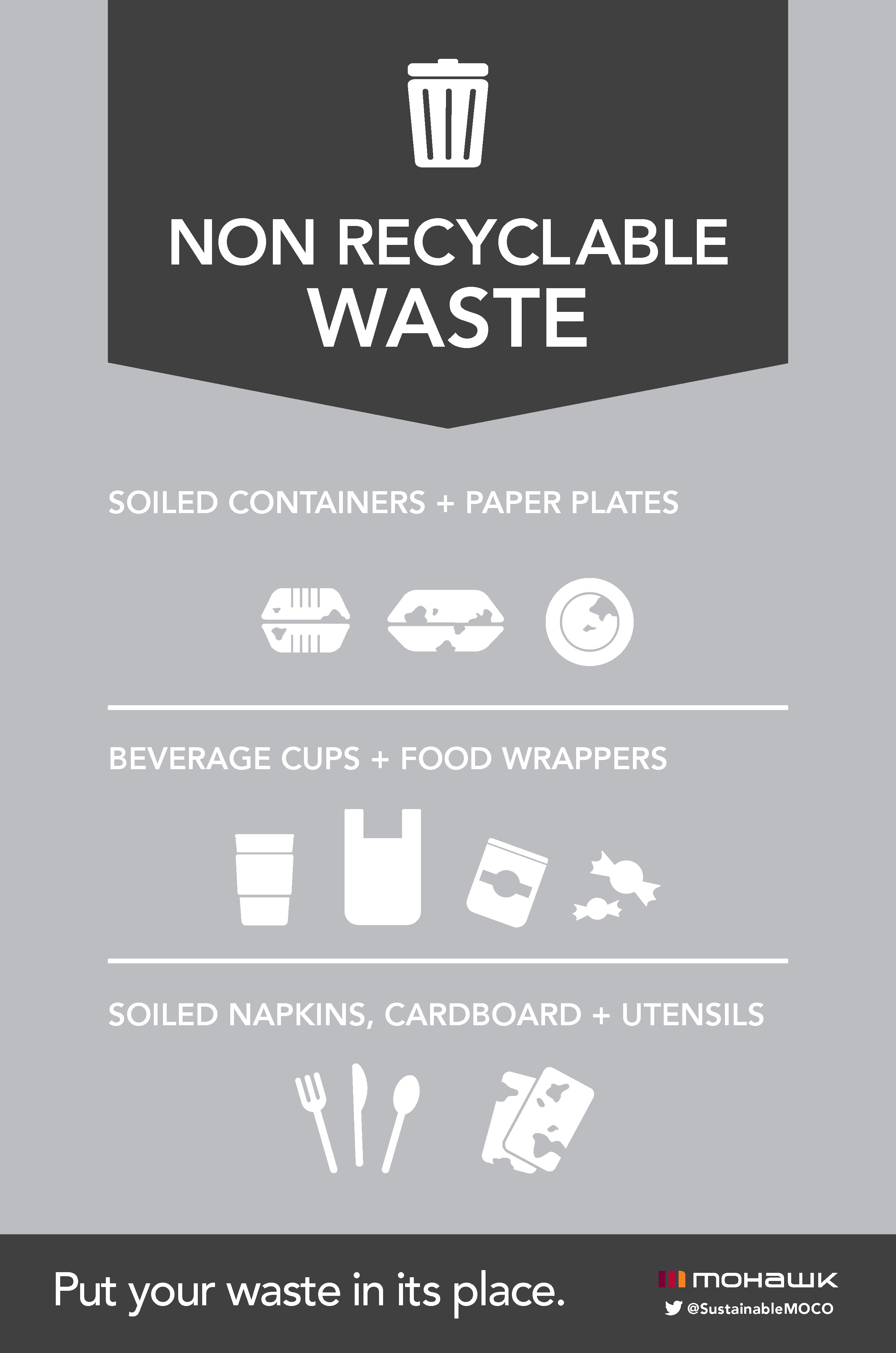 ---
Green Bins/Composting
In 2017, 55% of Mohawk College's waste to landfill was food and organic wastes (Fennell Campus). Addressing food and organic waste on campus is an important part of reducing waste created on campus. If you are eating in the C-Wing Cafeteria, there are large roll-off green/compost bins in the seating area. Find them near the Tim Hortons and the dishwashing station.
As well, much of our composting is done behind the scenes in the kitchens. They dispose of pre-consumer food such as food preparation scraps.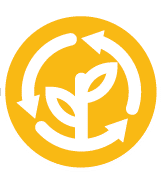 There are many environmental benefits of diverting organics and food wastes, including:
  Reduction of methane emissions

  Decreased leachate from landfills

  Production of valuable compost and renewable energy
---
Lug-A-Mug
Did you know: Many coffee cups contain a material called polyethylene. This material prevents liquid from leaking through the paper cup, but it also causes the cup to become unrecyclable!
Instead, save 25¢ every time you use a reusable mug on campus!
---
Coffee Cup Recycling Bins
With the help of Facility Services, the Sustainability Office has implemented specialized coffee cup recycling bins around Fennell campus as part of a pilot project. These yellow bins are specifically designed for the disposable coffee cups and collect every aspect of the cup including the lid, sleeve, and liquid. The bins can be found around food services areas such as Tim Hortons, Starbucks and the Cafeteria in C-Wing. Just follow the instructions on the bin to help put waste in its place:
Step 1: Pour leftover coffee into right receptacle.
Step 2: Remove lid from cup and place into the left receptacle.
Step 3: Place cup and sleeve into the middle receptacle.
Step 4: Give yourself a high-five!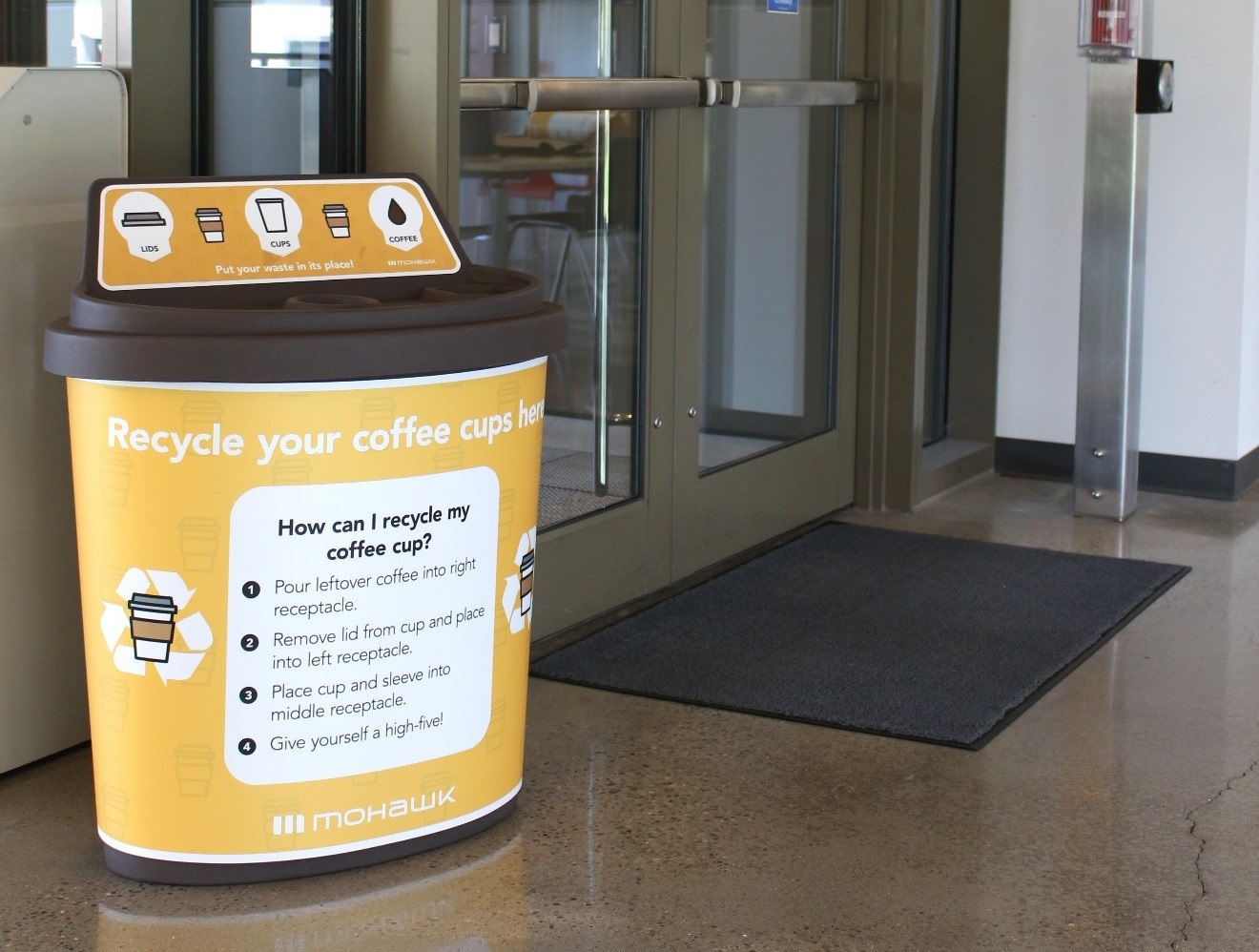 ---
Plastic Waste
In 2013 and in direct alignment with the Environmental Management Plan, Mohawk College issued a policy to help reduce Mohawk's carbon footprint. The single-use plastic policy (opens PDF, 371kb) aims at lowering waste management costs associated with the disposal of single-use plastics.
Refillable water stations have been installed around the college at Fennell, Stoney Creek, and the Institute of Applied Health Sciences at McMaster campus to encourage the use of reusable water bottles.
Did you know: Over 370,000 visits to water refill stations were made in last year!
Use your refillable water bottle while you're on campus!
---
Electronic Waste
Program Overview
The proper collection, reuse and recycling of electronic materials and equipment is an important part of environmental stewardship. Anything from televisions, monitors, cell phones and non-cellular phones, desktop computers, key board etc. can be recycled, reused or repurposed under the WEEE Program in Ontario.
At Mohawk, we offer a year-round electronic recycling service that is available for all students, staff and faculty to use.
Year-round Drop off Locations
Fennell 

Currently Unavailable. Updated drop off location to be provided in August, 2018. 

For immediate assistance, please email sustainability [at] mohawkcollege.ca

Stoney Creek – Awareness Theatre
What We Accept:
| | |
| --- | --- |
| ACCEPTABLE | NON ACCEPTABLE |
| Computer Equipment (Desktop/Laptop) | Bio & Hazardous Waste/Sharps |
| Computer Peripherals (Mice, Keyboard, etc.) | Chemical Waste |
| Mini & Micro Computers | Air Conditioners & Water Coolers |
| Cell phones/MP3's | Gas Powered Equipment |
| Monitors & TVs (Up to 29") | Ballasts (PCB) |
| Tablets, PDAs/Digital Cameras & Power Supplies | Paint & Aerosol Cans |
| Printed Circuit Boards (All) | Medication |
| Hard/Disk Drives, CD-ROM Drives |   |
| Cables & Wires |   |
| Landline/Cordless Telephones, Pagers |   |
| Printers, Fax machines, Copiers (Under 90 kgs) |   |
| Typewriters |   |
| Projectors, Video Players/Recorders |   |
| Amplifiers, Pre-Amplifiers, Equalizers |   |
| Radios, Speakers, Turntables |   |
| Audio Players/Recorders |   |
As an ongoing additional service to students, staff and faculty, Mohawk College accepts additional items not listed within the WEEE Program in Ontario:
ADDITIONAL ITEMS
Smoke Detectors
Microwaves, Toaster Ovens & Vacuum Cleaners
Print Cartridges (in sealed bag or box)
Please do not remove items from this bin.
Have a Question? Visit Recycle My Electronics or tweet @SustainableMoCo
---
Battery Recycling Program
The Sustainability Office has teamed up with Raw Materials Company Inc. (RMC) to bring an on-campus battery recycling program. All students, staff and faculty are encouraged to bring their used batteries to any of the specified locations listed below and we will ensure they are properly recycled.
Battery collection is available: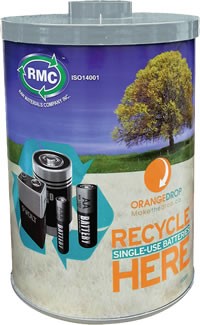 Across from C008 (in seating alcove)
Acceptable Batteries:
Single-use batteries (place tape over terminals)

Alkaline Batteries
6 Volt
9 Volt
AA, AAA, C, D

Lithium batteries (tape terminals)
Button cell batteries (tape terminals)
Car batteries
Rechargeable batteries
Corroded, leaking batteries and damaged (placed in bag)
For more information on how to prepare your batteries for recycling, please visit https://www.rawmaterials.com/page/education/prepare-batteries/