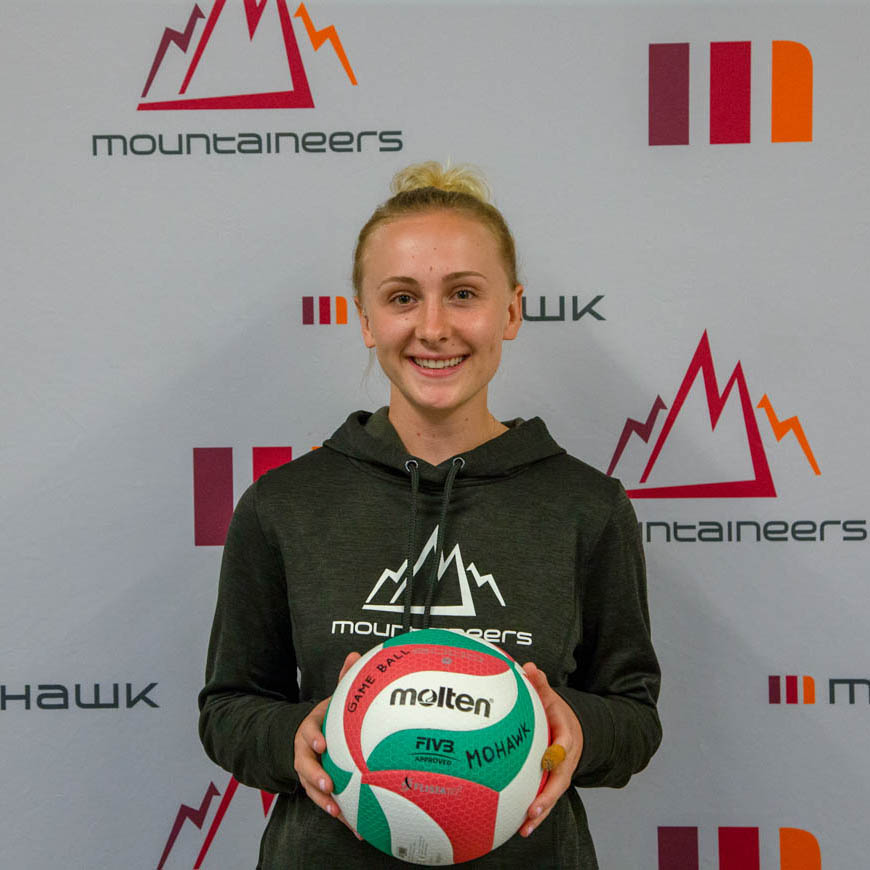 The power game is what stands out in volleyball. Players who can spike the ball for points are obviously vital to a team's success and their offensive statistics can be quite impressive. However, there are other players on the court who have vital roles as well. Setters, for instance, pile up assist stats as they feed the front line players. But even they need help from the people behind them. 
It's natural to see how many 'Kills' a player gets in a match, but another key column on the score sheet is called 'Digs' and that stat is essential for a successful volleyball defence. The digger's job is to prevent the ball from hitting the floor after being spiked by the opposing team.
Friday (Nov. 23) versus Boreal, Kinsley Child recorded her 526th career dig, breaking the previous Mohawk College women's volleyball record held by Mountaineer Hall of Famer Leah Waxman.
Child said defence is very important in the game. "Everyone wants to hit, but you've got to get the ball up, to be able to hit. So we focus a lot on defence. You don't get a lot of recognition for it, but if you just put your head down and work, it doesn't matter, as long as you're happy with yourself in the end," Child said.
One person who is very proud of Child's play is her head coach Matthew Schnarr, as the two of them go back several years. "I spent about six years with Kinsley," said Schnarr. "She was one of my 'club' players for a couple of years before I came into the women's game in college. To be here on the night she breaks the digs record is very special for her and me. We've been through a lot together," Schnarr said.
Child, a fourth year player from Wellandport and Sir Winston Churchill Secondary School in St. Catharines, noted she had taken a year off from volleyball and when she returned, Schnarr ended up being her coach again.
"I've never been a big hitter, so we've worked on service, control and defence. Last year I got my chance to shine with a lot of my digs, when I was a (full time) Libero."