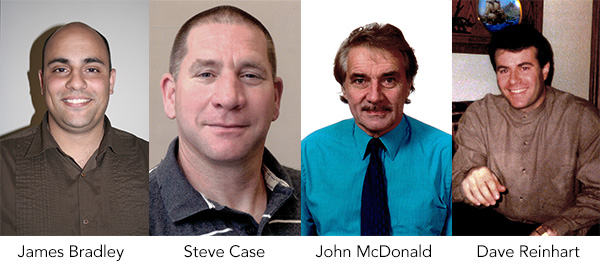 Former Mohawk Coaches James Bradley and John McDonald and ex-players Steve Case and Dave Reinhart, have been elected to the Ontario Colleges Athletic Association Hall of Fame.
James Bradley was the Mountaineer Men's volleyball coach for seven seasons, from 2003 to 2010. He guided the Mountaineers to five appearances at the OCAA's, bringing home two gold medals, one silver and one bronze.Under his leadership, the Mountaineers made three trips to the CCAA Championship, culminating in a bronze medal win in 2008.
He was twice named OCAA West Coach of the Year, first in 2004 and again in 2006 and was nominated for CCAA coach of the year in 2006.
During his tenure, Bradley built a tradition of excellence for the men's volleyball program at Mohawk. It's a tradition that continues to this day. He loved working with his players and watched with pride as many were recognized by the OCAA and CCAA as All Stars, MVPs, Players of the Year and All Canadians.
John McDonald and his coaching expertise from 1985 to 1992 has left a legacy of excellence for the Men's Varsity Soccer program. McDonald's soccer teams captured OCAA medals in four championships, narrowly missing medals in two others. In the1989-1990 season, his team won the OCAA Championship and the CCAA Championship. He was named OCAA Coach of the Year in 1988-1989 and 1991-1992. During his coaching career, McDonald's athletes were named OCAA League All Stars, CCAA All-Canadians, CCAA Tournament All-Stars and Most Valuable Player, CCAA Top Goalkeeper, Mohawk's Male Freshman Athlete and Mohawk's Outstanding  Male Athlete - a legacy to be proud of.
Steve Case was a strong, powerful runner whose physical stature resembled a football fullback. That strength and endurance allowed him to anchor the Men's Cross Country team during Mohawk's historic domination of the OCAA Running Championships in the mid-eighties. Case won back to back individual OCAA Gold medals in 1985 and 1986 and subsequently led the Men's team to an OCAA Gold Medal in 1986. He was also named Team MVP in 1986.
Dave Reinhart, (inducted posthumously), was a gifted Mohawk athlete who chose to excel in Badminton.  He captured successive OCAA men's doubles gold medals in 1982 and 1983 with partner Ron Baribeau and a CCAA Silver medal in 1983.  Reinhart was named team MVP in both these years and Co-Outstanding Male Athlete in 1983.  A credit to his athleticism and commitment, he added an OCAA Bronze medal in1982, as a member of the Cross Country team and coached Mohawk's badminton team in 1984.
Complete Hall of Fame Details here:
http://ocaa.com/sports/general/2018-19/releases/03052019ocaahof