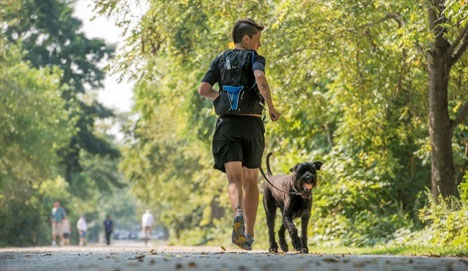 "Kat' Clewley with her dog Vanilla
Photo courtesy Gary Yokoyama, Hamilton Spectator
The men's relay win, was not the only Mohawk story in the Around the Bay race. Running the 30 kilometre distance backwards was easily the most intriguing and YES, I said backwards.
Kathryn (Kat) Clewley, the Manager of Mohawk's David Braley Athletic and Recreation Centre, has been doing this since 2015 and is the world record holder in the discipline. The athletes involved prefer to call it 'Retro Running.' But make no mistake. It's running backwards.
The 40 year old Clewley, who hails from Burlington, is a former goalkeeper with the Canadian National Women's Soccer Team and she has run in many different race distances including 100 miles (uh, forwards).
Her world record for retro running in a marathon (26 miles, 385 yards) was set in Hamilton's Road2Hope race in November of 2017. And she didn't just beat the previous standard. She obliterated the nine year old mark by around sixteen-and-a-half minutes, hitting the finish line in 4:26:06
Clewley has also broken world records in the half-marathon, 10 kilometres, five kilometres and 800 metres.
Her time in the Around the Bay, which has the odd distance of 30 kilometres, was 3:18.
She runs her races with a 'spotter' who keeps her out of danger. She learned it the hard way, about a year ago, when she stepped in a pot hole, fell and suffered a badly broken wrist.
Clewley says running backwards has some very positive physical benefits. It improves your posture, uses 30 percent more energy and uses contrasting muscles.
Maybe it's time for a special Retro Running category in the Bay Race. But for now, at least, Clewley is the 'Kat's Meow.'