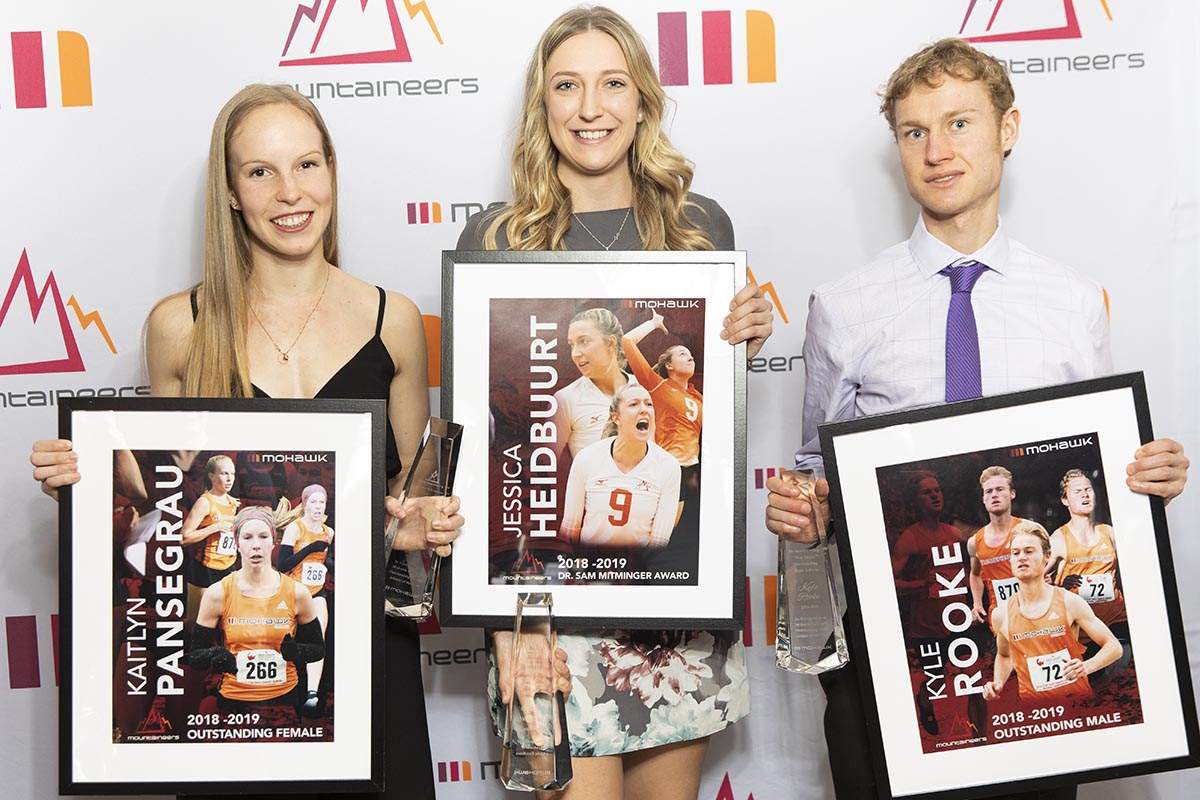 Cross country runner Kyle Rooke has been named the Wes Hicks Outstanding Male Athlete at Mohawk College for 2018-19. The honour was announced at Carmen's Banquet Centre Wednesday, April 3. Rooke won four straight meets, capping his campaign with a triumph in the OCAA Championship. He was OCAA  Athlete of the Week three times and was named a first team All Ontario runner. Rooke finished seventh in the CCAA National Championship.
Another Cross country runner,  Kaitlyn Pansegrau was selected as Mohawk's Outstanding Female Athlete. Pansegrau won at Fanshawe, then fashioned fourth, eighth and third place finishes, the latter result coming at the provincial championship, where she was named a first team All Ontario runner. She then finished her season with an 11th place finish at the Nationals.
The Female Freshman Athlete of the Year is Kaelyn Emslie, who was named to the OCAA West Division Women's Volleyball All-Rookie Team. She helped the Mountaineers to a 13-5 West Division record and a top five finish at provincials.
The top Male Freshman Athlete is Emanuel Otong, who was the OCAA Men's Basketball Rookie of the Year, the West Division's top rookie, West Division Second Team All-Star and a member of the West Division All Rookie Team. Otong was Mohawk's leading scorer and finished second in  West Division points.
Mohawk's All Round Female Athlete is Sarah Ongarato, who was an important part of the 5-3-2 women's soccer team. She was also on the women's indoor soccer team, which finished second at the West Regionals, then won an OCAA Bronze Medal. Ongarato also played second on the women's curling team, which just lost out in a very exciting bronze medal game.
The highest honour in Mohawk Athletics is the Dr. Sam Mitminger Award, which was captured by women's volleyball Middle Jessica Heidbuurt. The award goes to a graduating player who achieves consistent academic and athletic excellence. Heidbuurt produced an 85 percent average over three semesters and was an OCAA first Team All-Star, OCAA  All-Rookie Team member, OCAA West Rookie of the Year, OCAA Overall Rookie of the Year, OCAA  Athlete of the Week, and guided the Mountaineers to an 11-7 league record, which was tied for 4th place, but finished 5th in the West.
Other Awards
Michelle Harkness Department of Athletics and Recreation Award for outstanding participation in both Varsity and Campus Recreation Programmes: Jinil Patel
Hap Holman Business Award for outstanding participation in varsity athletics and academic excellence in a business programme by a second or third year student: Nic Francis
Barb Moore Spirit of Athletics Award for a non-participant who has been a valued supporter of the Athletics Department and all of its programmes: Raniel Maranan
Dr. Keith McIntyre Athletic Leadership Award for outstanding leadership qualities that have contributed toward the enrichment, support, development and enhancement of student life at Mohawk: Tabitha Fair
Athlete Scholar Award to the top varsity athlete who attains the highest grade point average in their current varsity season (using fall grades): Alexandria Nunes
Canadian Collegiate Athletic Association All Canadian Awards:
Kaitlyn Pansegrau (Cross Country)
Jason LaPorta (Cross Country)
Sabrina Mariani (Women's Indoor and Outdoor Soccer)
Jessica Heidbuurt (Women's Volleyball)
---
Learn more about Mohawk Athletics and Recreation