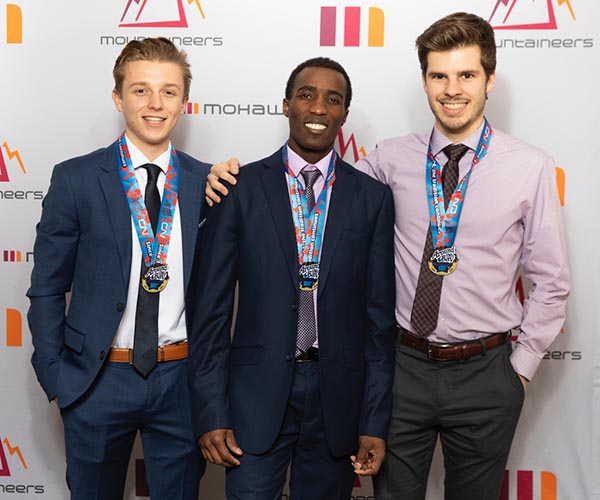 Carter Rudge, Fred Muriu, Kyler Norton
Three Mohawk College cross country athletes teamed up to win the men's 30 kilometre Relay in the prestigious Around the Bay Road Race March 31 in Hamilton.
Carter Rudge said he, fellow Mohawk cross country runner Kyle Rooke and assistant coach Kyler Norton signed up for this relay race back in October, near the end of their  Ontario Colleges Athletic Association cross country season.
"Winter was tough on all of us training-wise with work, school and injuries,"  Rudge said. "We found out a few days before the race that Kyle could not run due to a stress fracture injury, so I asked our teammate Fred Muriu if he could run for him in our race and he said yes." Rudge ran the first leg, Muriu the second portion and Norton ran the last leg of the race. 
"For how we decided who would run what leg was really just a coin flip," Norton said. "We have all run the Around the Bay before, whether it was the 10k relay or the full 30k. We just tried to pick legs that we haven't run before and I was lucky enough to draw the final leg. I personally wanted to run the final leg because I wanted to take on 'Heartbreak Hill,' which was brought back into the course for this years race."
The Mohawk runners all trained for the same distance, but being a relay, they started at different spots around the bay.
Muriu said it was an awesome race but he didn't know how well it would go. He hadn't been training since his last race - the Santa 5k event in Hamilton, which he won in December.  He had planned on entering a half marathon in Burlington, but was out of shape in February.
"I decided to register for Around the Bay 30k but I was hesitant since I wasn't training enough, Muriu said. "I only went for two runs in March. One was 35k and the other  only 15k.
On Wednesday, the week before the bay race, Carter messaged me asking if I would replace Kyle and it hit me so bad, since I was very busy with school and never trained."
Muriu just prepared his mind to do a 10km and believed he could. He was determined even though his training was zero at the time.
"I told them, yes I will do it. I prepared for everything and was ready on the race day. I took the bus to the 10k mark and the race was on. I got the ribbon and did my second leg. I was feeling the pain, but I pushed on and managed to the 3rd leg. I was slow, but I made sure no other person from a relay team passed me. I enjoyed the whole way and I managed a good time," Muriu said.
Norton's part was a departure from his coaching role, where he runs with the student athletes, but pushes them through training to prepare them to achieve their goals  throughout the season.
During meets he coaches from the sidelines, shouting out split times or simply cheering and supporting his team as they race through the trails. "It's really a rewarding feeling to see your athletes cross the finish line after a great race and to see the joy on their faces. That's why I love coaching," Norton said.