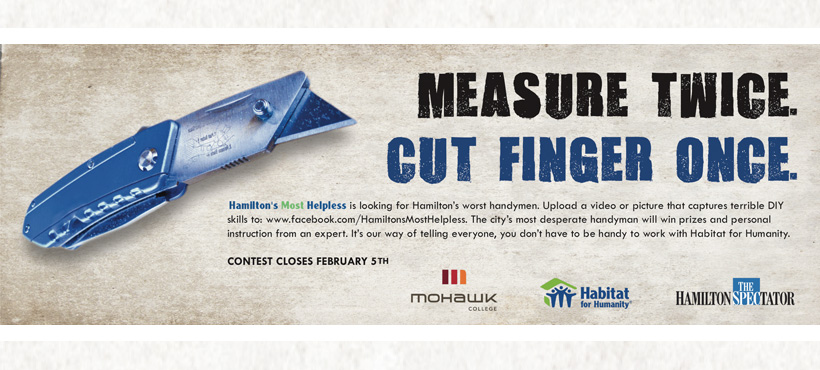 Habitat for Humanity
Habitat for Humanity's mission is to mobilize volunteers and community partners in building affordable housing and promote home ownership as a means of breaking the poverty cycle.
The Ask
The organization needed to build awareness that would lead to increased fundraising and volunteer recruitment. Advertising students were tasked with developing a strategy that would achieve client objectives. Their solution was to create a clever contest targeting the Hamilton community's 'worst handymen" as a way of communicating that volunteers needn't be really handy in order to help.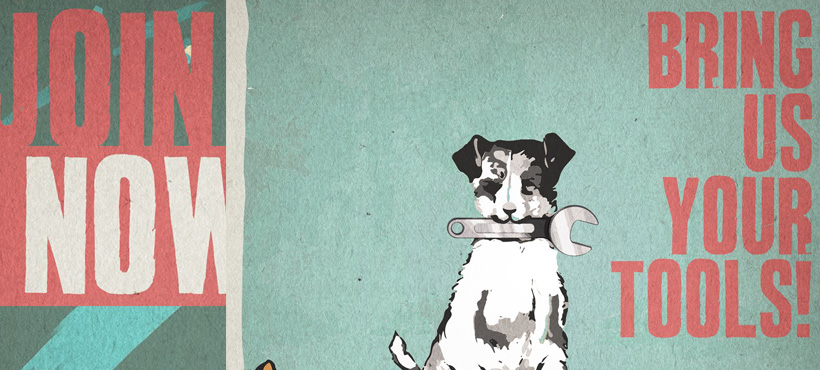 The Hamilton Tool Library
The Tool Library is a new not-for-profit concept located in the downtown Hamilton core. It was designed to offer low-cost membership in the Tool Library. This enables members the opportunity to borrow a variety of tools, enabling area residents to repair and maintain their residences at minimized cost to them.
The Ask
A team of Advertising students were tasked with developing a campaign intended to build awareness for the Hamilton Tool Library, encourage membership and to solicit donations of tools to the non-profit. The result was a multi-faceted poster campaign that was circulated throughout the Hamilton area.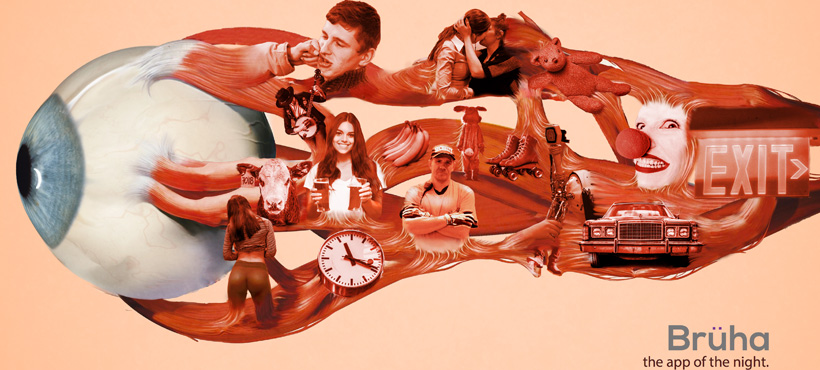 Bruha
As a start-up company incubated at the Innovation Factory, Bruha developed an app and website designed to showcase entertainment options available in major communities across southern Ontario. In addition, it functions as a ticket vendor for various attractions and venues.
The Ask
Bruha had limited resources and needed to establish a clear brand identity. It also needed to secure a variety of promotional tools to build awareness and recognition, specifically targeting college and university communities. An Advertising student team collaborated in developing a fresh brand identity for the company as well as posters and radio spots focused on its target demographic.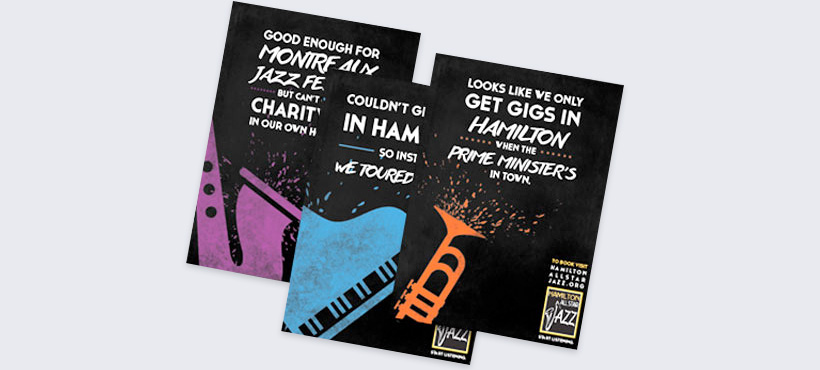 Hamilton All Star Jazz Band
The Hamilton All-Star Jazz Band is a music development program designed to showcase young musical talent. It is one of the premier platforms of its type in Canada, offering young musicians the opportunity to learn and grow with the band while playing and touring throughout the U.S. and Europe.
The Ask
While the band has a well-earned reputation for excellence abroad it is not as well known locally and indeed has difficulty in getting local bookings to play in its home city. This lack of awareness and opportunities to play locally was what motivated the band to approach the Agency for marketing communications help. As a result Advertising Program students developed a radio ad as well as a series of provocative print ads to promote the band. These were designed to stimulate greater awareness and to increase the potential for more local exposure as well as bookings.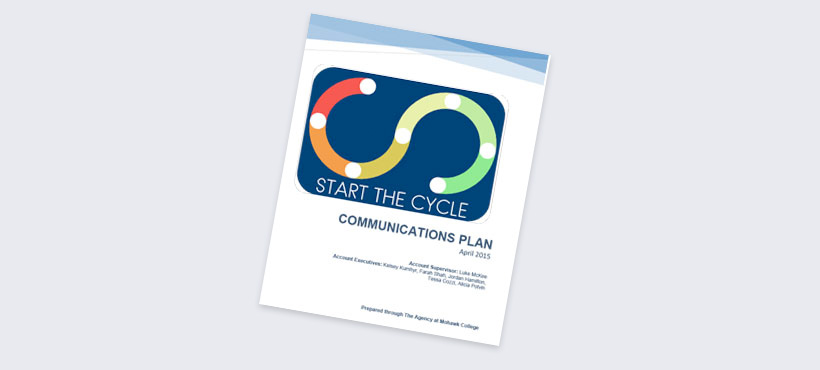 Start The Cycle
Start the Cycle is a Hamilton-based, grass-roots not-for-profit organization which has launched an innovative free bike share system. The concept is intended to encourage the use of bicycles as an environmentally responsible method of urban transportation. This is done by supplying donated bicycles for sharing at various locations, especially for low-income groups.
The Ask
Start the Cycle needed to accomplish three objectives in order to fulfill its intended mandate – 1) increase the number of bicycles donated to the program, 2) increase the reach of a social media campaign and 3) reach out to the media to build awareness for the goals and needs of Start the Cycle. To that end, a team of Public Relations students created a multi-faceted communications strategy for Start the Cycle intended to build community awareness.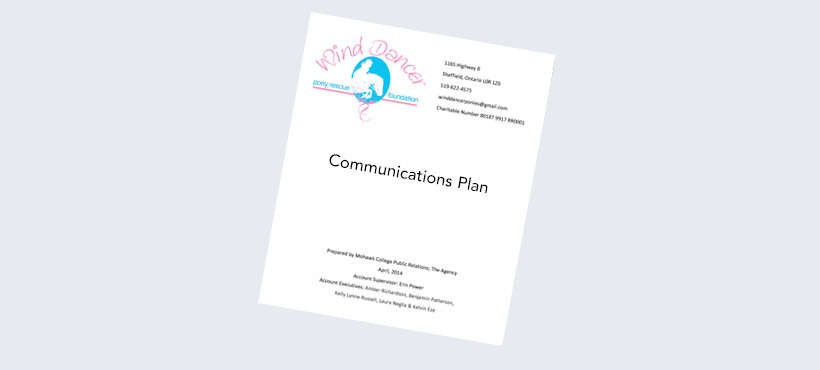 Wind Dancer Pony Rescue
Wind Dancer Pony Rescue is a non-profit organization founded in 2011 to provide rescue, care and a home for ponies that had been harmed or abandoned. It functions as a sheltering education center and advocate for equine welfare.
The Ask
The organization needed to educate the public and the business sector about its mandate in order to reach more individual donors as well as securing increased corporate sponsorship opportunities. Public Relations students developed a communications plan utilizing a number of strategies and tactics to achieve the client's goals.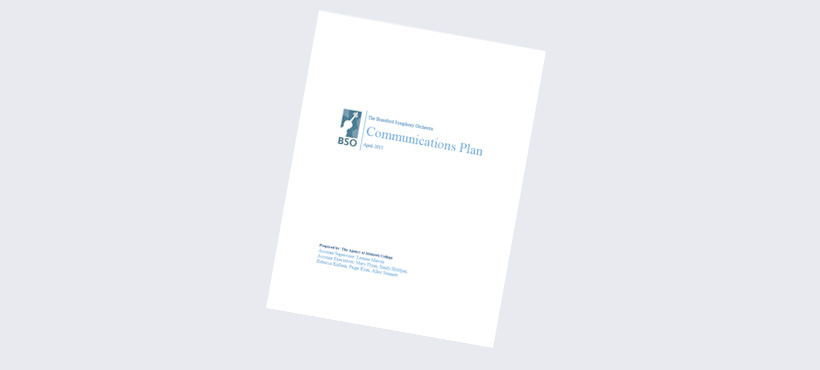 Brantford Symphony Orchestra
The BSO is the only fully orchestral group within the Brantford and surrounding market. Their program is extensive with the goal of providing audiences with a superior quality musical experience.
The Ask
The BSO has a loyal local following but required greater public awareness at the community level as well as with various area businesses and corporations. This enhanced awareness was intended to build greater community partnerships leading to increased fundraising opportunities.
Students from the Public Relations program took on the challenge and developed a comprehensive Communications Plan for the BSO to assist it in achieving its goals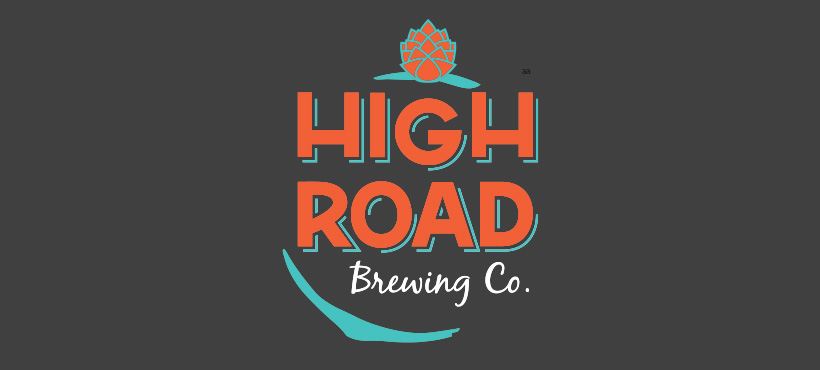 High Road Brewing Company
High Road is a start-up micro-brewery creating premier quality craft beers for discerning consumers.
The Ask
As a start-up, the company required a broad range of brand support to enable it to market itself in a very competitive craft brewing environment. To that end Graphi Designing students created a Brand Identity for the start-up as well as a logo for its first beer. This also included bottle and packaging designs as well as a variety of promotional items.
Client Gallery