Lyla Miklos - Radio Broadcasting, 1997 & Broadcast Journalism, 1998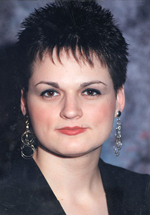 Named Hamilton's Woman of the Year in Communications (2003) Hamilton's Pride Citizen of the Year (2007), and Hamilton's Independent Media Arts & Culture Journalist (2016); Lyla Miklos is an award winning sex positive queer feminist activist, administrator, broadcaster, community organizer, education worker, lay chaplain, performer, public speaker, publicist, vocalist, and writer.
A Media Studies graduate, Lyla is the Host and Producer of Centre Stage on 101.5 FM The Hawk and is the owner of Lyla-The Publicist. Her wealth of media experience includes past roles with Alliance Atlantis, CHUM Television, Vision TV, The Aboriginal Peoples Television Network, Y95, CHML, Cable 14, and The Hamilton Spectator.
Lyla was President of Mohawk Pride, Mohawk College's first official club for lesbian, gay, bisexual, transgender, and queer students. Lyla continued her LGBTQ2+ activism as the Chair of the City of Hamilton's LGBTQ2+ Advisory Committee, Chair of Hamilton Pride, Staff Advisor for Parkside High School's GSA Club, Staff Advisor for Westdale Secondary School's Positive Space Club, and Ontario Secondary School Teacher's Federation representative for the Ontario Federation of Labour's Solidarity and Pride Committee. She was also a support group facilitator for the Toronto Bisexual Network, Bisexual Women of Toronto, and the Hamilton Bisexual Network and was a volunteer for the Toronto Women's Bathhouse Committee.
An accomplished vocalist, Lyla has belted out O Canada at sporting events, recording in studio with local area musicians, performed numerous musical theatre roles, added her voice to several choirs, and has showcased her unique vocal talents as a soloist in countless venues throughout Southern Ontario. The Hamilton Spectator's Theatre Critic, Gary Smith, named her one of the Top Theatre Performers of 2014 for her one woman cabaret show, Songs For A 40th Birthday.
Lyla was installed as a Lay Chaplain with The First Unitarian Church of Hamilton in November 2014. As a Canadian Unitarian Universalist Lay Chaplain Lyla is licensed to officiate weddings, funerals, child dedications and other rites of passage. Hamilton's Unitarian Universalist Lay Chaplains are trained to provide thoughtful ceremonies that mark the significant moments in people's lives while respecting a diversity of beliefs, heritages, identities, and relationships.
Lyla has also served as a committee or board member with the Ontario Secondary School Teachers' Federation, Hamilton Status of Women Committee, Elect More Women, Strengthening Hamilton's Community Initiative, Arts Hamilton, Communication Energy and Paperworkers Union, Hamilton Theatre Inc., Hamilton West Provincial NDP Riding Association, and the Mohawk College Alumni Association.
Lyla currently works for the Hamilton-Wentworth District School Board as a member of the Leadership and Learning Team.