Derrick LaRiviere - Electronic Engineering Technology, 1978
2011 Technology Recipient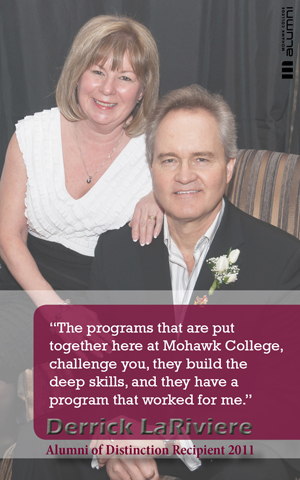 While enrolled in Mohawk College's Electronic Engineering Technology Program, Derrick LaRiviere, was given a great opportunity to have a placement with IBM Canada, which led to a full-time position in the Calgary office upon graduation in 1978. Years later, Derrick took the skills he learned from Mohawk and the business world to start his own company, AMI, with two other partners. Since its inception in the early 1990's to today, Derrick and his company have been serving the IT marketplace, working with Fortune 1000 companies to deliver significant and measurable business benefits. AMI has grown and prospered through the recession into a viable resourceful IT company.
As the visionary leader, founder and president of AMI, Derrick LaRiviere brings more than 25 years of experience working with national and global customers across North America and the United Kingdom. A career schooled in Fortune 1000 companies such as IBM (International Business Machines) and MCI-SHL Systemhouse, Mr. LaRiviere's formal education includes; MBA (Athabasca University - 1st year completed to date, 85% GPA), Professional Manager Designation (Canadian Institute of Management), Electronics Engineering Technology (Mohawk College).
Derrick has produced lasting and meaningful change within the IT industry through the creation of service delivery best practices and the introduction of new and innovative product management services. He has also given back to the industry, volunteering to host the CIPS CIO Roundtable for two (2) years in Calgary, AB.
While working hard on his career, Derrick has taken the time to contribute to his community in many ways including: being a Big Brother to a young boy; a Scout Leader for his son's troop; took the role of President for his children's school council, where he was involved in many fund-raisers, including one where he helped raise money to build a new playground. In 2004 (and each year after) Derrick began participating in the CIBC Run For The Cure, he ran in memory of his late mother-in-law Grace Kee, his Aunt Rose, and also for his Mother Isabel who is doing well today. And in 2003 and 2004, Derrick worked as the liaison with CIPS National (Canada's Association of Information Technology Professionals).
In his spare time, Derrick has written and published a children's book, Silly Sam Squirrel and The Brown Christmas Light Bulb. With his book Derrick has done multiple readings for schools as fund raisers as well as donated many books to schools and other charities.
Dave Pond - Business Administration, 1984
2011 Business Recipient
Truly "Business Minded" Dave Pond, starting at a young age, has been able to recognize opportunities and take chances in business. Beginning in High School Dave was the first president and instrumental in forming the Simcoe Leo Club, a youth-oriented group. Throughout High School and College Dave also ran his own DJ business for 6 years. After graduating from the Business Administration Program in 1984 Dave's entrepreneurial instincts have only expanded. He now has three successful businesses, Edge Imaging, Long Point Eco-Adventures and Burning Kiln Winery.
As a student at Mohawk, Dave took a keen interest in the finance and marketing courses which he found to be "instrumental programs" in his education. He remarked that the marketing courses taught him to, "always have a plan and to work that plan." Along the way he has taken the key teachings of these courses and implemented them into his business ventures as well as the development of the Eco-Adventures park. When asked what advice he would give a student in the business program at Mohawk he said that students should, "have confidence in the education you are getting and set your sights high as you go into the workforce." For Dave, Mohawk gave him the stepping stones to begin and continue a successful career. His education taught him not to settle for less and to always keep looking for the next business venture.
In recent years, he has been the recipient of the Entrepreneur of the Year Award at the Norfolk County's Tourism & Agriculture Symposium; the 2011 Distinguished Service Awards from the Canadian Association of Fairs and Exhibitions for his and his business partner's outstanding involvement and service to the Young Canada Day Committee of the Norfolk County Fair & Horse Show; the Bell Canada Communications Innovation Award; as well as receiving the Business of the Year award from the Burlington Chamber of Commerce for Innovation and Technology. In 2012 Burning Kiln was honoured with providing the wine for the Ontario Legislative Assembly at Queens Park. In 2013 Long Point Eco-Adventures was honoured with a Certificate of Excellence from Trip Advisor. This prestigious award places Eco in the top-performing 10% of all businesses worldwide.
Sue Prestedge - Communications Arts, 1974
2011 Creative Arts & Design Recipient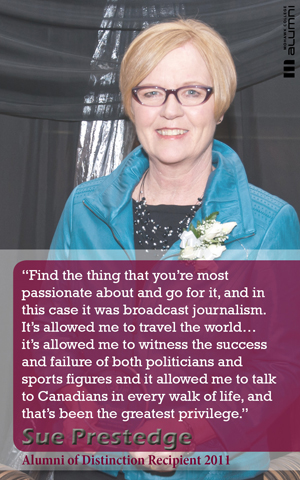 Sue Prestedge has worked in the communications field in varying positions, having enjoyed a successful career in radio, television and now as an instructor, at Mohawk College. After graduating from Mohawk's Communication Arts Program in 1974, Sue immediately began, what became a long and successful career in the communications field. She has hosted and written for CHCH-TV, CBC TV and Radio as well as been the Senior Vice President of WTSN (The women's sports network). Her experience includes anchoring and interviewing in both news and sports. She is also the only woman to have received the FOSTER HEWITT ACTRA award for outstanding sports broadcast at the Los Angeles Olympic Games. From 1997-2001 Sue was the Coordinator of the Broadcast Journalism Program at Mohawk where she coordinated the 3-year broadcast journalism program. Returning to Mohawk a few years later Sue is now the Academic Coordinator for the Pre-Media & Entertainment Program.
Sue Prestedge's broadcasting career has spanned more than 35 years at both the local and national levels. She joined CBC Sports in 1983 and was part of the 1984 Olympic broadcast team, where she was the first woman Olympic host. Her efforts included a 13-part series that examined many issues, including the role of women in sports. The series was critically acclaimed and Prestedge was awarded the Foster Hewitt Award for Outstanding Sports Broadcasting. She is the only woman to have ever received this award.
During her CBC Television career, Sue covered three Olympic games as well as women's alpine skiing and thoroughbred racing. Sue also held the positions of anchor of "CBC Weekend," the Science Reporter for "The Journal," and a replacement Host for "Midday." At CBC Radio, Sue worked as an anchor on Morning Sports National, hosted "Ontario Morning," was a Newsreader and a Fill in Host for the "Afternoon Drive Show." Sue was also part of the CBC radio team for the 1994 Commonwealth Games and the Nagano Winter Olympics.
As the first and only Senior Vice President of the WTSN (Women's Sports Television), a brand new station, from 2001-2003, Sue was part of the creation of the first-ever women's sport television network. She hired staff, created programming schedule, worked with producers and other networks, which resulted in creating and maintaining a network that competed well in the digital sports genre for its 2 1/2 year run.
In addition to her impressive work experience, Sue has been a volunteer with many different organizations including the St. Dominic's Parish in Oakville, as a reader and marriage preparation course instructor. She was on her children's school parent council and was part of the committee to get the school rebuilt, long after her children had graduated. She has volunteered as a media trainer for the Liberal Party, been a substitute trainer and fundraising coordinator at the Oakville Soccer Club, and recently Sue was the Lead hand for the International Women's Day Celebration at Mohawk College in 2011.
Sue retired in the summer of 2017 as coordinator of both Journalism and Pre Media at Mohawk College.
Mary Long - Social Service Worker, 2009
2011 Community Services Recipient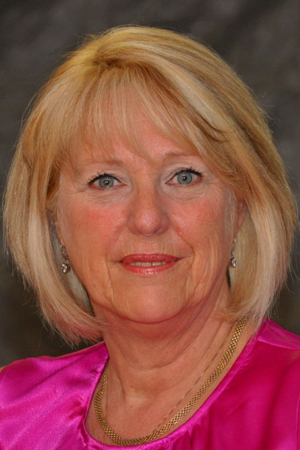 Mary Long, a life-long resident of Hamilton and a retired member of the Ontario Public Service Employees Union, was elected as the first woman president of the Hamilton and District Labour Council on December 3, 2009. A graduate of the Social Service Worker Program in 2009 and a professional member of the Ontario College of Social Workers and Social Service Workers, Mary has overcome tragic loss to embrace academic challenges and emerge as a dynamic leader, mentor and agent of change.
Mary has been the Safety Ambassador for the Workplace Safety and Insurance Board's "Safety starts with you" campaign, sharing her experiences following her husband's fatal workplace injury. It has been this tragedy, which has largely defined Mary's volunteer and work commitments in recent years including co-founding a peer support group, through the Hamilton and District Labour Council, which counsels bereaved families through the impact of workplace fatalities. She has been the elected president of the Ontario Public Service Employees Union Local 216, where she has advocated for human rights and non-discriminatory practices. Mary has actively promoted the involvement of women from the labour movement in "Take Back the Night", and in 2009, organized the display that won the "most inclusive" award. Mary co-chaired and hosted the Hamilton Day of Action, "The People vs U.S. Steel", on January 29, 2011 that brought 10,000 people into City Hall plaza in support of members of USW Local 1005. She has also worked with the "Women of Steel" to enhance the annual "Norma Berti Breakfast" celebrating International Women's Day, making the 2010 and 2011 events the best attended to date.
Using skills developed over years of workplace experience, but honed at Mohawk, Mary has championed inclusiveness and equity in the internal operations and outreach of the Labour Council, including people from various cultural, ethnic and racial backgrounds in the activities of the Labour Council. She has stressed connections to the LGTBQ community in Hamilton and has pushed the Labour Council to participate in positive space training. Not only did she implement the reading of a respect statement at every labour council meeting and event, but she has courageously enforced it too! The values of the profession – choice, equality, justice and access – are clearly the drivers that move Mary to relate the labour movement to the community in new ways.
Mary has also been honoured with many awards for her continuing hard work, including the Labour Activist of the Year, Social Services, 2010 from the Hamilton and District Labour Council, the Dominic Agostino Memorial Scholarship Award in 2008, the Human Rights Award and the Health and Safety Award in 2002 from the Ontario Public Service Employees Union and was the 1997 Woman of the Year from the Mayor's Status of Women Committee, City of Hamilton.
Sharon Pierson - Nursing, 1986
2011 Health Sciences Recipient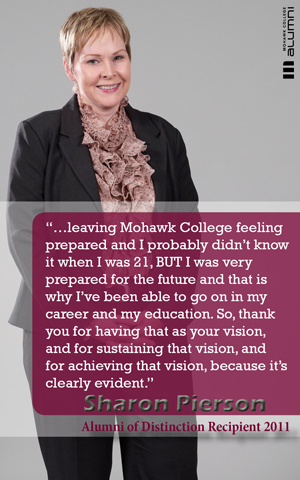 Sharon Pierson, graduated from Mohawk College's Nursing program in 1986. She began as a general staff nurse, but over the past two decades has progressed in her career through the positions of, Cardiovascular Nurse Associate; Clinical Educator – Intensive Care, Clinical Manager – Cardiovascular Surgery, Neurosurgical, Trauma and Medicine Intensive Care Units. Currently she is the Director of Quality, Patient Safety & Clinical Resource Management (QPSCRM) at Hamilton Health Sciences, where she has had an integral role in the success of the program, which has been recognized with multiple provincial awards for excellence under her leadership.
In her current position, Sharon offers senior operational leadership by providing strategic direction and counsel to executive team members, senior leaders, physicians and community partners to make certain the collective objective of ensuring the right care is delivered at the right time, in the right place by the right provider, is achieved. She provides support to the QPSCRM management team and is directly accountable for approximately 200 staff.
Sharon's commitment to quality care is ever-reaching as seen in her role as the current representative for "Council for Academic Hospitals of Ontario" (CAHO) on Ministry of Health and Long-term Care (MoHLTC) ECFAA Implementation Working Group. She has been the corporate lead of the 3-year RN scheduling initiative, with project outcomes including, the elimination of RN/RPN agency nursing staff use, sustaining reduction in absenteeism and overtime, and improving staff satisfaction with the achievement of MoHLTC from 70% of full-time RN staff to 30% part-time staff as well as achieving $1.4 million in savings. Sharon has also designed, developed and implemented a Clinical Resource Centre (CRC)model supporting centralization of high cost "purchased services" including patient transport and therapeutic surface rentals, which has produced a corporate savings, to date, of over $1.0 Million.
In 2010, Sharon organized the Hamilton Health Sciences Quality and Patient Safety Symposium, which had 500 people in attendance including staff, leaders, physicians, LHIN and community partners. She was part of the Death and Adverse Event Review committee which saw the implementation of multiple local and corporate patient safety improvements and was awarded the William Sibbald 2nd prize Award for Excellence in Patient Safety from the Ontario Government. She has also been responsible for the implementation of corporate wide, program/service based "Quality Councils" which serve as a point of focus for organizing people, information and action for improvement. As well as setting up automated dashboards, which monitor key metrics to facilitate evidence based decision-making.
Since graduating from Mohawk, Sharon has continued her love of learning and has completed a Bachelor of Science of Nursing from McMaster University and a Masters of Public Administration from Queen's University. Sharon also is a committed Mohawk College Instructor for the Operating Room Certification Course. She believes her education from Mohawk College had a significant impact on her future achievements. She says, "the nursing program enabled the development of foundational nursing skills and competencies that allowed for future professional growth and success. At Mohawk College, I did not just learn how to "be a nurse" – I learned how to be: self-directed, to think critically, to ask questions, to find answers, to advocate and to be a team player. These skills were foundational to my future career achievements. My time at Mohawk also encouraged my continued path to lifelong learning – with the completion of my Bachelor and Masters degrees and multiple other professional certifications."
Kate McKenna - Public Relations, 2010
2011 Recent Graduate Recipient
After attending Queen's University for 5 years and obtaining a BA in Women's Studies and a BEd in Senior Social Studies, Kate McKenna decided to enroll in Mohawk's Public Relation's post-graduate program. It was at Mohawk that Kate honed her skills to eventually land her a dream job as Host of an Online Travel Web Series. While attending Queen's University, Kate was on the school paper, played on two varsity teams and attained high enough grads to be on the Dean's Honours List. Kate's one year at Mohawk saw a continuation of her achievements by graduating on the Dean's List, receiving a Faculty Award, volunteering as the student rep for the Public Relations Advisory Committee and being the Public Relations Assistant for Media Fest.
In a short time since graduating, Kate has already accomplished quite a bit in her young career. Upon graduation Kate was hired as the Hamilton Tiger-Cats In-game and online host, where she routinely hosted, edited and produced amusing online videos, interviewing players, fans and coaching staff. In the winter of 2010, Kate beat out 2,500 other applicants to land the dream job of Professional Vacationer for Transat Holidays. Her one-year position has brought her to 12 different destinations, where she has hosted, conceptualized, wrote, edit, shot and produced online features from her trips. During this time, Kate has also been a travel writer for The Hamilton Spectator, writing one story a month about the people she meets on her travels.
Kate has said that, "despite having spent five years at university before coming to Mohawk, it was at the Fennell Campus, in the confines of the public relations classroom, where (she) embarked on (her) professional career path- one that began in Hamilton and managed to wind its way to places like Athens, Dublin and Istanbul in just over a year.
The practical knowledge I gained at Mohawk was critical in terms of helping me achieve success as a graduate. Taking nothing away from the theoretical, in-classroom lessons because they too were valuable, it was learning about resume building, sitting on advisory committees and creating community connections that helped me get to where I am, in a job that challenges me, that satisfies me and that makes me happy. I enjoy what I do for a living, something I've always hoped to be able to say and something I will work to continue to be able to say.
Mohawk also means a lot to me on another level. It was where my Mom, Sue Prestedge, was educated and where she honed the broadcast skills that vaulted her to a remarkable career, one that I have always emulated and immensely respected."
In 2012, Kate was the CFL Grey Cup Train social media correspondent, stopping in cities and towns across Canada leading up to the 100th Grey Cup in Toronto. In the Fall of 2013, Kate became the segment producer and segment host of CTV's new talk show, The Social.
Ryan Barichello - Enterprise Business, 2004 / Computer Systems Technology-Web Applications, 2006
2011 Entrepreneur Recipient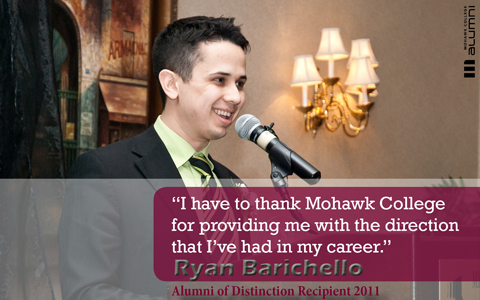 Graduating from both the Enterprise Business program in 2004 and the Computer Systems Technology-Web Applications Program in 2006 Ryan set out to start his own business. By 2009, at the age of 25, Ryan had a successful business with 3 employees and over 100 clients including the Ontario College of Health and Technology, the Burlington Sound of Music Festival, and XPolice Traffic Services. At LinxSmart he has implemented a process that allows businesses to directly access their own website at all times using "LiveTools" a LinxSmart created program that, "allows anyone regardless of their technical knowledge or web design skills, to have any degree of control over their website." In 2014 LinxSmart stopped designing websites, and now only builds custom business software. Ryan also started a second company called SOAP Vault, a software as a service company, with customers in Canada, US, UK, Australia, and New Zealand.
According to Ryan, "since I studied business first, and then computers, it helped me grasp both ends of the business much better." It was his education that gave him the well-rounded knowledge and the practical skills needed to ensure success. Along with technical skills, Mohawk also provided him with knowledgeable mentors. He is thankful for the overwhelming support of the faculty at Mohawk both inside and outside the classroom, "They were always there to help with questions which were beyond the scope of the program. Note that especially Duane Bender who has gone beyond his expectations and provided us with help beyond the classroom with tips, suppliers and contacts." LinxSmart has now been in operation for 6 years offering their clients a wide range of web development services. His business philosophy centres around "making web development simple and enjoyable," by understanding that the development process can be difficult. Ryan has used his business to help non-for-profit organizations by creating websites for them. In 2009, Ryan was nominated in the Young Entrepreneur category for the Burlington Chamber of Commerce. Ryan was also rewarded with, the 2012 Business Excellence Under 40 - CIBPA Hamilton Halton, the 2012 & 2013 Hamilton Top 40 Under 40 - Business Link Media, and the 2015 Outstanding Small Business of the Year  - Stoney Creek Chamber of Commerce.
Ryan has also returned to Mohawk to speak to current students sharing with them his experiences with how to conduct a successful web development company and what they should take away from their time at Mohawk. Ryan thinks that, "as a graduate of Mohawk College in both the E-Business Program and Computer Science – Web Applications Program, it is important to share (his) achievements and experiences with the new students."