Ted McMeekin - Social Studies, 1970
2015 Community Services Recipient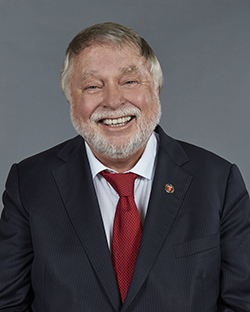 Ted McMeekin, born and raised in Hamilton, has been a small business owner, college instructor, Hamilton city councillor, Mayor of the Town of Flamborough, MPP and is currently the Minister of Municipal Affairs and Housing in the Ontario Government. In his current role, Ted is responsible for overseeing the province's efforts to create safe and strong communities with abundant greenspace, thriving and prosperous economies, and a range of housing choices. In 2013, he received the Doctors Colloquium 'Political Award of Merit' from the Ontario Association of Professional Social Workers in 2013 for 'a lifetime of humanitarian service and political advocacy on behalf of Ontario's vulnerable'.
Throughout his career, Ted has been very involved in the community and he continuously volunteers for organizations at the local, national and international level with such organizations as the Mental Health Association, Operation Lifeline, and has been the President of the Hamilton – Burlington YMCA and the Hamilton-Wentworth Lung Association. For this, he has been awarded many honours including the Queen's Silver and Gold Jubilee as well as Lifetime Achievement awards from both Wilfrid Laurier and McMaster University.
If you could go back in time, what 1 piece of advice would you give to yourself on the first day of College?
be bold...."those who say something can't be done are usually interrupted by someone doing it".
How has your education at Mohawk prepared and supported you throughout your career?
Jesus -- I'd have lots of questions
If you could sit down and have a conversation with anyone, alive or dead, who would it be? Why?
Mohawk helped me find a focus for the future and equipped me with a solid principled base to a social/public service career.
If you could go back in time, what year would you travel to? Why?
1968 and I would station myself in the Ambassador Hotel and try to stop the assassination of my hero mentor and the greatest political leader of all time -- the late great Senator Bobby Kennedy. He would have been the best President in US history.
Fred Eisenberger - Community Planning & Development, 1983
2015 Creative Arts & Design Recipient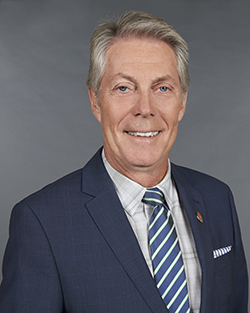 Fred Eisenberger has been an active community leader for more than 20 years in Hamilton, currently serving in his 2nd non-consecutive term as Mayor. In this role, Fred has championed many initiatives including the preservation of the historic Lister Block – a downtown landmark, and establishing an award-winning Brownfield Redevelopment Office, the first of its kind in Ontario. Through this position, he has also served on many boards including Hamilton Police Services Board, Hamilton Utility Corporation, Tourism Hamilton and Hamilton Roundtable of Poverty Reduction to name a few. Additionally, in his spare time, Fred is Chairman of the Giant's Rib Discovery Centre, a not-for-profit board established to fund and build a centre in Hamilton to educate the public through displays and site tours that highlight the beauty and benefits of the Niagara Escarpment.
Derek Doyle - Small Business Entrepreneurship, 2007
2015 Business Recipient
Derek Doyle is the broker of record and partner at Ambitious Realty Advisors Inc. and partner at MEZCAL, a taco and tequila restaurant, both located on the vibrant James Street, in downtown Hamilton. Recognized as one of Hamilton's Top 40 under 40 in 2014 and a finalist of the Hamilton Board of Commerce Young Entrepreneur Award in 2015, Derek is dedicated to his continued involvement with Hamilton's changing landscape. He is a board member of multiple committees, such as the Hamilton Chamber of Commerce, Hamilton Hive and is Chair of the Young Entrepreneurs & Professionals group. In his spare time, Derek can be found participating in charity runs as a contestant and/or volunteer, or leading development and mentoring workshops within the community.
Vanh Kalong - Information Systems Technician, 1991
2015 Entrepreneur Recipient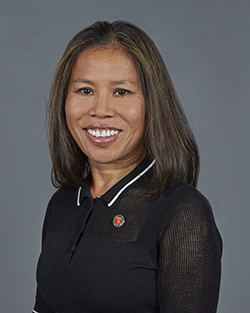 In 1997, Vanh proudly bought her first business. Then, in 2001, she opened the doors to her first, of what would become a chain, of My-Thai restaurants located in Hamilton, Stoney Creek, Burlington, Ancaster, Brantford, Cambridge, Guelph and Waterloo. As part of an owning and operating a successful business Vanh has had the pleasure to give back to her community by taking part in multiple fundraising events, such as the Living Rock Ministry Soupfest, Catholic children's Aid, Night of Clumbas, Autumn Stroll for Rotary, Taste of Glenhurt, Dine Out for Hospice and many more. Vanh has recently travel back home country give back to the unfortunate and also part of the Lao Midwife Funding where women's health in rural area of her home country can be taken care of.
Additionally, in 2007, as part of Mohawk's 40th Anniversary Celebration Vanh was honoured as one of the 40 Incredible Alumni who were recognized for their achievements in the community.
Barbara Shea - Medical Laboratory Technology, 1980
2015 Health Sciences Recipient
Barbara Shea began her career as a Medical Laboratory Technologist at Hamilton General where she acquired an expertise in the area of microbiology while also developing her skills as a leader. As the Network Coordinator for Public Health Ontario's Central East Infection Control Network, she responds to calls on a wide variety of infection prevention and control and communicable diseases issues, provides timely infection prevention and control guidance and advice based on current evidence and best practices.
Part of her life plan had always included volunteering in third world after retirement. But when the worst outbreak of Ebola in World Health Organization's (WHO) history took place in the Fall of 2014, she felt the need to answer the call to help. She left for Liberia on September 26, 2014 with two days' notice at the peak of the outbreak in Liberia. It was a life changing experience for which her career and educational had prepared her. The training in the medical laboratory technology program at Mohawk College and later her Infection Control training assisted her in helping to prevent deaths by educating and improving Infection Prevention and Control practices among healthcare workers and patients, in this unprecedented outbreak in Africa.
Rocco Passero - Engineering Technology, 1990
2015 Technology Recipient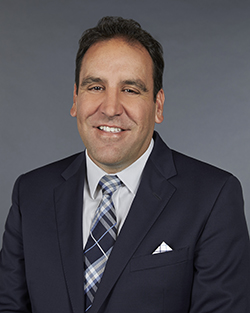 Rocco Passero attributes the technical knowledge he acquired while studying at Mohawk as the foundation for his expertise in understanding the quick evolution of information technology as it's progressed over the past three decades of his career. With over 20 years of experience working for the Ontario Government Rocco has successfully delivered numerous high‐profile IT projects for the government, including the consolidation of 22 data centres into two, establishing new infrastructure delivery models, and being accountable for a $224M operating budget, $70M in capital and $150M in procurements annually. For his efforts, he has been recognized with a number of awards throughout his career including the Amethyst Award in 2009 for Outstanding Achievement by Ontario Public Servants for the e-Ontario Infrastructure Consolidation.
A committed member of his community, Rocco has been involved with coaching minor hockey in Hamilton for over 10 years. Additionally, he is highly involved with fundraising efforts for United Way and Federated Health charities.
Megan MacLeod - Leadership and Management in a Not-For Profit Sector, 2013
Also a graduate of: Event Management - Convention & Meeting, 2014/
Volunteer Management, 2014/ Fundraising Development, 2014
2015 Recent Graduate Recipient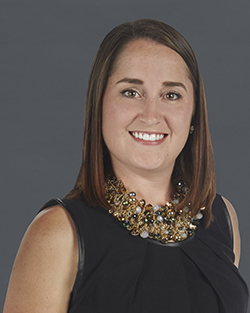 In 2010 while volunteering at Pinky Lewis Recreation Centre, Megan MacLeod expressed her interest in wanting to improve the lives of individuals living in downtown Hamilton. She embraced the community and initiated Warm Up For Winter, which to-date has collected and distributed over 45,000 new and gently used winter items to members of the community. She also is responsible for Glitz, Glamour and Graduation, collecting and distributing graduation attire to students in need, as well as arranging hairstylists and make-up artists to assist the students on their special day. After the Haitian earthquake Megan again stepped up by organizing Feet First for Haiti that collected over 4,000 pairs of shoes for Haitians in need. For her efforts and commitment to her community, she has been recognized with a number of awards including the 40 Under 40 Business Achievement Award,  Outstanding Youth in Philanthropy AFP Golden Horseshoe Chapter, The Keg Spirit Foundation's Chairman's Award, The Paul Harris Fellowship award from Rotary International and nominated for many others including Ontario Premier's Award and the YWCA Women of Distinction Awards.
Megan recently completed her Masters in Philanthropy and Non-Profit Leadership at Carleton University, and is currently a Senior Development Officer with the St. Joseph's Healthcare Foundation here in Hamilton.
If you could go back in time, what 1 piece of advice would you give to yourself on the first day of College?
Although there is a lot to learn while in College, there is even more to do – you have the opportunity to get involved in so many extra-curricular activities! There are many student clubs, student employment positions, sporting teams, student government roles… I could go on forever! Take advantage of these opportunities while you can – your accomplishments outside the classroom show what you're passionate about and help you to develop strong networks which will be helpful in your future.
How has your education at Mohawk prepared and supported you throughout your career?
While studying at Mohawk as well as volunteering with the Student Leadership Academy and working through the Campus Student Employment Program, I had many opportunities that prepared me my future. Most importantly, I developed many transferable skills that have enabled me to succeed in my career.
If you could sit down and have a conversation with anyone, alive or dead, who would it be? Why?
That's easy – Melissa McCarthy! She's hilarious!
If you could go back in time, what year would you travel to? Why?
I would love to go back in time and experience living in a world without any technology. It's a love/hate relationship… I need it to do my job and my school work, but 'signing off' from technology is the best feeling – even just for an hour!
Daniel Popowich - General Arts & Science, 1992
2015 Mohawk College Employee Recipient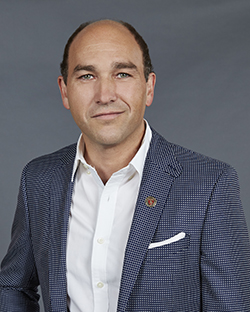 Daniel Popowich, a Mohawk professor in the Humanities and Social Sciences department was the recipient of a Mohawk Award of Excellence in 2014 for his development of numerous courses and his creative approach to teaching within the blended educational framework. He was responsible for developing short promotional videos for a variety of courses from Forensic Anthropology to Environmental Sustainability to Human Sexuality with the purpose of showing prospective students what to expect from this course. His dedication to supporting Mohawk students is evident through his innovative approach to teaching and by his support of student bursaries.
Daniel has authored two textbooks, Disease, Health, Healing and History (2013; 2015) and It's in the Bones: Evidence of the Past (2013). He holds a Master's Degree in Anthropology from the University of Manitoba and a Bachelor of Arts in Anthropology and Philosophy from McMaster University. His experience and insight has made him a sought-after reviewer for a number of textbooks and book proposals in areas of sociology and anthropology in Canada.
If you could go back in time, what 1 piece of advice would you give to yourself on the first day of College?
This is a difficult question because one does not want to tinker with the time-space continuum, at least according to Dr. Brown from Back to the Future. Nevertheless, while I wouldn't want to change anything about my experiences at Mohawk or the choices I made, I would like to reassure myself that I was on the right track: enrolling in the General Arts and Science program was a great investment. As a professor who teaches in the program that I graduated from, I encounter students who remind me of myself, in one way or another, every semester. Fortunately, I have the opportunity to reach out and assure them that whether or not they pursue a future in a General Arts and Science related subject or move on to another area of study, they have made the right decision: they are finding their pathway. There is no question about it: post-secondary education provides one with the opportunity to pursue one's interests or even "craft" a new identity based upon newfound interests.
How has your education at Mohawk prepared and supported you throughout your career?
When I first attended university, after graduating from Mohawk College, I found that my college education gave me an edge over other students and prepared me for the years of post-secondary education that followed. Not only had I gained a strong foundation in the Liberal Arts, but also, my experiences at Mohawk empowered me and helped build the confidence I needed to complete my undergraduate and graduate studies. As for my Mohawk education and my career, my experiences at the College – as a student – provided the "gold-standard" by which I teach. For example, my professors were dedicated educators who always "went the distance" for their students. They offered encouragement, constructive criticism, and laid a solid foundation in the areas they taught. With that said, my education at Mohawk prepared me for my career by setting many of the examples and pedagogies I use today. In the end, I am simply following a model of teaching that I respected. Of course, I've got a little creative along the way and added my own insight. Last semester, for example, my Associate Dean asked me to create a video for the Board of Governors about the School of Interdisciplinary Studies and the various pathways that students take. While shooting, I connected with the students on so many levels. I wrote the phrase on a whiteboard and filmed it for the video. I think it really captures many of our experiences and the way Mohawk students feel about the College: "My pathway, my future, my Mohawk."
If you could sit down and have a conversation with anyone, alive or dead, who would it be? Why?
If I could sit down with anyone – either dead or alive – it would have to be whoever was responsible for inventing and building the Great Pyramids in Egypt because I would know for sure whether humans or aliens built them. All joking aside, I would want to have a conversation with the father of American Anthropology – Franz Boas – because of the contributions he made to education, science, and political activism. Not only was Boas responsible for training the first generation of anthropologists single-handedly, and introducing the idea of culture and cultural relativism to the social sciences, but he was also responsible for challenging many of the racist ideas that existed in the late 1800s and early 1900s such as the theory of biological race and social evolution. At a time when racism was widely institutionalized, Boas advocated for the rights of minority groups (such as African Americans and First Nations People). During the Nazi regime, Boas helped scientists escape Germany – on the topic of equality and the rights of humankind, Albert Einstein initiated discussions with Boas. Educationally, Franz Boas advocated for intellectual freedom and objected to the "teaching of slogans intended to befog the mind" and with his tutorship, his students when on to advocate for the rights of others, such as Margaret Mead and Ruth Benedict who helped establish many of the principles that led the way for 20thcentury feminist thought. Politically, Boas argued that one nation should not have the power (Ideologically or physically) to subjugate another, and, in the end, laid the foundation for many of the ideas we teach in the social sciences and the principles of equality that we embrace today. Given his contribution to academics and social advocacy, there would be much to learn and discuss.
If you could go back in time, what year would you travel to? Why?
If I could go back in time, many periods would be intriguing. As professor trained in anthropology and philosophy, I revel at the possibility of witnessing, say, the invention of agriculture or writing, the construction of the Egyptian pyramids, the emergence of philosophy in ancient Greece, or the moment any important idea emerged; for example, Descartes' "I think therefore I am." Because there are so many questions in anthropology, however, that remain unanswered, I would travel back to a moment in time that shed light on the emergence of humankind. While we are constantly discovering new species and gaining insight into our origins, perhaps one of the most important events in our long evolution was the development of upright walking. Once our hands were freed from walking, we began to manipulate our environment in fundamentally new ways. We invented tools, became efficient hunters, harnessed fire, cooked our meat, and as a result, further anatomical changes occurred; for example, our brains got bigger. Eventually, millions of years later (to make a long story short), we invented philosophy, conceived of gravity, and surfed the World Wide Web. With that said, I would want to observe the moment in time that initiated everything that makes us unique as a species: the emergence of bipedalism millions of years ago. Indeed, that year would allow me to understand our evolution in ways that current science cannot.
Brian Jonker - Radio Broadcasting, 1994
NEW AWARD: 2015 Affinity Recipient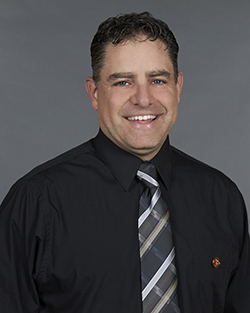 Brian Jonker has been a dedicated Head Coach for Mohawk Men's Varsity Basketball team since 2005, leading them to two Provincial Gold Medals, two Silver, three National Tournament Appearances, and their first ever National Championship in 2012. Through his education in Mohawk's Radio Broadcasting program and an on-campus leadership position with the Students' Association Committee (SAC), Brian developed communication skills that have assisted him in both his role as a coach and his full-time job as a Part and Facility Manager at Tigercat Industry Inc in Brantford, Ontario.
Over the years, Brian's involvement with junior basketball, to his success at both Assumption High School in Brantford and at Mohawk, Brian's strength has always been his interaction with his players. He tries to understand what kind of person they want to be and works hard to help them become the person he knows they can be. No one will ever know how many of the late-night texts, the arm-around-the-shoulder conferences, the post-practice rides home – have nothing to do with basketball. He is a Coach to his players in all the true meanings of the word.
If you could go back in time, what 1 piece of advice would you give to yourself on the first day of College?
Focus on the task in front of you and put everything you have into it. Enjoy and embrace the entire experience of College.
How has your education at Mohawk prepared and supported you throughout your career?
I use my communication skills every day in managing and coaching people. Some of those skills were enhanced and refined through my radio broadcasting days at Mohawk.
If you could sit down and have a conversation with anyone, alive or dead, who would it be? Why?
As a sports fan growing up I would love to sit down with Magic Johnson. I believe he would have great stories to share about sport and life as a successful businessman.
If you could go back in time, what year would you travel to? Why?
I don't tend to think about the past other than my personal memories. I am much more focused on what comes next.