Grad and Mohawk College Professor, Richard Borger '05 shares how students over the past year have been given opportunities to apply their learning by participating in hands-on projects. Many of the projects the students are involved with being used to create virtual environments for other faculty that will be used as a learning tool for their programs.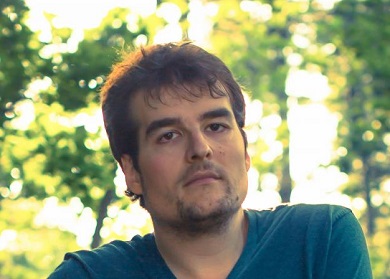 Connecting Hamilton through event planning
By Meaghan Drury '12 and Lynn Matisz '13
While working the Hamilton-area comedy circuit, Broadcasting-Radio grad Matthew Surina '08 got an idea. He could use the connections he was developing and the knowledge he was obtaining to create his own event management business.
Read more about Matthew Surina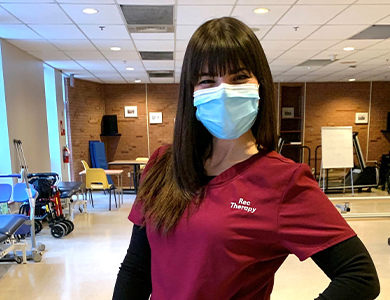 Bringing creativity to recreation therapy
While in her final semester and preparing to graduate from the Recreation Therapy program, Julie Thompson could not have predicted the "new world" she would be entering as a graduate in the spring of 2020
During her two-year program....
Read more about Julie Thompson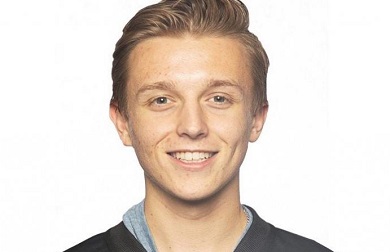 Prepared for nursing
By Meaghan Drury '12 and Lynn Matisz '13
When considering his career choices, Carter Rudge '18 knew two things for sure. First, he wanted to work with people and second, he didn't want to work in an office. Influenced by his aunt who worked as a nurse when he was younger and went on to become a doct...
Read More about Carter Rudge
Alumni in the News
Hospital screeners at frontline of care
August 4, 2021 - Social Service Worker graduate Jodie Rayner was highlighted in the Brantford Expositor for her work as a covid screener with the Brant Community Healthcare System. 
Gunner Smith – a tireless promoter of the Hamilton music scene
July 21, 2021 - Mohawk graduate Jamie "Gunner" Smith was featured in a recent article in the Hamiton Spectator for his dedication as a volunteer in the radio industry and support of music made in Hamilton.
Alumnus' work supports people living with mental health, addictions - In the News
December 23, 2020 - Mohawk alumnus and recreation therapist Abigail Chrzan was recently featured in an article in The Brantford Expositor, highlighting some Brant Community Healthcare System programs and care available for people living with mental health and addiction issues to help them cope in their daily lives.
Nursing alumnus recognized as champion for organ donations - In the news
December 03, 2020 - Becoming an organ and tissue donor can mean a lifesaving transplant operation for someone in need.
For those considering this option, Barb Longo (Nursing '87) is a source of inspiration for potential organ/tissue donors.
The Trillium network is recognizing Longo with a Hospital Donation Champion Award given to health-care professionals who are exceptional advocates for organ and tissue donation.  The Brantford Expositors and its sister newspapers published a feature about Longo and her very personal commitment to promoting and supporting organ and tissue donation.
Committed to colleagues during a health crisis
August 20, 2020 - We have all heard reports of the stress that Personal Support Workers and other healthcare workers were under when the COVID-19 pandemic arrived in Canada. Taffi Lauzon '05, an attendant with AbleLiving Services working at Mistywood Shared Living home in Hamilton, was dealing with that stress as she worked to care for her residents in fast-changing uncertain days. Read more of Taffi's story
Nursing grad discovers niche caring for her grandmother - In the news
July 30, 2020 - Mohawk College Practical Nursing alumnus Gina Vieira ('01) has found a new professional focus in her nursing career, caring for patients in palliative care. The Brantford Expositor published an article exploring the personal story that brought Gina to this point.
Business Admin alumnus making waves in Tobermory - In the news
July 24, 2020 - Mohawk alumnus Michael Goman, who graduated from Business Administration in 1977, has had a long and successful career that has taken him all over North America but his summers have always involved Tobermory, Ontario. The Hamilton Spectator recently published an article highlighting the Stoney Creek native's recent ambitious business venture in Ontario's playground.
Mohawk alumnus on her debut album - In the news
July 22, 2020 - Mohawk alumnus Carissa Kimbell ('09 Applied Music Preparatory, '12 Applied Music), now living in Nelson, BC, recently launched her first album and was interviewed by the Nelson Star for a feature article. "Kimbell specialized in jazz during her four years of music education at Hamilton's Mohawk College, but when she began work on Like Water she wanted to find her own voice."   
The joy of 'building and creating' helps O'Hearn achieve dream career
June 30, 2020 - Twenty-one-year-old Kate O'Hearn (Construction Engineering Technician-Building Renovation, '19) has always tried "to walk my own path" and perhaps that is why she already holds a supervisory position in the construction industry.
Of course, she also acknowledges the considerable help, guidance, encouragement, and inspiration she has received along her career journey from family members, teachers, colleagues, and other women in the construction industry.
Kate, a Celebration of Learning award recipient, was recently featured in Daily Commercial News in a segment published about women in the construction industry.