DBARC Fitness Classes - Suspended until Further Notice
The Fitness Class schedule is subject to change/cancellation.
Check out our NEW Fitness rates here.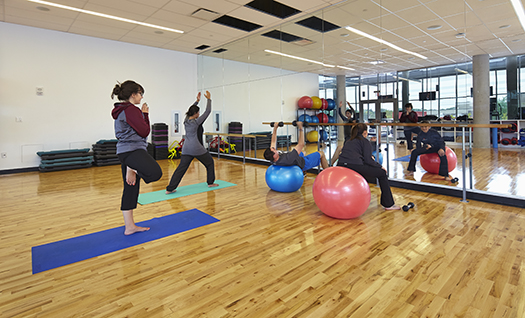 We offer a variety of fitness programs to David Braley Athletics & Recreation Centre members. Our fitness programs include:
Bootcamp

is guaranteed to make you sweat! This high-intensity class will engage every muscle in your body. This class will integrate equipment from the aerobics studio and fitness floor. The format of this class will vary each week!

HIIT

is a full-body workout developed to leave you breathless. HIIT is a high-intensity interval training class. HIIT workouts include bursts of cardio and strength-based exercises coupled with active rest.

Muay Thai

the "Art of eight limbs", a traditional Martial Art that originated in Thailand all the way back in the 18th century. Many people refer to it as Thai Boxing or Kickboxing, however, Muay Thai is much more than that. There is many traditions that go along with this beautiful art, similar to how many other martial arts share values and historical traditions. It makes use of punches, kicks, elbows and knee strikes, thus using eight "points of contact".

POUND

fitness is a combination of cardio and strength training exercise approach that includes rhythmic techniques. A full-body workout that usually lasts 50 minutes to an hour. Pound includes exercises that involve alternate squatting and standing to strengthen the inner and outer thighs, buttocks, core muscles, and back muscles. Many of the positions used in Pound are ideal for helping maintain and improve balance.

PiYo is a total-body fitness system designed to whip you into shape from head to toe. It combines the practices of Pilates and yoga to help you build strength and increase flexibility.

Resistance Bands Training

,

like dumbbells, barbells, or any other free weights, 

resistance bands

 provide external 

resistance

 that your muscles have to work against. We offer 

15-20 lbs of resistance that can be applied to all directions of movement. With handles and foot strap attachments, you'll target every muscle in your body in unique ways. This new class will bring you new challenges, new accomplishments and new results!

Spin

is a stationary indoor cycling class geared towards maintaining or building your cardio. Spin is a low-impact class, easy on your joints. You control the intensity of the workout by adjusting your own bike, making this a suitable workout for novice to advanced members.

STRONG by Zumba®

is a great workout for fitness enthusiasts looking for a more challenging, high-intensity interval-training workout. The music in STRONG by Zumba® was crafted to drive the intensity in a challenging progression that provides a total body workout. This class will push you past your plateaus to help you reach your fitness goals faster. Using your own body weight, you will gain

muscular endurance, tone, and definition, and you will experience an increased afterburn

Yoga

will help you improve your strength, balance and flexibility

through traditional yoga postures. Yoga will help you relax your mind while gently challenging, stretching, and relaxing your muscles. Bring your own mat or use the mats provided.

Zumba®

is your ultimate workout dance party featuring easy-to-follow moves coupled with amazing, motivating rhythms. It gives you an interval-style workout; fast rhythms to get your heart pumping, combined with slower songs to maintain your heart rate.
Visit Recreation at the DBARC for information on extramural and intramural activities. 
Hours of Operation and Closures
The Fitness Centre will also be closed on all Statutory Holidays.
View hours of operation for the David Braley Athletics & Recreation Centre.
Please send any feedback or submit a comment by email to dbarc [at] mohawkcollege.ca or call 905-575-2744 for further assistance.