Bike Parking Facility
Need a safe place to park your bike on campus? The Fennell Campus is home to a 48-spot secure bike parking facility. This facility is available to all Mohawk staff and students who cycle to campus. This facility provides an excellent option to store your bike, and adds peace-of-mind to your active commute to and from campus.
Apply to access the facility
Each year, the Mohawk College Sustainability Office offers free memberships to students and staff (while quantities last). To get your membership, download the Membership Form (opens PDF, 108kb). Bring your completed form to the Sustainability Office in Room EA 409 at the Fennell Campus, or email it to sustainability [at] mohawkcollege.ca
---
Bike Repair Stations
There are 2 self-service bike repair stations at Fennell Campus that will help ensure your cycling commute to Mohawk is a safe one.
Outside the Fennell Campus Library
Outside the Main Entrance (Next to the Bike Parking Facility)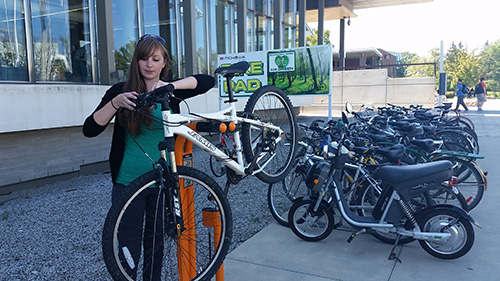 Visit Sustainability to learn how Mohawk is reducing it's carbon footprint.
---
Bike Loan Program
Mohawk College Library has 13 bikes to loan to Mohawk College students and staff. They are all 21 gear mountain bikes, the sizes vary slightly, check the links below for details.
Loans are for 3 days, this can be extended depending on demand and availability.
You must wear a helmet – yours or borrow one from us.
You must present current Mohawk ID each time you borrow a bike.
Legal stuff: For your first loan, please see library staff to get a bike loan agreement. Once you've filled out a form, they will keep it on file, you only have to do it once.
Visit Borrow a Bike on the Library Website for more details:
---
Mountain Climber Program
Hamilton's Mountain Climber Program is a partnership between the City of Hamilton and HSR that allows cyclists to ride their bike up the mountain for free at designated stops.
To participate in the Mountain Climber program, cyclists should wait at one of the marked stops at the top or bottom of James Mountain Road, the Kenilworth Access or Beckett Drive, and secure their bike to the front bike rack on the bus. They should let the operator know they are riding for free as a Mountain Climber, and depart the bus at the first available stop once up or down the escarpment roadway. Learn more about the Mountain Climber Program.
---
Emergency Ride Home Program (Employees)
As an employee at a participating Smart Commute workplace, you are eligible for Emergency Ride Home (ERH) reimbursement. If you have an unforeseen emergency on any day you use a sustainable method to commute to work, you can request reimbursement of up to $75 for your emergency transportation costs. Ensure you retain all emergency transportation receipt(s). Learn more about the Emergency Ride Home Program.