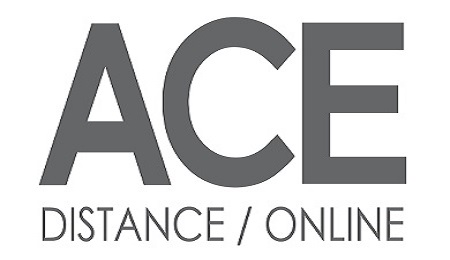 What is the ACE Distance / Online program?
ACE Distance is a FREE (government-funded) upgrading program for adults in Ontario who would like to take online courses to prepare for college, apprenticeship, or employment. Information on in-class options can be found on the Obtaining Grade 12 Equivalents for Admission page.
These courses are accepted as OSSD equivalent by Colleges and Apprenticeship for purposes of admission. To learn about high school equivalents for the ACE courses, visit the Obtaining Grade 12 Equivalents for Admission page.
What courses are offered and when do they start?
We offer grade 12 equivalent level courses in communications (English), mathematics, chemistry, biology, and physics. Free courses are offered in January, March, April, June, September, and November. We also offer courses in Computer Fundamentals, and Self-Management/Self-Direction in the months noted above.
| Course Number | Course Name | Course Hours* | OSSD Equivalent |
| --- | --- | --- | --- |
| COMM10148 | ACE Communications | 120 | English, Grade 12, College Preparation ENG4C |
| MATH10047 | ACE Apprenticeship Math | 100 | Foundations for College Mathematics, Grade 12, College Preparation MAP4C |
| MATH10046 | ACE Business Mathematics | 120 | Foundations for College Mathematics, Grade 12, College Preparation MAP4C |
| MATH10045 | ACE Core Math | 120 | Mathematics for Work and Everyday Life, Grade 12, Workplace Preparation MEL4E |
| MATH10044 | ACE Technical Math | 120 | Mathematics for College Technology, Grade12, College Preparation MCT4C |
| BIOL10011 | ACE Biology | 120 | Biology, Grade 11, College Preparation SBI3C |
| GSCI10004 | ACE Chemistry | 120 | Chemistry, Grade 12, College Preparation SCH4C |
| PHYS10000 | ACE Physics | 120 | Physics, Grade 11, University Preparation SPH3U OR Physics, Grade 12, College Preparation SPH4C |
| CRED10044 | ACE Self Management and Self Direction | 80 |   |
| COMP10083 | ACE Computers | 100 |   |
* The number of hours shown are "equivalent classroom hours". The workload for a 120 hour ACE course would be about the same if you took a course through traditional classroom delivery that is offered approximately 5 hours per week. We estimate that the student workload for one course is approximately 10 – 15 hours per week. 
How do I qualify for a free course?
Be an Ontario resident, 19 years or older (not on an international study visa).
Have access to a reliable computer and to the Internet.
Complete the online application form on the ACE website (opens in new window). After you submit the form, you'll receive an email explaining your next steps in the application process.
Complete the online skills assessments (1 to 2 hours). After your application form has been reviewed and accepted, you will receive instructions (by
email) to complete the online "Essential Skills for Employment and Education" (ESEE) assessments. ESEE measures your current skill levels in three areas: Reading, Document Use and Numeracy. You can start most Tuesdays. If your assessment scores meet the entry standards you can continue in the L2L course.  If not, we'll offer you some options for other upgrading courses.
Successfully complete the Learn to Learn (L2L) online orientation course (15 to 20 hours over 2 to 3 weeks). This short, mandatory orientation course will help you determine if you have the computer skills, academic background and attributes to succeed in ACE Distance courses.
If you successfully complete L2L, you can register for your first ACE Distance course.
You can take one ACE Distance course at a time.
You have 22 weeks to complete each ACE course, but you can move more quickly if you're able to do so.
FAQs
What about textbooks?
Most ACE courses DO NOT have textbooks, but if your course does have one, Continuing Education will send a textbook request through to the ACE textbook contact and you will be couriered the appropriate textbooks shortly thereafter.
Where do I write exams, if there are any?
Most ACE courses have online final exams. If there is an in-person exam, you will book that through the website. Approximately six weeks before the end of the course, you can view exam booking information online.
What are the computer requirements?
You will need regular access to a computer with an internet connection. High speed broadband access (LAN, Cable or DSL) is highly recommended. More details can be found in the OntarioLearn Help Center (opens new window). While mobile devices may allow some participation in the course, they are not guaranteed to meet all your coursework needs.
How do I receive my final grade?
Approximately four to six weeks after the end of your course, you can log into MyMohawk (opens new window) to view your grades. Visit Find Final Grades in MyMohawk for step-by-step instructions. 
Need more information?
Email cehealth@mohawkcollege.ca.