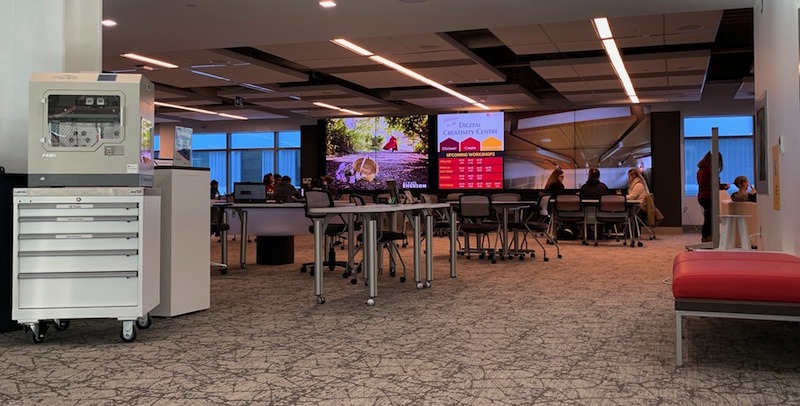 Digital Creativity Centre (DCC)
The DCC provides a dynamic and enriching learning experience with a focus on 21st century learning – digital skills, creativity, collaboration, experiential and applied learning.
Located in the Joyce Centre, the DCC offers digital skills services, creative technologies and collaborative project space — all framed around a stunning visualization wall to showcase the creative work of students.
Service Hours:
Monday, Wednesday, Friday - 8:30AM - 4:30PM
Tuesday, Thursday - 8:30AM - 7:30PM
Location: Fennell Campus- EA 105 
Phone: 905-575-2244
Virtual Services: Virtual Drop-in 
Digital Skills Services
Students are required to develop a variety of digital skills and fluency with using digital tools. Get help navigating student systems such as MyCanvas, MyMohawk, email, Office 365 and other digital tools.
Creative Technology
Learn how to design projects created using technologies such as 3D printers, laser cutter, vinyl cutter, Cricut, Raspberry Pi or Arduino. 
Collaborative Space
Choose  your group space options including recording studio, editing studio, XR studio or project rooms. The furniture options include sitting or standing desk, bar height tables, project rooms and the popular egg chairs!