---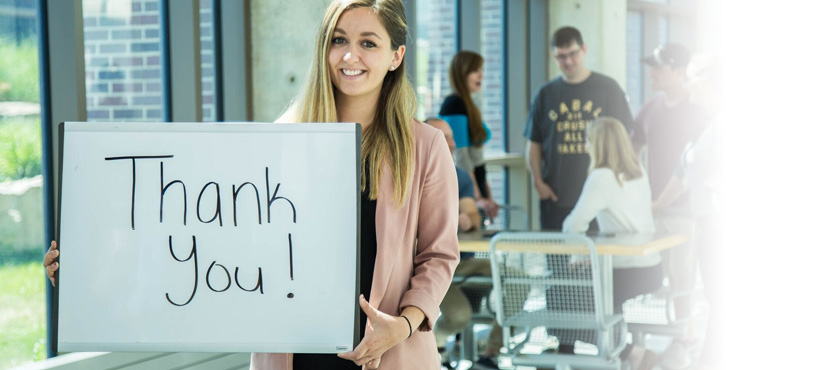 A Special Thank You to Our Donors
On behalf of our students at Mohawk College, we are continually inspired and grateful for the generosity of those who share our same passion for education. It is through your commitment that we are able to ensure our students have access to state-of-the-art technology and award winning faculty with the goal that every Mohawk College student is future ready. Thank you for being a part of their journey.
The Mohawk College Foundation proudly recognized the generosity of the following donors who made gifts of $500 or greater from April 1, 2016 – March 31, 2017.
180 Drums Inc.
Acumen Insurance Group Inc.
The Advertising Club of Toronto

Amec Foster Wheeler Americas Limited
Neil Amyotte

Paul Armstrong
Anonymous (4)
Association of Architectural Technologists of
  Ontario

Michelle Ball

Ball Corporation

Dr. Doug & June Barber

Big B Comics
BMO Bank of Montreal

B'nai Brith

Boiler Inspection and Insurance
  Company of Canada

Christine Bradaric-Baus

Steve Stipsits, Branthaven Homes

Deborah Brown
Bull Productions, Inc.
Margaret Burgoin

Katie Burrows

Business Insurance Services

Cindy Butler

Lu Cacioppo

Karyn Callaghan

Hugh & Bernardine Cameron
Campus Living Centres Inc.

Canadian Federation of University Women

Canadian Italian Business and
  Professional Association

Michael & Janet Cantwell
Caroline Cayuga and Associates
W.L. Carpenter Memorial Fund at
  the Hamilton Community Foundation
Carrier Canada, Division of UTC Canada

Catholic Youth Organization

William T. Chisholm

Christian Labour Association of Canada

Marlies & Alan Clark Fund at
  the Hamilton Community Foundation

Trevor Clark
Earl Clarke

Community Living Hamilton

Coreslab Structures Inc.

Corus Entertainment Inc.

Gregg Crealock

Tony and Christine Cupido

David Braley
dahl Brothers Canada Limited

Dan Lawrie Insurance Brokers Ltd.
Dawn Patrol Child & Youth Services Inc.

Louie D'Orazio
Charlie and Mabel Duncan Memorial
  Bursary Fund at the Hamilton Community Foundation

Dundas Community Services

Gena Dureault

Durham Ontario Dental Society
Economical Insurance

Estate of David Andrew Cartwright
Etratech Inc.

Farah Holding Inc.  

Mike Farrell

Estate of Helen Lamping
Brad and Nancy Fleming
Family & Friends of Cathy Flis

Marylisa Forsyth
The Ronald K. Fraser Foundation

Friends and Colleagues of Alan Hayward

G.T. French Paper Ltd.
General Insurance OmbudService

Gerald Marshall Fundraising Committee

Heather Giardine-Tuck
Great-West Life, London Life and Canada Life

Green Germann Sakran
Grow Up Financial Services Ltd

The Guarantee Company of North America

guard.me

Hamilton & District Heavy Construction Association

Hamilton Community Foundation

Hamilton International Airport Ltd.

Hamilton Law Association

Hamilton Performing Arts Foundation - City of
  Hamilton

Hamilton Police Services Board

Hamilton-Halton Construction Association

Hamilton-Halton Home Builders' Association

Annette Hamm and Daniel Smith

Douglas Harrison

Hatch Associates Ltd

Friends and Colleagues of Alan Hayward

HB Group Insurance Management Ltd.

Troy and Michelle Heath

Alison Horton
Edwin Infante
Innovative Insight Seminars
Insurance Brokers Association of Hamilton

Invizij Architects Inc.

Sandra Ireland

Betsy and Joel Ippolito

Jackson Therapuetic Recreation

The Joyce Family Foundation
JAZZ.FM91 Inc.

Sid and Elaine Kadish
Kenaidan Contracting Ltd.
Knowledge First Foundation

L3 WESCAM

Brock Langley

Lantheus Medical Imaging
Derrick LaRiviere

Michael and Tori Le Page

Sheri Longboat

Trish Loomis

Wendy, Paul and Jacob Makey

Marinucci Family Foundation

Rick and Linda Marshall
Wayne and Brenda Marshall

Marshall Truck & Trailer Repair Ltd.

Masonic Foundation of Ontario

Rachel Matthews

Dermot McCarthy  

Keith and Beverly McIntyre

Pat McKay

Blair and Kathy McKeil

Kate McKenna

Ron and Lynn McKerlie

Ann McLaughlin and Joe Aiello

McNally Construction Inc.

Marilyn Micucci
Frank Charles Miller Fund at the Hamilton
  Community Foundation

Moen
Mohawk College Alumni Association 

Mohawk College Association of Continuing
  Education Students

Mohawk College Building & Construction Sciences

Mohawk College Enterprise
Mohawk Students' Association 

George and Donna Morasse

Lori Morgan and Brian Martel

Katharine Munkley
Music Bursary Fund at the Hamilton
  Community Foundation
My Thai Restaurant
National Engineering Month Ont
Gary Nelson
Friends of Richard Newell Committee

O.A.C.E.T.T.

Friends and Family of George Oliver Jr.

Ontario Insurance Adjusters Association, Niagara Chapter

Optimist Club of Ancaster

Optimist Club of Hamilton

Optimist Club of Stoney Creek

Organization of Canadian Nuclear Industries

A New Leaf Farm

James and Valerie Parke
Karen Pashleigh

Pavoni Patton DiVincenzo LLP

Pediatric Oncology Group of Ontario

Dr. Wayne Poirier

Megan Popovic
Daniel S. Popowich

Sue Prestedge

Peter Rakoczy

RBC Foundation

REALTORS® Association of Hamilton-Burlington
Marla Robinson

Rochelle Reid

Retirees Association of Mohawk College

Jay Robb

Robertson Building Systems

John & Roberta Feltrin Rodenhizer

Rosedale Medical Group

Ross & McBride LLP
Rotary Club of Hamilton Mountain

ROX Productions, LLC

Mark Runciman

Ryder Truck Rental Canada Ltd.

Scarfone Hawkins LLP

Scotiabank

Ted Scott

Marjorie Selinger

Shell Canada Limited

Kim Shippey

Marguerite Siek

Grace Siu and Family

Connie Smith
John and Jo-Anne Spadafora

SquareSelect Inc.

St. Jude's Anglican Church

Stantec Consulting Limited
Glen and Heather Steeves

STF Construction Ltd. 

Anne Tao

Andrew Tapajna

TELUS
Maria Theodorakidis

Trafalgar Broadcasting Limited

Mr. Lube & Mobil 1

Turkstra Lumber Company

Vancouver Foundation
Ash Vasdani

Pearl Veenema
Vicano Construction Ltd.

WalterFedy

Walters Group Inc.

Neng Wang
Wawanesa Mutual Insurance Canada

Davina Webber

Weisz, Rocchi & Scholes

Elizabeth Whitley

Rose Zhang
Zonta Club of Hamilton 2
---
Please note that every effort is made to ensure proper recognition of each donor. Please email gena.dureault [at] mohawkcollege.ca (Gena Dureault) regarding any omissions or corrections.
Charitable Registration # 11924 5744 RR0001