"I am happy, thankful and confident in my future because of my Mohawk education and experience. Thank you to everyone who was involved."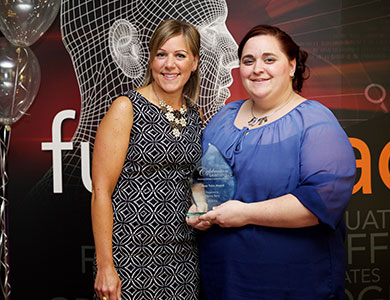 Photo: (left to right) Andrea

Brienesse (Mohawk Staff) and Donna Terry at the Celebration of Learning event in 2015

.
Donna Terry, a Computer Systems Technology – Network Engineering & Security Analyst class of 2017 honours graduate, received two scholarships while studying at Mohawk College. The first award she received was the Gary Wright Network Engineering Scholarship in 2015.
The Gary Wright Networking Engineering Scholarship was established by Mohawk's computer science faculty, friends and family of Gary. Gary was a professor at Mohawk College and pioneered the Computer Systems Technology advanced diploma programs at Mohawk. This Scholarship recognizes a student who works hard, consistently strives to learn and understand, actively participates in the classroom, is helpful and shows respect for others – all were traits Gary and Donna possessed. While studying, Donna was also a part time peer tutor. She facilitated computer comfort workshops to the language studies department in order to help students learn English as a second language.
The second scholarship she received was the Andrew Tapajna Scholarship in 2016. This award acknowledged Donna's consistent, strong academic standing. She was on the Dean's honour list every semester until graduation.  
Both of these scholarships empowered and gave her the confidence to continue on her academic path. Her recognition continued with a Peer Tutor Award at the Celebration of Learning ceremony, an event that highlights the outstanding achievements of current students within the Mohawk community.
Donna is an extra-ordinary individual. She came to Mohawk as a mature student after being in the workforce for 10 years.  With no formal post-secondary education, she realized she couldn't achieve the milestones she wanted in her life.  Mohawk provided her the education and financial resources necessary to help her succeed in her academic journey.  As part of this journey, Donna participated in the Co-op program affording her a 12 month position at Blackberry as a Unified Communications Student.  It was through this placement, Donna was able to present herself as a valuable asset to their team.
Currently, Donna holds a position at Blackberry in Waterloo as a Telecom System Administrator where she enjoys a collaborative team environment affording her the opportunity for even more learning so that we can begin to plan her future career goals. 
The Mohawk College Foundation is proud to work with donors like Andrew Tapajna and those who generously supported the Gary Wright Network Engineering Scholarship. Together, we can eliminate financial barriers to education and support students as they complete their academic journey.
For more information or questions about how you can support students like Donna, please contact:
Gena Dureault
Senior Development Officer
Mohawk College Foundation
Phone: 905-575-2208
gena.dureault [at] mohawkcollege.ca (Email Gena)
---
Charitable Registration # 11924 5744 RR0001
---