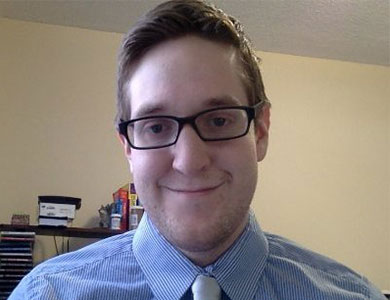 "Receiving these awards has made a huge difference to me, not just financially but to be recognized as an award recipient is an honour. I thank the donors for their continued effort to support students like me. Because of donors like them, students have the opportunity to grow and move forward with their education and career."
While Nathan McClung was in the Accounting program, he learned many lessons that reached beyond the classroom. He credits his improved sense of self and newly acquired leadership skills to the guidance of his professors. He practiced and refined these skills as a Student Representative for his class, a peer tutor, and the President of the Accounting Club. Each invested in students by making an effort to help foster strengths and improve skills necessary to be successful after graduation.
Nathan was the recipient of two student awards; The Millard, Rouse and Rosebrugh Bursary and the Matt C. Daly Memorial Scholarship. Both of these awards are given to business students who have demonstrated academic excellence, community involvement and strong leadership skills. All of which, Nathan discovered and fostered thanks to the support of his professors.
Nathan graduated in 2015. Since then, he has worked at Shopify, one of the fastest-growing Canadian technology companies. He has held different leadership positions and says he never thought he would be in this type of role. The support Nathan received at Mohawk ensured he was equipped with the necessary skills to succeed in these leadership positions.
Nathan says Mohawk has done an incredible job of fostering an environment in which students can feel safe and supported to take risks on their journey to self-discovery. He encourages current students to get involved, keep an open mind because there is always more learning to do that extends beyond the classroom. 
The Mohawk College Foundation is proud to work with donors who want to support students like Nathan through the awards program. For more information or questions, please contact:
Gena Dureault
Senior Development Officer
Mohawk College Foundation
Phone: 905-575-2208
gena.dureault [at] mohawkcollege.ca (Email Gena)
Charitable Registration # 11924 5744 RR0001
​​​​​