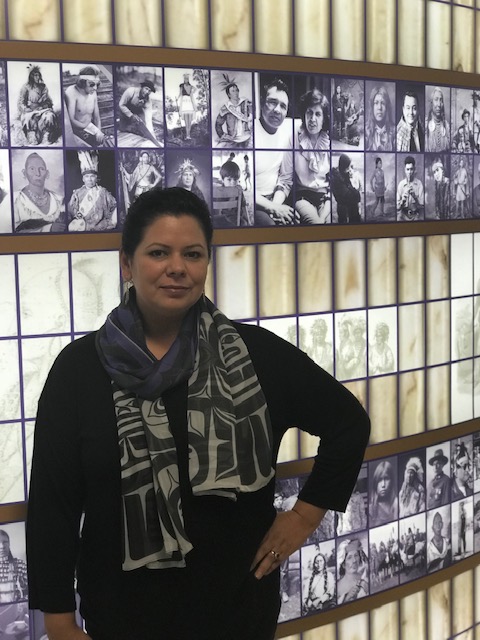 Leah Hogan
Leah has worked at Mohawk College for over 14 years, and is currently the Manager of Indigenous Education. She is Bear Clan, from Oneida Nation of the Thames and lives in Stoney Creek with her husband and three daughters. Leah began her career at Mohawk College as an Indigenous recruiter and moved into her role as a Student Success Advisor where she serviced Indigenous students navigating college processes. Leah has also taught part-time in dual credit courses and courses at Indigenous partnerships for over 6 years. She has taught Aboriginal & Western Perspectives, Indigenous College 101 and Indigenous Holistic practices.
Read the interview below to get to know a bit more about your colleague who has integrated many different Experiential Learning activities in to her courses.
Q: How would you describe your teaching style?
Leah: I would describe it as facilitation more than teaching. I do my best to facilitate learning experiences that are as authentic as possible by incorporating those who have lived experience by means of community members or students themselves. Giving a voice to the students to provide input on our learning community without burdening them is a delicate balance that I navigate each time I am provided the opportunity to facilitate.
Q: What advice would you give to an instructor interested in incorporating experiential learning in to their course?
Leah: First, find a learning outcome that resonates with you, either from your personal or professional experience and create an activity that meets it in your own way that connects students to each other. We have a wealth of knowledge and gifts here at the College that we can incorporate into learning experiences. Second, get out of the classroom at LEAST once….I know this poses challenges but try to get out of the comfort of being in the classroom. Once you see how students respond to being outdoors you will see what I mean!
Q: What is your favourite experiential learning activity that you have incorporated in to one of your courses?
Leah: The Story String activity that Rick Hill shared with me is my favourite. I have facilitated this activity with teachers, graduate students, faculty and current students. Students build their story string and we talk about wampum, wampum strings and the Confederacy governance structure. The Story String allows for students to share their journey, reflect on how they arrived to who they are now and their hopes for the future in a safe way while putting intention into their lives. It is a simple activity and powerful to hear the journeys of our students.
Q: Which experiential learning activity has resulted in the most surprising student reactions or reflections?
Leah: Overall the most surprising reflections have been about connection to not only the land but to each other. Students are craving a sense of belonging and purpose. I am always surprised how much they want to share with each other.
Q: What do you wish you were taught when you were a student?
Leah: If I was to think about my experience as a graduate student I wish I was taught how to explore alternate ways in evaluating that embraced growth as opposed to meet or exceeding expectations.
Q: What is your strongest memory from being a student?
Leah: I had come from a Commerce background so I was used to linear and "traditional" teaching methods being talked to by a teacher at the front of the classroom, but my BEd program experience was completely different. I specialized in Indigenous Adult Education where we had sharing circles and experiential learning experiences. When my instructor arrived to teach the lesson on Residential Schools we were told that we were going in to Brantford to listen to survivors share their stories. I honestly was not excited about the last minute change, it was "inconvenient" which I know sounds horrible. After the survivor spoke I could not stop crying and called my mom on the drive home recounting their stories. My mom came to see me and told me my Grandmother went to a Residential School and shared her story with me. We never talked about it and I was in my 30's at the time….so many things made sense to me from that moment on. This helped me learn how to embrace experiences as they come to you even though it means you may be uncomfortable at first.
Q: What do you hope a college education looks like 10 years from now?
Leah: Making sustainable change to communities that benefit both our learners' experiences and the communities they enter. We are well on our way!
Q: What is the best teaching advice you have ever received?
Leah: You will make mistakes, learn from them and don't let it stop your creativity.