Students benefit from options that allow them to change their online learning environment to meet their individual learning needs and/or preferences. The eLearn Accessibility and Preference Widget includes captioned videos that provide students instructions to:
Change the default font type and size in eLearn

Use ReadSpeaker for HTML content in eLearn

Use DocReader in eLearn

Learn about additional accessibility tools within eLearn.
The widget also includes a link to a free, external text-to-speech tool to provide an additional option to learners who prefer to listen to external course content.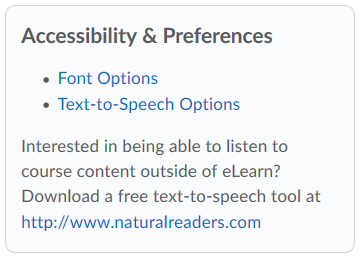 Implementation
The Accessibility and Preference widget has already been included on the eLearn My Home page, the default Course Home page and the Student Support page of the Mohawk College website.
If you are using a customized Course Home page and want to add this widget, please follow these steps:
Access the course you wish to add the widget to

Click Edit on the course Navigation Bar

Select Homepages

Click the name of your custom Course Home page (name should be in blue and demarcated as Active on the right hand side of the screen)

Under Widgets select the area in which you wish to add this widget and then click that area's corresponding Add Widgets button

In the list of widgets check the box beside eLearn Accessibility/Preference Features for Students and hit the Add button

Hit the Save and Close button
The Accessibility and Preference widget will now appear on the custom Course Home page.