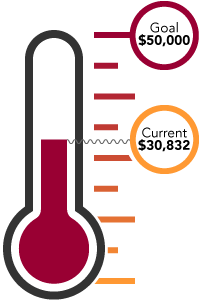 Mohawk supports our students AND our community. Continuing the support in the community, Mohawk will be holding our annual United Way fundraising campaign this fall.  This is an annual campaign and Mohawk has raised over one million dollars since Mohawk started fundraising for this initiative.  We have set a goal of $50,000 for this year and activities started with the Kick-off event on Friday, October 13 and events planned to the holiday break in December.  We are confident that Mohawk employees will help us reach our goal and continue the momentum. 
Current fundraising total: $30,832.64. Last updated November 23, 2017. 
Initiatives
Here is a sneak peek of a few of the initiatives planned – more details will be communicated in the upcoming weeks.  #MohawkUnited 
Returning favourites are planned and many with a new twist!  
Dress Down Days: Now available any day during the week during the months of November and December. Stickers can be purchased for $2 per day OR $40 for each month.  Stickers can be purchased at all campuses.  Look for the jars in various department offices.  Exact change would be appreciated.     
Spaghetti Lunches: In the planning stage for Stoney Creek and Fennell campus thanks to our Chartwell partner and IAHS will support the fundraising with Cookies and Cupcakes.
Dates: Dates are set for December 4 at IAHS, December 5 at Stoney Creek Campus; December 6 at Fennell Campus
NEW for 2017 is the ability to purchase a ticket for a student. MSA will assist in distributing the tickets to students at each of the campuses on the day of the lunch.  This is a great way to assist a student and support the campaign even if you can't attend the lunch.  STAY TUNED for notices on when and where you can purchase tickets. 
United Way Online Silent Auction

The United Way online auction is coming soon. If you have donations, please contact one of the team members noted below. Donations would be appreciated no later than Wednesday Dec 6th, 2017.

Bidding for items in the online United Way Auction begins Monday, Dec 11th through Thursday Dec 14th when it will close at 3:30 p.m. Items will be on display on Thursday, Dec 14th from 1pm to 3:30 in the MCACES Learning Link in C-Wing. Winners should be prepared to pick up their item(s) right after bidding closes.

Join us in making change in your neighbourhoods! Donate today!

Your United Way Online Auction Team

Danielle Ambrosio danielle.ambrosio [at] mohawkcollege.ca
Shaunna Kaminsky shaunna.kaminsky [at] mohawkcollege.ca
Anne Neziol anne.neziol [at] mohawkcollege.ca
Corinne Ethier corinnew.ethier [at] gmail.com

Loose change: Change collection will continue with collection jars located in various retails and food service locations at all campuses. 
ONE Card picture retake: The Roving ONE Card trolley will be making the rounds again to capture those ONE card pictures.  Maybe your hair style has changed or you have shaved a moustache or grown a moustache.  This is your opportunity to update your picture. Be ready:  Stoney Creek Campus on December 5th;  Fennell Campus on December 6th.   
WINE Elimination Draw: A popular campaign initiative is returning! Dates for drop-off and sign up are December 1 - 15.  Elimination draw will take place December 18 to 20. 
BEER Elimination Draw: A second elimination draw for beer aficionados! Dates for drop-off and sign up are December 1 - 15. Elimination draw will take place December 18 to 20.   
Payroll deduction is available for sign up. Forms are available on MyMohawk and this is a way to support United Way all year. 
Contact the United Way Campaign Team
unitedwayteam [at] mohawkcollege.ca (Email the United Way Campaign Team)
About the United Way of Burlington and Greater Hamilton
Last year, one in three people in Burlington and Hamilton used the services of a United Way funded agency.  That means that our friends, neighbours, work colleagues and members of our own families received needed help.  
Other than the Federal and Provincial Governments, the United Way is the largest funder of social and health support services in Burlington and Hamilton.  The United Way is a leader, funder, facilitator, and convenor that partners and collaborates with local organizations to determine needs and support important social programs.