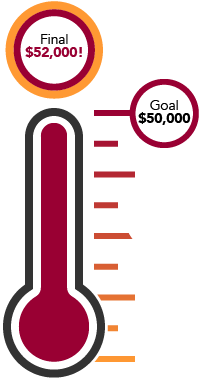 Mohawk supports our students AND our community. Every year, Mohawk participates in raising funds for United Way. During the 2018-19 campaign year, Mohawk surpassed its goal, raising a total of $52,000. Thank you to everyone who showed support and contributed to our campaign. Since Mohawk started fundraising for this initiative, we have raised over one million dollars, and we plan to continue the momentum! We are in the process of planning another successful campaign year. Stay tuned as the dates of our upcoming events and activities will be finalized soon.
Final fundraising total: $52,000.
Last updated April 10, 2019.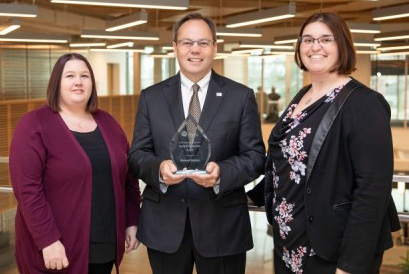 Spirit of Community Award
Mohawk College received the Spirit of Community Award from the United Way of Halton & Hamilton at the charity's awards night on April 3, 2019. Photo: United Way Campaign co-chairs Lisa Fitzpatrick (left) and Nair Lacruz with Mohawk College President Ron McKerlie.
Upcoming Events and Activities
Events for 2019-2020 campaign year will be released shortly.
Contact the United Way Campaign Team
unitedwayteam [at] mohawkcollege.ca (Email the United Way Campaign Team)
About the United Way of Burlington and Greater Hamilton
Last year, one in three people in Burlington and Hamilton used the services of a United Way funded agency.  That means that our friends, neighbours, work colleagues and members of our own families received needed help.  
Other than the Federal and Provincial Governments, the United Way is the largest funder of social and health support services in Burlington and Hamilton.  The United Way is a leader, funder, facilitator, and convenor that partners and collaborates with local organizations to determine needs and support important social programs.