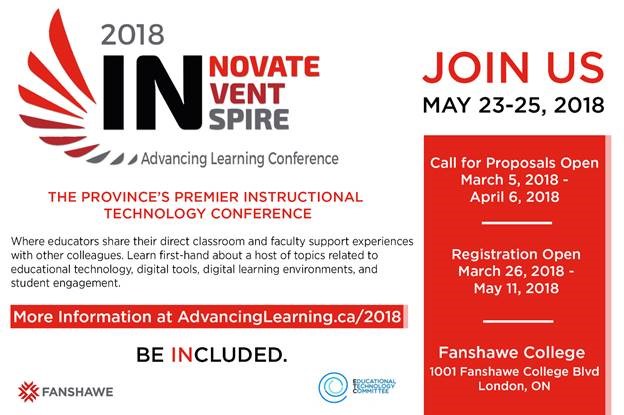 Advancing Learning Conference
The "IN" Conference: Innovate, Invent, Inspire
Fanshawe College is proud to invite you to what will be an engaging and inspirational conference designed to promote and present the best in technology-enabled teaching and learning the Ontario college system. Join us May 23rd to 25th 2018 in London, Ontario and learn first-hand from practicing educators about a host of topics related to educational technology, digital tools, digital learning environments, and student engagement.
The Advancing Learning Conference had been the province's premier instructional technology conference since the 1990s. As such, this year's conference will focus on innovation. We believe that innovation happens when ideas take flight, and the stylized wing in our logo is meant to represent our shared journey through education innovation.
Together we will challenge our teaching and learning paradigms, reimagine the learning experience, and explore how disruptions in education today will shape the innovative classroom of tomorrow. Be innovative, be inventive, and be inspirational: this is our guiding mission for ALC 2018.
At the Advancing Learning conference, you will:
Learn about innovative research and practices related to institutional change, quality, assurance, collaboration, lifelong learning and the latest trends in online, open and flexible and technology-enabled learning.
Share innovative ideas and best practices with other educators and administrators from the province.
Be inspired by new modes of teaching, learning, course designs and delivery in higher education.
Engage with inventions from providers of leading-edge technologies and creative applications of technology in learning.
Interact with partners and collaborators for projects and research through networking opportunities
Inquire about emerging technologies in education and view demonstrations or services from leading technology providers.
Be a part of this unique experience designed to reflect and showcase our provinces' vibrant community of practice!
Call for Proposals is now open!
Visit www.AdvancingLearning.ca/2018 for more information on how to register and submit your proposals.