Tour the College. Find Mo the Hawk.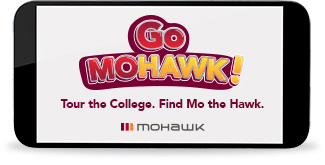 We invite you to try the new GoMohawk app, our virtual tour of Mohawk College. While you explore the college, you will also be searching for "Mo the Hawk" who has gone missing. While you look for Mo, you will learn about the college, tour classrooms, labs, the fitness centre, common areas and more!
The app was made at Mohawk by students and faculty for you; it is a great introduction to what goes on at the number one college in the greater Toronto and Hamilton area!
Are you an international student? Check out GoMohawk International