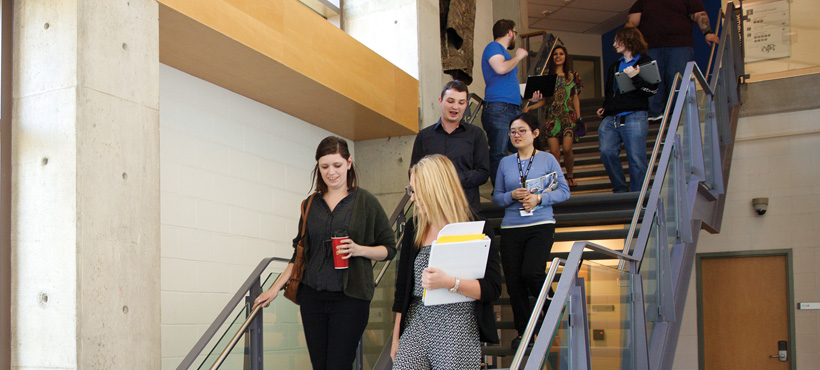 How to Apply for Same-day Admission
It's not too late to apply and become a Mohawk College student this January. Apply in-person at Fennell Campus and find out if you are accepted the same day. Can't make it in? You can also apply online. Find an open program and apply now!
Step 1: Gather What You Need to Apply:
Official Sealed Transcripts

Learn more about getting your Official Sealed Transcripts.

Application Fee

You can pay your $95 OntarioColleges.ca (opens new window) Application Fee with debit, cash, Mastercard or Visa.

Any additional material outlined in the program requirements
Step 2: Come to The Square at Fennell Campus
Once you are at The Square at Fennell Campus, you will meet with an admission advisor. Our admission advisors will assess your eligibility and process your application through Ontario Colleges. If you meet the admission requirements you could get an offer of admission on the SAME day. 
Admission advisors can also answer general questions and offer alternative program options.
The Square – Student Services is Located at:
135 Fennell Ave W,
Hamilton, ON L9C 0E5
The Square at Fennell Campus

Will be Open:
Date
Hours of Operation

December 10 - 20

Monday to Thursday from 8:30 am to 4:30 pm

Friday, December 21

8:30 am to 4:30 pm

December 24 - January 1

Campus Closed

January 2 - 21

Monday to Thursday - 8 am to 6 pm

Friday - 8 am to 5 pm
Step 3: Start Classes as Soon as January 8
Most classes start January 8, but same-day application is available until January 21. Select Business programs offer a late start option and you have until February 8 to apply.
Frequently Asked Questions About Same-day Admission
Programs Available for January
With a range of flexible learning options available, gain the knowledge and skills that you need to enhance your academic resume.
January Programs
Get Back on Track
Have you started a Mohawk program and would like to complete your certificate or diploma? Need a plan to return to college and complete your studies? We can help! Come to The Square and meet with a Coach to discuss your options.