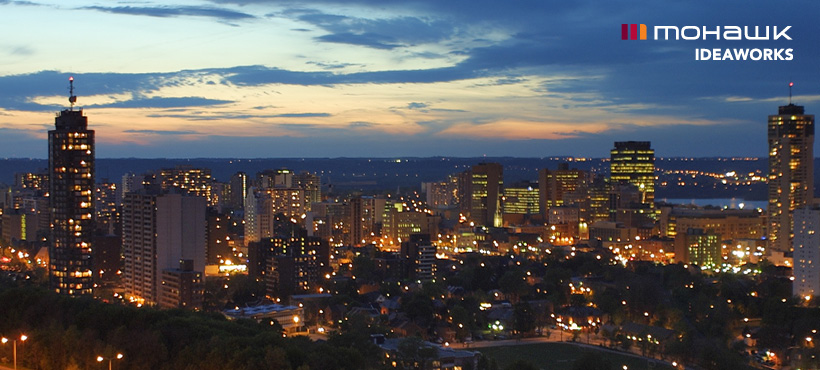 Year in Review
2019-2020
Research. Solutions.
And everything in between. 
In 2019-2020, IDEAWORKS continued to build upon the college's commitment to collaboration and partnership with our community.  Under the leadership of our new Dean of Applied Research, Jeffrey McIsaac, Mohawk faculty, staff and student researchers helped 129 partners develop practical and innovative solutions that would make a difference within their organizations.
We continued to grow in our reputation as a hub for Canadian applied research and in recognition of that strength and in 2019 Mohawk College was named the seventh-top research college in the country, according to RE$EARCH Infosource. Our top-10 ranking reflects our strategic commitment to engaging in research and innovation that accelerates Canadian and global innovation, drives the commercialization of new products and technologies and creates professional and research opportunities for our students.
---
2019-2020 Highlights
We announced two new research chairs
Dr. Esteve Hassan was appointed the Industrial Research Chair for Industrial Internet of Things (IIoT) Applications after being awarded $1 million in applied research funding from NSERC. Dr. Tony Cupido was appointed the Research Chair in Sustainability, leading a research portfolio focused on projects that will contribute to a low-carbon economy.
We expanded our research expertise
We established the new Medical Technologies Innovation Centre. Based at the Institute for Applied Health Sciences, this new research centre focuses on bridging the gap between technology and clinical care. We also expanded into new, emerging research areas that are in high demand, including Remotely Piloted Aircraft Systems (Drones), Digital Accessibility and AR/VR.
We accelerated Canadian and global innovation
We continue to drive commercialization through industry access to exceptional facilities and world-class technologies, thanks to our funding partners: NSERC, SSHRC, OCE and Fed Dev. For start-ups, not-for-profits and academic partners, the IDEAWORKS Catalyst Fund provided funding to support 19 innovative applied research and scholarship of teaching and learning projects


---
In numbers*


365
Students engaged in applied research

83
Technical staff involved in research

$9.1 million
In total research revenue
Our partners*
129 total active research partnerships
83 industry partners
26 academic partners
11 not-for-profit organizations
7 government partners
2 international partners

Funding partners
Many of our industry and community applied research projects are made possible thanks to the support of our funding partners.

---
* Numbers for partnership, faculty researchers, technical staff, students engaged, and total research revenue reflect the most recently available numbers from the 2017/18 fiscal year.