My Tools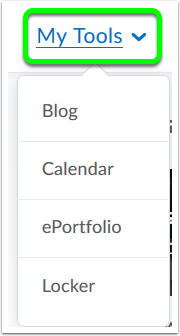 Use the My Tools options found on the eLearn navigation bar to access the following tools. 
Locker
The Locker tool is a personal document storage space within eLearn. Locker enables you to upload files from your PC, or to create new HTML files.
Personal Lockers – Your personal locker area is not course-specific. You can access the locker from anywhere in eLearn and keep all of your files together. Files in your personal locker are private.
Group Lockers – Created by instructors, group lockers are for small groups to share documents. Any member of your group can upload and modify files in this locker.
Learn how to upload files to your locker in eLearn.
Calendar
The Calendar tool provides access to all of your course calendars. Each of your courses is coloured-coded to help you identify specific courses. You cannot add your own events to the calendar but you can use the integrated task manager.
Stay organized by following this guide on how to add your eLearn calendar to your Mohawk Outlook Calendar.
ePortfolios
At Mohawk, students use the ePortfolio tool for both academic and professional use. In some courses, students are required to create an ePortfolio presentation which is graded. This type of ePortfolio is used to collect and reflect on academic work helping you showcase your learning experience, achievements and goals. Learn more about ePortfolios at Mohawk.
Need help creating an ePortfolio? Check out these guides.