An ePortfolio is an online space where you can collect, organize, reflect upon and display the work you've done at Mohawk, in the form of videos, graphics, essays, or almost any other format. It's like an online resume, but much more individual and flexible.
Both shareable and private, ePorftolios offer tremendous flexibility:
Reflect on different aspects of life and education at Mohawk;
Share specific things with specific people – instructors, classmates, parents, employers, etc.;
Collect evidence of your skills, capabilities and experience and emerge with a full, multimedia résumé of the future;
Maintain a full transcript of your Mohawk experience;
This free service is yours for many years after you graduate – continue to build and maintain an up-to-date record of your academic and professional experience.
ePortfolios offer Mohawk students a personal portal that supports their studies and helps open doors to whatever comes next!
Need help getting started? Check out the ePortfolios technical support page.
Why ePortfolios? Find out in this 2 minute video (opens new window).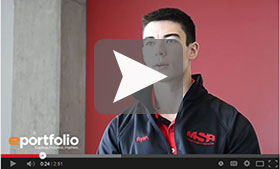 See examples of exemplary ePortfolios.