There are several different types of files that you can upload to your presentation.
Artifacts used in ePortfolios are digital evidence of your learning, experience, achievements and goals. They are the building blocks of everything you do within the ePortfolio tool. An artifact can be almost any kind of file.
The artifacts you collect should have a purpose in demonstrating a skill or competency. You should collect a wide range of artifacts so you have many options to choose from when you build a presentation. Examples of artifacts you can include are:
Writing
Papers and writing samples
Research projects and research-related writing
Journal/blog entries 
Presenting data
Spreadsheet and database projects
Graphic illustration of information-charts, time lines, concept diagrams
Multimedia
Video and audio clips
Photographs, images, artwork
Collaboration
Group projects
Examples of problem solving
Work experience
Co-op and work experience
Community service work
Examples of technology-related skills
Responsible Citizen
Public speaking examples
Leadership experience, qualities, and examples
Volunteer work
Other
Academic awards and honors
Memberships in professional organizations
Certifications
---
Step 1: Log in eLearn
Step 2: Select my tools, then ePortfolio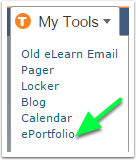 Step 3: Uploading Artifacts
From the ePortfolio tab, select the Add Files option. On the next screen select the Upload button. Select Done and Next and follow the directions on the screen.
Step 4: Tags
Tags are words you associate with your artifacts or items to make them easier to find within your ePortfolio.
You can search for items with specific tags. When searching for or adding tags, other users tags are shown for easy searching. For example, searching for or utilizing a tag named Creative will show the number of times it has been used as a tag.
To make a multiple-word tag, place double quotes around the entire phrase. For example: typing "winter project" makes the two words a single tag.
To make a private tag that only you can see, type an @ symbol in front of the tag. For example: typing @draft adds a private @draft tag to an item that other users will not see when you share the item with them.
To make a private multiple-word tag, put the at symbol before the quotation marks, for example: @"rough draft".
Step 5: Reflections
A reflection is a way to share your thoughts and make them part of your ePortfolio.
You can add a reflection to existing artefacts, collections, and presentations, or they can be independent reflections that are not associated with your ePortfolio items.
Step 6: Images and Documents
Too add an image or document (Word, PowerPoint, etc.) to your presentation; you need to upload the file first. Go to your My Items tab, and select file Upload. Search for your file that you wish to upload and follow the prompts.
Step 7: Grades
ePortfolio also gives you the option to upload your grades from any course that you have taken. Navigate to the My Items tab, click on the Add and select course. Select the course you wish to show.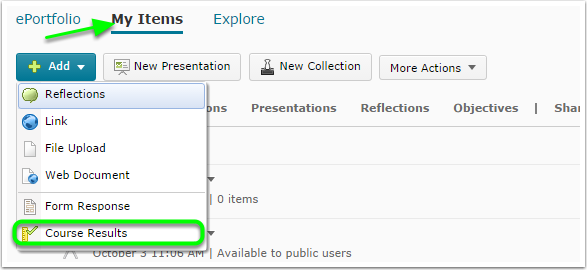 Step 8: Log Out
Always remember to log out and close the browser