Email Address: first.last [at] mohawkcollege.ca
Password: your current email password
Server: outlook.office365.com
Username: 000101060 [at] mohawkcollege.ca
** NOTE THE ABOVE USERNAME IS NOT AN EMAIL ADDRESS **
The @mohawkcollege.ca is required to determine if you are a staff or student and determine where your mail server is located. The format is MohawkId@domain.
---
Step by Step Directions
Step 1: Open Outlook for iOS
If you don't have it yet, download it from the Apple Store (opens new window).
NOTE: Available for iOS devices using iOS 9.0 or higher.
Step 2: Add your Email Account
Go to Settings > Add Account > Add Email Account and enter your email address.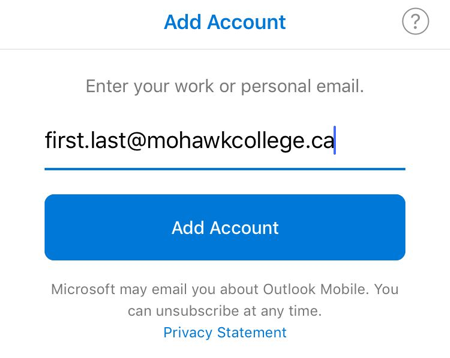 Step 3: Sign in with your MohawkID and Password