Fall 2019 semester lockers will be available for rent on  Wednesday, September 4, 2019, at 9:00 am. Locker rentals are $25.00 for the Fall/Winter term and are non-refundable. If you have any questions, please contact stephanie.reszytniak [at] mohawkcollege.ca (Stephanie Reszytniak).
Step 1: Login to MyMohawk
NOTE: Be sure when you begin this process that you know your preferred locker number range.
Step 2: Click on Campus Life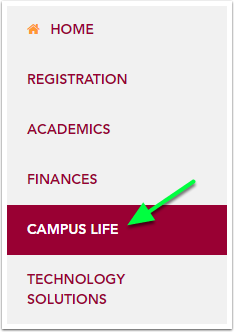 Step 3: Click on Locker rentals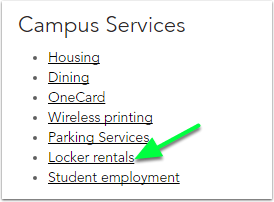 Step 4: Scroll to the bottom and click on Continue
A new tab will open. Once you have read the page, scroll to the bottom and click on Continue to proceed.
Step 5: Choose the location of your Locker and Click to Continue
Select the Wing, Floor, Locker Type (Full or Half size) and Locker number.
Step 6: Click on Click to Confirm and Book the Locker

Step 7: Pay for the Locker using VISA or MasterCard
Enter your Card information and click on Pay
NOTE: You may pay for the locker in advance at The Square or the Student Welcome Centre with another form of payment which will allow you to skip this step.
Step 8: Record the Combination of the Locker and the Locker number
NOTE: All Mohawk College Lockers are secured with school locks. You will be given a combination for the lock. Be sure to keep it in a safe place along with the locker number.
Always remember to log out and close the browser windows