The Language & Culture Centre (LCC) is your destination for meeting new friends, getting involved through volunteer experiences, participating in social and cultural events throughout the year and participating in short term ESL programming.
Manager: Melina Trindade
Language & Culture Centre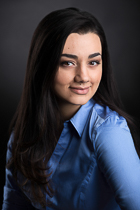 Ola Salah
LCC International Coordinator 
Motivated by creating a welcoming environment for students, Ola understands the challenges facing international students as they start a new chapter of their lives in Canada. She plans and executes a variety of cultural events, recruits and trains volunteers, and collaborates with different departments on workshops and events. Sharing her love of travel and learning about new cultures, she works to foster an environment where students can feel like they are home. Ola is a recent Mohawk graduate from the Public Relations postgraduate certificate program.
Languages: English and Arabic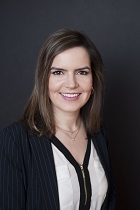 Andréia C. Lubini
LCC International Student Engagement Officer
Andréia creates a series of student engagement opportunities designed to build a welcoming experience for international students arriving at Mohawk College and living in the Hamilton community. She's your point of contact for LCC events, leadership and volunteering opportunities. Andréia has a passion for innovation and design. She brings her event management skills and several years of experience as a designer and customer service expert to the LCC. She enjoys learning about new cultures and, being an expat herself, has been through the joys and dilemmas of adjusting to life in a new country.
Languages: Portuguese and English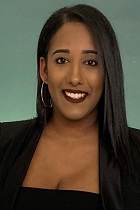 Kimberly Deonanan
Arrivals Coordinator
Coming to Canada as an international student herself, Kimberly Deonanan joins Mohawk's International family as an Arrivals Coordinator. She came to Canada in 2010 from Trinidad and Tobago and pursued degrees in both Hospitality and Tourism Management and Human Rights and Equity. Making Canada her new home over the years, she has shared her passion for culture and travel through her work experiences as a Student Travel Coordinator and Advisor. Additionally, having travelled to numerous countries herself and maximizing all opportunities to learn and experience different cultures and traditions, she is able to relate to the diversity of the international community. She looks forward to combining these experiences to ensure all incoming students have a warm, hospitable and enjoyable transition to Canada.
Languages: English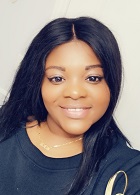 Kimberly McDonald
Student Arrival Coordinator, International
Kimberly was born and raised in Guyana, South America. In 2016, she attained her BSc. in Business Management from the University of Guyana. She then immigrated to Canada in 2017 where she attended Mohawk College completing a Post Graduate Certificate in International Business Management. Kimberly enjoys listening to music, audio books, travelling, reading, cricket, basketball, cooking and dancing. She has over three years of experience working with international students from over 70 countries around the world and brings a wealth of knowledge to Mohawk College in diversity and cultural exchange.
Languages: English, Guyanese Creole, Jamaican Patois.