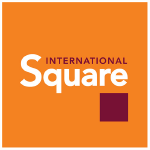 International Square is the home of many services for international students. When you have questions about your courses, life in Canada, social activities, events and more, International Square is a great place to start! At this time, our services are available online and international students can reach us at international.services [at] mohawkcollege.ca.
At our main, Fennell campus, International Square can be found in room J137.
At our Stoney Creek Campus, international services can be accessed at Room A111 - see Window#1 for the International Coach
At our Institute for Applied Health Sciences at McMaster, international services can be accessed at Room 120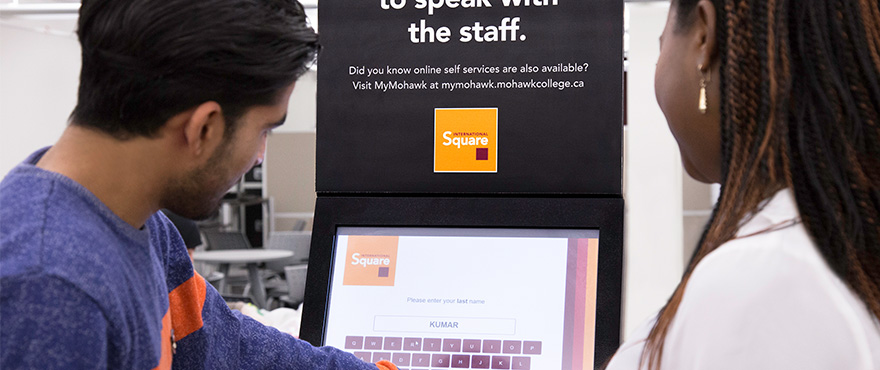 When you visit International Square at Fennell Campus, please take a ticket from the kiosk so that you may receive service as soon as possible. Our helpful staff and volunteers will assist you in selecting the correct ticket if you need help. If it is your first time visiting us in International Square and you are just beginning your studies, be sure to take the "New International Student" ticket. If you have visited us before, please take the "Current (Returning) International Student" ticket.
International Square
Services Located In International Square

Registration & Timetable Help
Information and assistance with registering for your college programs and creating your timetable.

Advising
Need assistance with your education plan or picking courses? You'll find the help you need here.

English Language Programs
We offer many ways to upgrade you English language skill for academic or employment purposes. 

Document Pick up Services
Come to International Square to pick up letters verifying enrolment and other necessary documents.

Housing Information
Turn to us for help and answers regarding residence and housing near campus.

Volunteering
Look for opportunities to develop skills and enhance your resume through volunteering.

Admissions
If you have questions or difficulties with the admissions process, we're here to help.

Coffee Club
Coffee Club is a regular, fun, social event. Join us for conversation and to meet new people. Refreshments served!

Financial Information
For all questions regarding fees, payments, scholarships and awards. Come and see us!

Transportation Information
We can help you with information on getting around campus and the college area.

Payment Services
There are several ways to arrange fee payments: Visa, MasterCard, Debit or Certified Cheque preferred.

Health Information
Your health and wellness is important to us. If you need help – please ask!

Food Information
Hungry? For information on campus and nearby food options, drop by to discover all you food options.

Social Activities
There's lots of fun to have (between classes!) Let us share with you some of the fun activities and events coming up.