Residence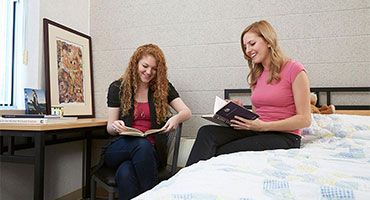 Residence, only available for Fennell campus students, offers everything you need to make your College experience enjoyable and safe. Only a limited number of spots are available and it is important to apply early (by May 15th if you are starting in September.) Explore Mohawk Residence to learn more and to print the application form.
Note: The Mohawk Residence is located adjacent to Fennell campus. There are no Mohawk Residences for Stoney Creek or IAHS campuses. Please note where your classes will take place before arranging for housing.

Food: If living in residence, only a microwave and refrigerator are provided. A meal plan is required for all students in residence. Your meal plan provides discounts towards the purchase of snacks, drinks and meals on campus and nearby restaurants.
Off-Campus Living
Are you new to the Mohawk area? Are you moving out of residence? There are many affordable off-campus living options for students. Note – please check what campus your program is offered at and be sure to find housing near that campus. For more information, explore Off-Campus Housing.

Food: Students living off campus typically have access to a kitchen but be sure to enquire when making your living arrangements. Meal plans are not available for students living off campus.
Homestay for International Students
The Homestay program allows our international students a chance to have the extra support of living with a Canadian family. This is a great opportunity to make friends quickly and to learn more conversational English. Canada Homestay Network will help make all the arrangements.
Explore the Canada Homestay Network
Phone: 1-289-426-5042
Email: hamiltoninfo [at] canadahomestaynetwork.ca (Canada Homestay Network) - Hamilton office
Check out the Canada Homestay Network's Student Guide PDF to learn more about preparing for a Homestay accommodation.

Food:The Homestay program often includes some meals. Please enquire when making your living arrangements. Meal plans are not available for students in the Homestay program.