Connect with your peers and gain new skills!
Learn how to study smart and be successful - one topic at a time!
The Keys to Success program allows students to learn new skills and habits to help them be successful for the semesters ahead. There are multiple ways to participate in the program: 
WORKSHOPS AND DROP-IN SESSIONS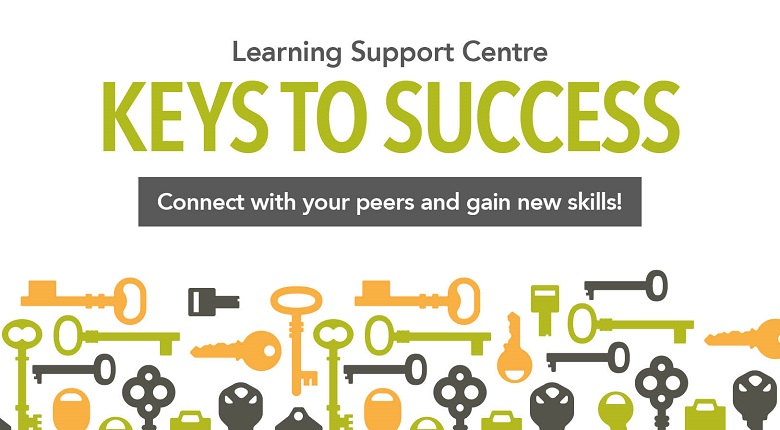 For every workshop you attend, you will be entered to win a $10 prize!  
WORKSHOPS
REGISTRATION INFORMATION

Effective Learning Strategies

 

Explore effective versus ineffective learning strategies and how they can positively influence your studies.

Coming Soon!

Essentials of Note Taking

 

Explore a variety of effective note-taking methods and how having a Growth Mindset can help improve your studies. 

Coming Soon!

Boosting Your Productivity

 

Explore how to avoid procrastination, improve your time management, and effectively prioritize. 

Coming Soon!

Get Exam Ready

 

Explore effective studying and test-taking skills in order to prepare for both in-person and online exams.

Coming Soon!
CHATS FOR SUCCESS
ZOOM LINK

Join our Student Success Mentors for a chat
about effective study skills. Ask questions,
share your experiences, and gain new success
strategies and tips! 

 

For every chat you attend, you will be entered to win a $10 prize!  

Coming Soon!
UNLOCKING YOUR SUCCESS
REGISTRATION INFORMATION

Looking to jump-start your semester?
Join this interactive workshop designed to prepare
you for success. We will explore Growth Mindset,
Note-Taking, and Effective Study Skills.

Register for Reading Week - Coming Soon!
SUCCESS SPOTLIGHTS WITH GUEST SPEAKERS
Success Spotlights
Join guest speakers for a conversation about becoming successful in their careers!
Melanie Wong,
CEO of Olive + Splash
Melanie is the founder of Olive + Splash, a collection of bamboo athleisure apparel located in Burlington, and former Public Relations Specialist having worked with athletes and artists such as Snoop Dogg. This Mohawk College Alumni from the Public Relations and Corporate Communications program has wowed the business community with her innovative drive-thru mask pick-up window, which received media attention from CITY News, Elle, Fashion, Blog TO, Toronto Life, Trendhunter, and The National Post.
Mélanie Patenaude,
Engineering Technologist
Mélanie Patenaude is a Certified Engineering Technologist in the Planned Capital department at Alectra Utilities, and graduate from Mohawk College. As a women who's worked in the electrical sector for the past 7 years, she's faced many challenges; however, it's provided her with great opportunity to make a difference. If she were to look back at her younger peers entering this industry, she would advise them to work extremely hard, to know their worth and to step up to the plate when challenges arise.
Chris Howden,
Radio Producer, Writer and On-Air Personality
Chris is a Broadcast and Journalism graduate from Ryerson University and has been a producer and writer with CBC radio since 2003. Almost that whole time, he's worked for "As It Happens" - a news interview program that's been on the air since 1968. For 10+ years, Chris was the show writer. And in 2019, he was named co-host of "As It Happens", alongside award-winning journalist Carol Off.  
MYCANVAS COURSE
Students can access Keys to Success on MyCanvas. Log in, go to Account and then MyCanvas - Open Courses. 
This course covers the following topics:
Virtual Learning

Growth Mindset

Note Taking

Learning Strategies

Healthy Habits

College Resources

Studying and Test Taking Tips

Setting SMART Goals

Boosting Productivity
Complete all nine modules to receive your Program Completion Badge!
For every badge you earn, you will be entered to win one of two $50 digital gift cards! 
For earning your Program Completion Badge, you will be entered to win one $200 digital gift card!
INDIVIDUAL APPOINTMENTS
Book an individual appointment with one of our Student Success Mentors to discuss any of the Keys to Success topics and receive personalized support! 
Email lsc [at] mohawkcollege.ca (subject: Book%20an%20Appointment%20with%20a%20Student%20Success%20Mentor) () or Book an Appointment by creating a tutoring account and select Student Success Mentor from the available schedules