Overview
eLearn ePortfolio is a personal online portfolio tool for storing, organizing, reflecting on and sharing items that represent a user's key and most impressive learning and achievements. These items can include documents, graphics, audio files, videos, presentations, course work, instructor feedback, grades, etc. and serve to demonstrate a user's improvement or excellence in selected areas. Users decide what items to include in their ePortfolio, how to organize them, who to share them with, and what sort of feedback viewers can provide.
Often, choice ePortfolio items are organized into websites called Presentations, and shared among select groups or individuals for review or feedback. ePortfolios can also be submitted to eLearn Dropboxes, as course assignment submissions.
How it works
eLearn ePortfolio is fully integrated with eLearn, and is available to all users via the ePortfolio link under the My Tools group on eLearn's My Home navigation bar.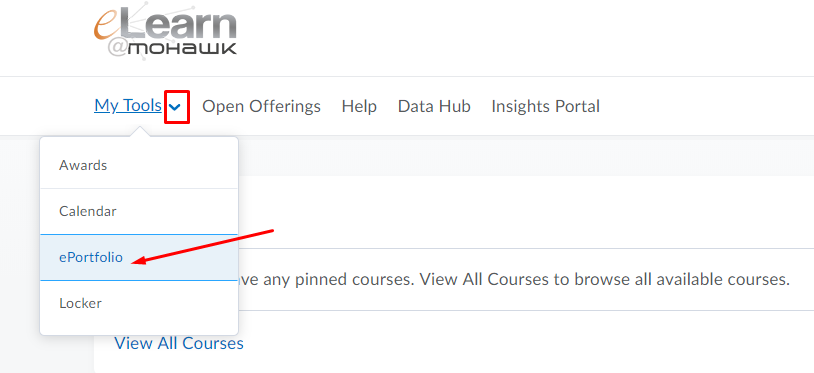 The individual items that are stored in ePortfolio are generally called artifacts. Individual artifacts and collections of artifacts can be shared out to select audience(s), but most often artifacts are organized into sharable presentations. There are no limits to the number of artifacts that users can store, or how many presentations users can create. Using the same collection of artifacts, a user can create several different presentations, each tailored to a specific audience- an Instructor (for a course project or assignment), a potential employer (for a job interview), or a family member or friend (for fun).
External users access ePortfolio content- artifacts, collections, or presentations- by following unique URLs generated within ePortfolio.
Use at Mohawk
Faculty Use of ePortfolios at Mohawk (7 minute video)
ePortfolio is a powerful and flexible set of tools that can be used in many different ways to satisfy different requirements.  Perhaps the most common use is to create and share web-based Presentations that present exceptional works, reflections, and achievements. These could be shared selectively on the Internet, with other eLearn users, or even submitted to eLearn Dropboxes.
A simplified workflow for working in ePortfolio might look like this:
A user chooses from among his/her best work- completed assignments, reports, documents, videos, images, etc. and creates artifacts for each file by uploading the files into ePortfolio.
The user might create other artifacts by adding Instructor-generated eLearn feedback- exceptional grades and instructor comments
The user might create personal reflections that describe personal experiences and associate them with artifacts.
The user organizes a series of related artifacts and reflections into a new Presentation, and personalize the look and feel with a customized theme.
The user sets the intended permissions and shares the Presentation with the desired audience(s). The user may also choose to submit a copy of the Presentation to a Dropbox.
ePortfolio items are shared with other users using permissions. Users can set up separate permissions options for each artifact, collection, reflection, and presentation in ePortfolio. Permissions can be assigned to individual users, sharing groups, groups of users based on course or department enrolment, or the general public through a URL (presentations only). Users can also choose whether others can see the item, see comments, see assessments, add comments, add assessments, and/or edit the item.
Who can help you at Mohawk