Ensure you read the following important information if you will be travelling to Canada to study!
Important Information for International Students:
International students travelling to Canada, please visit the Government of Canada webpage for more information about how to prepare for your trip.
Step 1: Prepare for Entry to Canada
Ensure you have a valid study permit
You are required to have a full visa and a passport that is valid on your date of travel in order to travel to Canada. If you are a new student traveling to Canada, you need to inform Mohawk College of your visa status. Review the following pages on our website about student permits:
---
Download Mandatory Apps
Download the following apps:
iCent App
This app is mandatory for all students travelling to Canada and contains critical information you must follow upon arrival in Canada and at Mohawk College.
Follow these steps to download the iCent app:
Visit the App Store or Google Play and download the app
Enter Canada in the "Institution Country" field
Enter Mohawk College International in the "Institution Name" field
Use your email to register for the app, you will be sent an email with your PIN. Please remember to check your Junk Mail inbox
Use your PIN to login the app  
For assistance or questions, contact: support [at] iCentapp.com (support[at]iCentapp[dot]com) or view the following video:
Note: If you cannot access the App version of iCent, you can access the iCent App Content via web browser as well!
Google Android in China: We are aware that there have been some download issues for iCent in mainland China. If you are in mainland China, download the app directly.
See the iCent Privacy Disclaimers
ArriveCAN App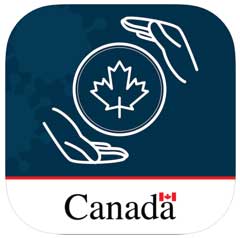 The ArriveCAN app is no longer mandatory for travellers to Canada. However, it is still advised to use the optional advanced declaration feature in ArriveCAN to save time at the airport by submitting the customs and immigration declaration in advance of arrival. Download the ArriveCAN App.
---
Other Essential Preparations
Attend the Mohawk College Pre-Departure Webinar: Next Stop - Mohawk College
Learn all the information you need to know about arriving in Canada, studying at Mohawk and registering for your classes. Contact us if you missed this session and would like to view a recording! See the Considering Mohawk webpage for other webinars!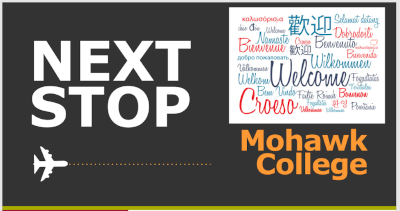 Review the Mandatory Government of Canada Advice
When preparing to come to Canada, please review the Government of Canada website for the steps to follow upon arrival.
What to pack
Here is a list of recommendations from Mohawk International on what items you should pack.
---
Step 2: Arrival in Canada
Airline Requirements and Airport Safety
Please review the Toronto Pearson Airport safety recommendations page before your flight.
If you are travelling by air, check your airline requirements before your flight.