Professional Practice Collaboratory at IAHS
Hours
Monday to Friday (see below)
1400 Main Street W
Hamilton Ontario
Ontario
L8S1C7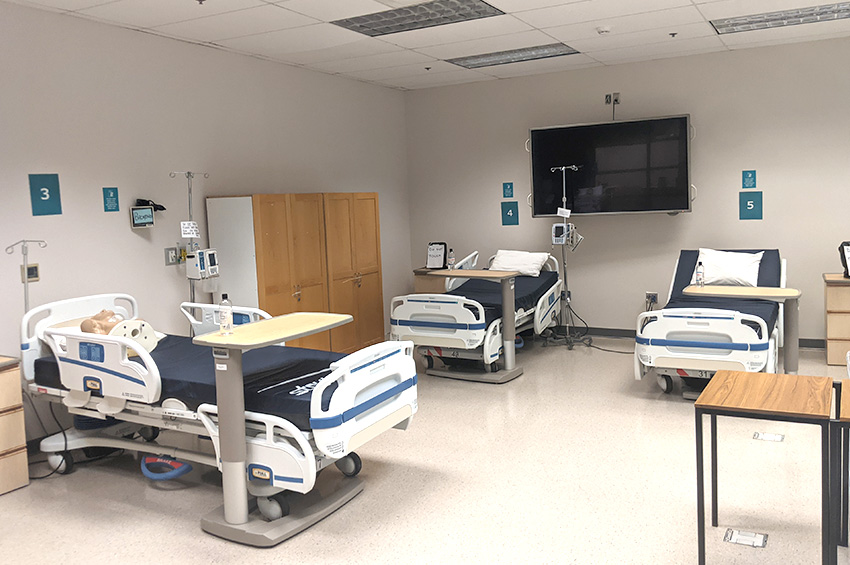 Welcome to the Mohawk-McMaster Institute for Applied Health Sciences
Professional Practice Collaboratory (PPC)
The Professional Practice Collaboratory is located on the second level of the Mohawk-McMaster Institute for Applied Health Sciences in Room 205. It houses high fidelity simulation laboratory, clinical practice laboratory; an activity of daily living apartment; and a comprehensive selection of clinical skills equipment which are available for student or faculty use. The PPC is an area where you may access human resources, practice clinical skills and order supplies for demonstrations, presentations and individual study.
Colours of blue for uniforms for the Practical Nursing Program
 
Procedure for Practicing Lab Skills in the PPC
Inquiries can be sent to simulation [at] mohawkcollege.ca
OPEN LAB
| Day | Time |
| --- | --- |
| Tuesday | 10.00-14.00 |
| Wednesday | 10.00-14.00 |
| Thursday | 10.00-14.00 |
| Friday | 10.00-14.00 |
Please sign in upon arrival using the QR code displayed. Visit the PPC office (205j) if you require additional equipment.
---
Professional Practice Collaboratory Staff
Director, Simulation, Business Development and Inter-professional Learning
Theresa Merwin
Email: Theresa.Merwin [at] mohawkcollege.ca
Phone: 905-575-1212 ext. 3558
Location: Room 213
 
Simulation Centre Support Officer
Barb Chessum
Phone: 905-575-1212 ext. 6294
Location: Room 214
 
Simulation Lab Technologist
Email: simulation [at] mohawkcollege.ca
Location: Room 205
 
Simulation Design Technologist
Vishal Pathareddy-Appanah
Email: simulation [at] mohawkcollege.ca
Phone: 905-575-1212 ext. 6747
Location: Room 205
 
Contact Barb for:
Booking rooms and simulation sessions
Daily operation of the simulation centre
Equipment and supplies inventory and ordering
All queries and general questions
 
Simulation
Related Links:
Purchase your Student Kit (opens new window)
Follow Us