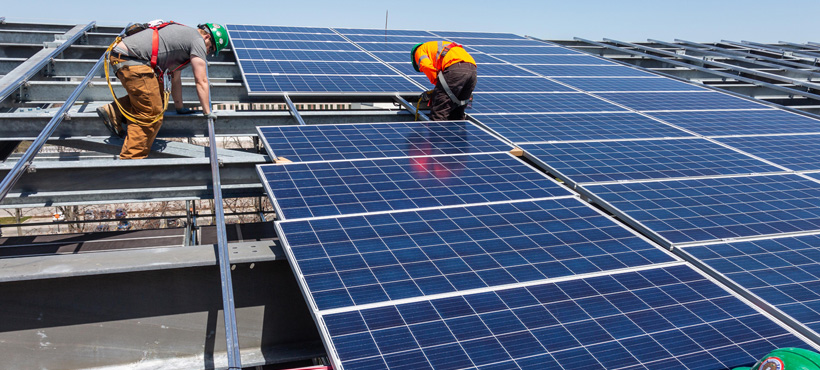 Fill out the Online Application Form Sign up for an Information Session
Course Description
This awareness-raising course introduces learners to green building technologies and the range of skills needed for employment opportunities in this growing sector. This course reinforces the need to create sustainable communities to address climate change by leveraging the work of the Canada Green Building Council and industry best practices. This course is delivered in a hybrid format combining site visits, self-directed work, and online discussion/support sessions.  
 
Course Details
Delivery: Hybrid - a combination of online and in-person classes for 7 weeks
Location: Mohawk College Fennell Campus and throughout the Hamilton Community
Dates: January 24 to March 14, 2022
Days: Mondays
Time: 10 am to 12 pm
As per Mohawk College policy, COVID-19 vaccinations are required to attend City School in-person programs effective January 3, 2022. To attend in-person classes you must have had at least the first COVID-19 vaccine by that date and the second vaccination must be received by February 14, with proof of full (two-step) vaccination. Formal exemptions may be requested; additional supporting documentation and screening requirements will apply. Please note: If you were approved for an exemption in the fall semester, you must reapply.
 
Want to learn more about how Mohawk College is responding to COVID-19 and how to receive a vaccination? Visit Mohawk College's COVID-19 (Coronavirus) Updates Webpage
Pathways
Green Building Technologies (Course Code: BLDG 10145) is designed to introduce individuals to sustainable applications and upskill within the construction industry.
Green Building Technologies is a non-postsecondary course. Participants who complete this course can earn 28 hours towards the 120 hours of non-postsecondary courses required for the College Fundamentals Certificate.
 
Online Course Recommendations
This course will be delivered using the Zoom video conferencing platform. Students will require broadband Internet connection, desktop or laptop computer (tablet is acceptable), and basic computer skills (web browsing, email and document creation).
Eligibility
We welcome applications from all those interested in City School, but please note that priority will be given to those who meet the following:
19 years of age or older
Have no or limited post-secondary education (i.e., college, university, or participated in an apprenticeship); and/or currently unemployed and/or in receipt of social assistance (e.g., Ontario Works, Ontario Disability Support Program).
For online courses, live within Ontario; for in-person courses, live within the community in which the course(s) is being offered.
Note: High school completion is not a requirement. Anyone who will be taking a post-secondary course or program, at Mohawk College or any other educational institution, will not be eligible to register for City School courses at the same time.
We do our best to make case-by-case considerations.
Should class registration not be full by the application deadline, applicants who do not meet the criteria will be considered on a chronological basis.
Students can earn up to two (2) free credits through City School.
You will be notified of your registration status approximately three (3) weeks before the course begins.
Questions?
Phone: 905-575-2489
Email: cityschool [at] mohawkcollege.ca
 
Fill out the Online Application Form Sign up for an Information Session
 
---
This course is funded by Canada Green Building Council.