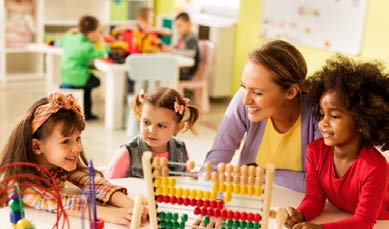 Complete an Eligibility Survey Sign up for a General Information Session
 
Free Online Credit Course with Paid Placement 
Participate in the Principles of Child Development course from Mohawk's ECE diploma program. Develop employment skills through workshops with an Employment Counsellor. Gain hands-on training through a 3-week paid placement at a local early childhood education centre. Access ongoing employment support.
What You'll Learn
Recognize the milestones, behaviours, skills and abilities of infants and toddlers at critical stages of development
Enhance your employability skills through career-specific workplace preparation
Develop your practical skills through a 3-week (30 hours total) paid work placement
 
Participant Eligibility and Suitability
The SkillsAdvance Ontario (SAO) is accepting to those who meet the following criteria until the cohort reaches capacity:
Demonstrated interest in working as an Early Childhood Education Assistant
Legally entitled to work in Canada 
Unemployed or working less than 20-hours per week 
Not enrolled in full-time education 
18 years old or over
 
Application Process
This is a competitive program with a two-step application process. 
Complete an eligibility survey.
Interview with the City School team to assess eligibility. 
If you are interested in learning more, before applying, sign up for an information session!
If admitted into the program, you must be able to pass a Vulnerable Sector Screening criminal background check. In preparation for job placement interviews, with employers, you will be required to provide proof of a negative COVID-19 swab test and a TB skin test (step one). We will cover the costs of these items, but they are required for the paid work placement with our industry partners. If these may be a barrier for you, please check out our other City School courses.
 
Course Details
Delivery: Online and Virtual
Dates: August 10 to October 29, 2021
Days: Tuesday to Friday
Time: 9:30 am to 12:30 pm
 
Pathways
The SAO stream is designed to support direct entry into the early years sector in an assistant role. By participating in this SAO program, you will earn a credit toward the Early Childhood Education diploma. To learn more about pathways to full Early Childhood Educator training and registration, please follow the links below. 
Online Course Recommendations
This course will be delivered using the Zoom video conferencing platform. Students will require broadband Internet connection, desktop or laptop computer (tablet is acceptable), and basic computer skills (web browsing, email and document creation).
 
Questions?
Phone: 905-575-1212 ext. 4590
Email: cityschool [at] mohawkcollege.ca
 
Complete an Eligibility Survey Sign up for a General Information Session
---
This is a SkillsAdvance Ontario project funded by Employment Ontario to train people with the technical, essential and employability skills needed in the Early Childhood Education sector.

This Employment Ontario project is funded in part by the Government of Canada and the Government of Ontario.