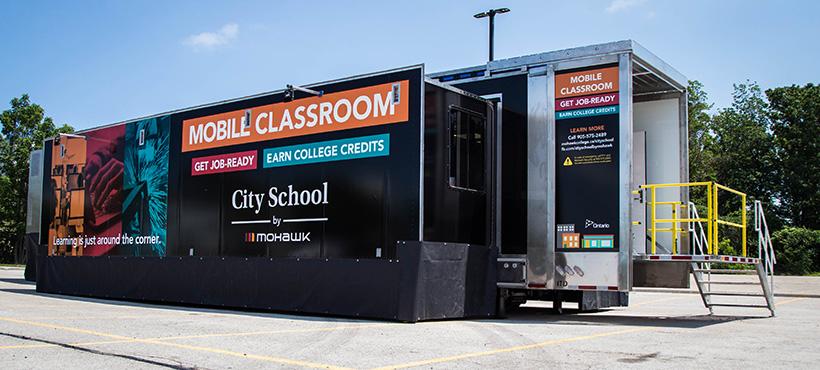 Free program. Apply today.
This FREE, 12-week, hands-on program provides the opportunity to explore and develop the skills needed to pursue entry-level careers in Advanced Manufacturing and related sectors. This program is offered in Caledonia and Hamilton.
How to apply
Fill out the online application form. Call 905-575-2730 if you have any questions.
This program offers:
Practical skills in subjects such as:

Tool use
Pneumatic systems
Process control
Welding

Insight into careers in Advanced Manufacturing 
Advanced manufacturing sectors, processes and technologies 
Workplace culture and safety 
Continuous improvement mindset 
Development of essential employability skills
Networking opportunities with local employers at our concluding Job Fair
Certifications
CPR
First Aid
Working at Heights
Forklift training (certificates must be provided by employers)
Check back soon for more!
Student eligibility
19 years of age or older
Not currently in high school, college, university, or apprenticeship training
High school completion not required
Where you could work
Advanced manufacturing sectors: steel, automotive, plastics 
Industrial automation 
Food/Chemical processing
Course details
Get started on your journey towards a career in Advanced Manufacturing with our START program! Skilled Trades Awareness and Readiness Training is on the move in our mobile classroom. Travel to Stoney Creek Campus and field trips provided. Childcare support available.

Programming runs from 9 am to 3 pm. Morning participation is required with the option to participate in a college credit in the afternoons.
Caledonia
In Mobile Classroom at Haldimand County Community Centre parking lot (100 Haddington Street)
Dates: Monday to Friday, June 27 to September 18
Morning session: 9 am to 12 pm
Afternoon session (optional): 1 pm to 3 pm 
Afternoon credit: Mechanical Maintenance
Hamilton
Stoney Creek Campus (481 Barton Street)
Dates: Monday to Friday, July 4 to September 19
Morning session: 9 am to 12 pm
Afternoon session (optional): 1 pm to 3 pm
Afternoon credit: Introductory Pneumatics
Questions?
Phone: 905-575-2730
---

This project is funded by the government of Canada's Skilled Trades Awareness and Readiness Program