Free online college credit course. Paid placement. Apply today.
This is a SkillsAdvance Ontario project funded by Employment Ontario to train people with the technical, essential and employability skills needed in the Early Childhood Education sector.
Participate in the Principles of Child Development course from Mohawk's ECE diploma program. Develop employment skills through workshops with an Employment Counsellor. Gain hands-on training through a 3-week paid placement at a local early childhood education centre. Access ongoing employment support.
How to apply:
This is a competitive program with a multi-step application process. Register for an information session below or call 905-575-2489 if you have any questions.
Register for an online information session

Attend an information session to learn about program expectations

Interview with the City School team
If admitted into the program, you must be able to provide proof of immunizations, TB skin testing and pass a Vulnerable Sector Screening criminal background check. We will cover the costs of these items, but they are required for participation in work placement activities. If these may be a barrier for you, please check out our other City School classes.
Location:
Online using Zoom
When:
Online information session date
 Tuesday, June 2, 11:00 am - 12:00 pm
 Thursday, June 11, 11:00 am- 12:00 pm
 Monday, June 15, 11:00 am - 12:00 pm
What you'll learn
Recognize the milestones, behaviours, skills and abilities of infants and toddlers at critical stages of development
Enhance your employability skills through career-specific workplace preparation
Develop your practical skills through a 3-week (30 hours total) paid work placement
Pathways
Learn about different ECE diploma options
Explore pathways directly into employment with the support of an Employment Coach
Learn about Child Development Practitioner apprenticeships
Student eligibility
We welcome applications from all those interested in City School, but please note that priority will be given to those who meet the following:
Demonstrated interest in working as an Early Childhood Education Assistant
19 years of age or older
Unemployed, under-employed, or receiving social assistance such as Ontario Works or Ontario Disability Support Program
Have some or no post-secondary education, or significant time out of education or training
Live within the community in which the course(s) is being offered
High school completion is not a requirement
We do our best to make case-by-case considerations.
Should class registration not be full by the application deadline, applicants who do not meet the criteria will be considered on a chronological basis.
Students can earn up to two (2) free credits through City School.
You will be notified of your registration status approximately three (3) weeks before the course begins.
Questions?
Phone: 905-575-2489
---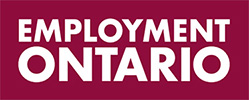 This SkillsAdvance Ontario project is funded through Employment Ontario.