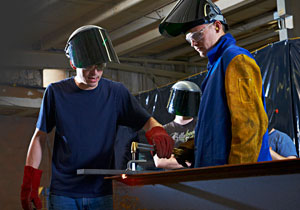 Apprenticeship training is an agreement between a person wishing to learn a skill and an employer who can provide the environment for skills training. It is administered in Ontario by the Apprenticeship Client Services Branch of the Ontario Ministry of Colleges and Universities.
In today's industry, there is a great demand for qualified individuals in a wide variety of occupations. In order to survive in the global market, industry must continue to meet the challenges offered by today's technology. Therefore, highly-skilled individuals or journeypersons with a combination of on-the-job training and in-school education obtained through apprenticeship programs are required to meet these challenges.
Graduates in Demand
Mohawk annually serves 2,900 apprenticeship students, and is one of the largest trainers of apprentices in Ontario
Apprenticeship provides hands-on experience; however, apprenticeship programs require "in school" training as well
Mohawk's Marshall School of Skilled Trades & Apprenticeship provides in-class training for many of the trades for those who are already registered and working in an apprenticeship position
An Ontario Apprenticeship includes the following:
On-The-Job Training: The apprentice learns the appropriate skills of the trade while working with and under the supervision of a qualified journeyperson
In-School Training: The apprentice learns the theory which supports all phases of the trade and relates this theory to practical projects that simulate typical work assignments
Additional Resources:
Apprenticesearch.com helps match apprentices with employers.
Ontario Construction Secretariat provides descriptions of many skilled construction trades plus apprenticeship information and upcoming job fairs.
Red Seal Program for information about Red Seal Certification, which allows trades people to work anywhere in Canada.
Ministry of Colleges and Universities (MCU)
Ontario Government Building
119 King Street West
8th Floor, Hamilton
Ontario, L8P 4Y7
Phone: 905-521-7764 or 1-800-668-4479
Contact Us
Marshall School of Skilled Trades & Apprenticeship
Phone: 905-575-2545
Fax: 905-575-2544
Email: apprenticeship [at] mohawkcollege.ca