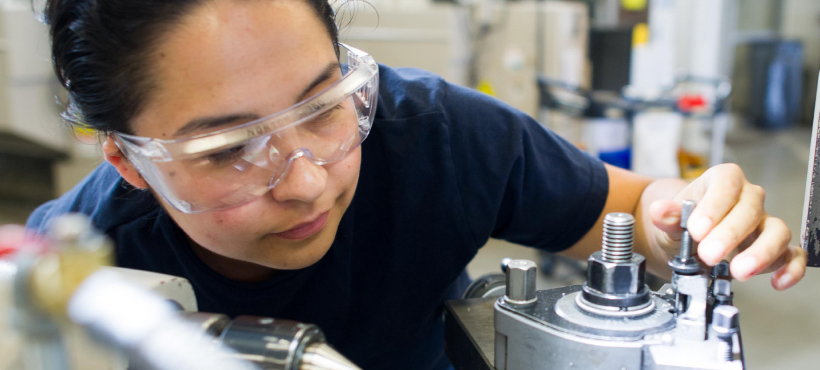 What is WITT?
WITT is a group that increases opportunities and supports for women in technology and trades in all fields, through a rich networking and support community. WITT welcomes industry, staff, students and faculty across all areas of the college and all genders, backgrounds, races and orientation to become involved and contribute to the support of women in technology and/or trades.
WITT strives to provide:
Mentoring and coaching
Networking opportunities
Career exploration
Pathways for success
Did you know?
In 2017, Mohawk participated in a Canada 150 Science, Technology, Engineering and Math (STEM) workshop. Participants at this workshop identified the need for females in technology to network as a community.
Also in 2017, Mohawk conducted a research project on women in trades that confirmed that while the general workforce is comprised of both men and women, in skilled trades only 3-5% of the workforce is comprised of women. As the average age of skilled trade workers approaches retirement, there is a clear opportunity for women and other underrepresented groups to seek rewarding careers in skilled trades. As a result of these findings, WITT was formed.
Upcoming Events
Feel free to stop in at one of our upcoming activities.
Coffee Hour

Room EA006 at Fennell Campus
12-1 pm
November 21 and December 5

WITT Speaker Series

Date: Thursday November 22, 2018
Time: 6-8 pm, followed by a campus tour
Location: Mohawk College's Stoney Creek Campus

Marshall School of Skilled Trades and Apprenticeship

481 Barton Street, Stoney Creek, ON  L8E 2L7

Exciting details are to be released shortly!
Contact Us
If you would like to receive ongoing communication about events and upcoming opportunities with WITT, connect with us here!
For more information on how to participate, please contact Liz Martin at elizabeth.martin6 [at] mohawkcollege.ca (subject: WITT%20Inquiry) .
If you are an industry professional and are looking to support WITT, please contact Rebecca Isowa at rebecca.isowa [at] mohawkcollege.ca (subject: WITT%20Industry%20Inquiry) .