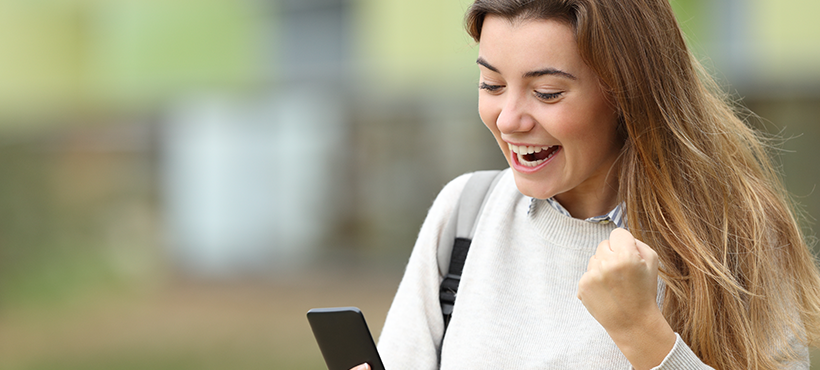 Countdown to Day One
Win 1 of 6 prizes by Tweeting #DayOneFun!
New students starting in Winter 2018, Tweet #DayOneFun and enter to win 1 of 6 amazing prizes during January 2 - January 15, 2018!  There are 5 prize packs valued at $100.00 each and 1 grand prize of a semesters worth of books, valued at $600.00 that will be added to the winner's ONECard!
student.life

[at]

mohawkcollege.ca

(Ask an E-Mentor)

 

ingie.metwally

[at]

mohawkcollege.ca

(

Sign up for a 1-on-1 Student Mentor

)
Day One  
Date:
January 16th
Time:
Schedule is based on academic program. See Day One Schedule (opens new window) for more information.
Location:
Fennell, IAHS, Stoney Creek Campus - based on academic program
Content:

Start Smart Sessions :Get tips for success, learn about resources, and hear from upper year students.

College welcome: A large welcome from the college staff, faculty, and administration. Includes guest speakers, and interactive activities to meet peers. 

Social: Time for you to meet new and current students as well as learn about some on campus resources and activities. Includes a free lunch!
Participate in Orientation
Orientation is more than a one-day event before classes start. It also includes the important things new students need to do before classes start, and a few more things to consider during your first semester. Below are lists of those activities:
You may also want to try:
Important dates
Be prepared for College 
| | |
| --- | --- |
| Deadline for full fee payment (late fee will apply after this date) | Wednesday, January 3, 2018 |
| Day One - orientation for new students | Tuesday, January 16, 2018 |
| Classes start - new and returning students | Wednesday, January 17, 2018 |
| Last day to apply for exemption(s)         | Monday, January 30, 2018 |
| Last day to add and drop courses for tuition refund (if applicable) | Monday, January 30, 2018 |
Complete the 7 steps for new students
Learn more about Day One at Mohawk
You may also need to...