What It's All About
In March 2015, Student Success Initiatives piloted a new academic support event aimed at providing services and assistance to students before exams to promote productive and proactive study habits.
Mohawk's largest study session, Carpe Noctem, is back! Join us for a night of FREE drop-in tutoring and academic support before exams. Over 60 staff including Peer Tutors, P.A.S.S. Leaders and Student Success Advisors (SSA's) and other college staff will be available to help you get prepared for final assignments and exams.
Over 400 students seized the night in Winter 2017.  Will you join us in the winter?
Tuesday March 13 5:00 PM - 11:00 PM The Arnie FREE drop-in tutoring!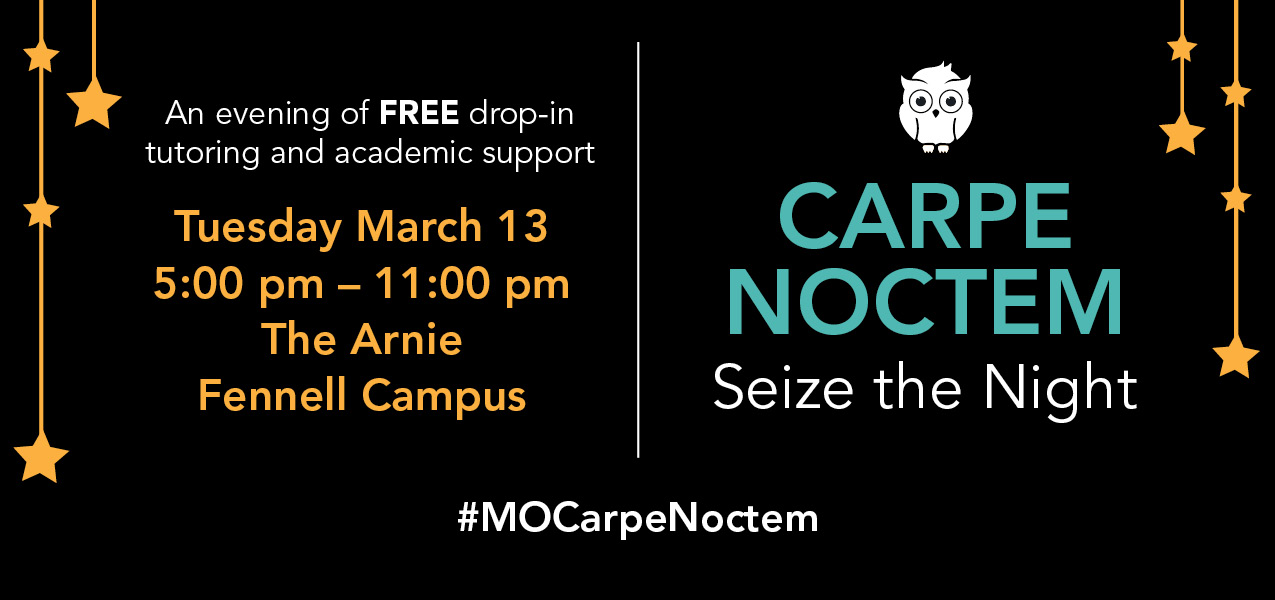 Highlights
Open study spaces in the Arnie
Over 60 Peer Tutors
ESL Conversation Club
P.A.S.S. Sessions in the Heath Lounge
Student Success Advisors (SSA's) and staff from the Library, plus other campus partners!
Chili bar and study snacks available throughout the night
Prizes & Giveaways!
VIP Packages available to earn you and 3 friends preferred seating, specially ordered study snacks and VIP Kits valued at $100!  To enter, visit the Learning Support Centre (C122), the Library, Social Inc. (G122), MCACES (F114) or the Language and Cultural Centre (J137).
FREE Study Packs valued at $50 given out every hour through random draw
FREE study supplies and stress busters
Tutor Availability
Check Out Past Events
Additional Information
Gallery